How the West Virginia Power Turned a Nightmare Into a Dream Come True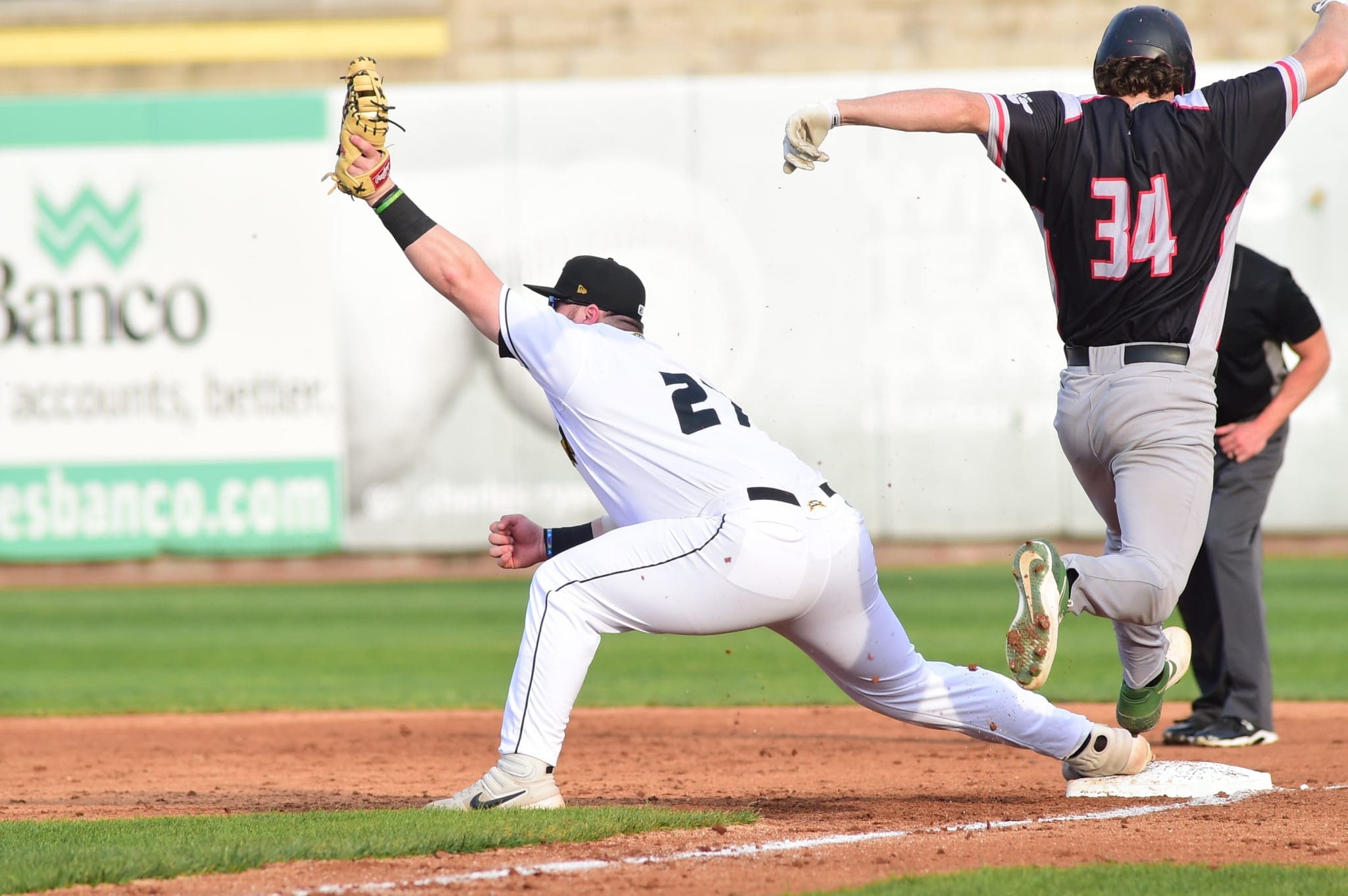 After Major League Baseball officially made it clear last October that its minor league system was going to be culled, West Virginia Power general manager Jeremy Taylor could do nothing. Literally. As if the coronavirus pandemic did not make it hard enough for small-town minor league baseball teams to function, the long-awaited crackdown affecting all 162 minor league teams finally reared its ugly head.
As the Single-A affiliate of the Pittsburgh Pirates for a decade prior to becoming the Seattle Mariners' Single-A affiliate in 2019, the West Virginia Power found itself on the same page as every other minor league baseball team in America. However, thousands of miles from its major league team, the Power didn't have the history or geographical advantages others did.
As a retail intern in 2004, Taylor first got his start in minor league baseball with the Power. He rose through the ranks as a ticket sales executive, director of sales and assistant general manager until finally reaching general manager. He saw it all, dealing with the MLB-selected rosters of highly touted prospects and clubhouse woes, during his long years of service with the Power.
That did not mean he in the loop when it came to the fate of the Power though. As Baseball America broke the news of the MLB eliminating 42 minor league teams, Taylor was not allowed to talk to anyone in the business. He spent the entire process, months of lists being released by the MLB showing which teams were still in contention of retaining their rights, in the dark. For all intents and purposes, he was just another fan.
The MLB did not keep Taylor up to date with the selection proceedings. If not for magazines and websites like Ball Park Digest or Baseball America, Taylor would not have known a single thing going on with the contraction issues. He had no idea if the Power was going to retain affiliated status or not, but it was not as if the process was news to him or minor league baseball. The writing had been on the wall for a while after all.
An expensive reaffiliation process
Even before the MLB announced which minor league teams were being awarded reaffiliation, the process to actually continue with the MLB's newest restructure was going to take a lot of effort and a lot of money. Money that a lot of affiliates did not have to spare.
"In our case, they were gonna ask us to take the bullpens off the field," Taylor said. "There would have been some definite infrastructure upgrades. You know, clubhouses, would have had to add a batting cage, there was so much incremental stuff. Some teams, the average was going to cost them $3 to $5 million just to become compliant and at any point, the license could be taken away."
If a team needed to upgrade to LED lights in its home stadium, the MLB would have demanded it. You know, just a $500,000 fee.
Beyond just the financial implications – which a lot of teams were unable to fully commit to – MLB's new rules were painstakingly exhaustive. Taylor said the Power was fortunate enough to acquire a copy of the draft of rules and regulations that affiliate teams would receive upon being selected. The draft was almost 100 pages and most teams, he said, were not as fortunate as his. The new operation manual would have just been dumped upon the team on day one.
"My mentor growing up in the business, he was our first GM here," Taylor said. "Right before all this happened, he got out of the business. I said, 'Is this the total reason you're getting out? Because of the contraction?' Because the team he was running wasn't even on the list. He said, 'Kinda. I just don't want to be a part of all the BS they're gonna throw at you.' … He likened it to buying a house without being able to go inside, only seeing a picture of the outside, not seeing it in person, not having a house inspector look at it and not telling you the price. And still buying it."
Through the grueling process to retain affiliation status, teams worked hard to earn the license invitation. Even through the "BS" involved in acquiring reaffiliation, the pride of being an MLB affiliate remained. For many small-town clubs across the United States, the prestige of being affiliated with an MLB was a great honor. For a team to just be shunted to the side, without any real warning, hurts.
For Taylor, it was hard to look at it as anything other than being "kicked out." He wasn't allowed to talk to anyone in the way rules and regulations demanded. Even if someone had a contact with the Pittsburgh Pirates or a former front office member of a team worked with the Cincinnati Reds, making contact was strictly forbidden.
According to Taylor, it was easy for the Power to see exactly what the MLB wanted – demanded, actually – from the team and consider those changes. Many teams were not as fortunate.
Keeping the dream alive
After the MLB released the final 120 team list of which teams were retaining affiliation status in December, Taylor finally learned that the Power was not on the list. It was the end of affiliated baseball for himself and the team, and for the first time in team history. If baseball was going to remain in Charleston, it wasn't going to be for an MLB team.
Almost immediately, the hunt for a new league was on. If a league was out there, the Power reached out. The newly installed MLB Draft League, the Appalachian League, the Frontier League, the American Association, the Atlantic League, you name it. Eventually, the conversation shifted toward the Lexington Legends and the Atlantic League.
"It ended up that Lexington ownership had a chance to purchase and buy out the ownership in West Virginia to then basically have two teams in the Atlantic League," Taylor said.
Andy Shea, the owner of the Legends, ended up with the opportunity to purchase a stake in the Power. He bought the Power, announcing it on Feb. 24, with former partner Tim Wilcox staying on. Just like that, baseball in Charleston was revived. Joining the Atlantic League with the Legends, Shea brought on a couple of new faces to help manage the team.
In March, the Power hired Chuck Domino, a minor league baseball legend with 39 years of experience, and Mary Nixon as the new team President and Vice President, who were effectively in place to manage the front office. This was in addition to newly installed Chief Operating Officer Jesse Scaglion. The front office was quickly filled out and Taylor's role was altered a bit; instead of general manager, he now served as the Senior Executive of Baseball and Stadium Operations. Those in place before the buyout were moved to fit new positions – as seen fit by the new ownership.
The fight to remain in Charleston, however, went far beyond just baseball. It took everyone and anyone to come together to ensure minor league baseball remained in the state's capital. Taylor called the fight "a symbol of West Virginia."
"Everybody works together to get stuff done," Taylor said. "At the end of the day, those who helped us and those who fought for us, which was the majority of everybody locally, in Washington D.C. Sometimes there were daily conversations with the Senator's offices, and multiple times, the Senators themselves."
In the Power's press release announcing the team's new league and ownership, Taylor thanked West Virginia Governor Jim Justice, Senators Joe Manchin and Shelley Moore Capito, Charleston Mayor Amy Shuler Goodwin, all members of the West Virginia Legislature and Charleston City Council, U.S. Representatives David McKinley and Carol Miller, the city of Charleston and the Charleston Convention & Visitors Bureau. It took the whole state to keep minor league baseball in West Virginia.
One of the Congressional leaders in West Virginia, U.S. House Rep. David McKinley, even served as a sponsor in the fight to preserve baseball in West Virginia. With the lengths taken to ensure baseball continued to be played in West Virginia, Taylor said it felt pretty good to see so many fighting for the Power.
Making a dream come true
If you don't start a car for a while, it is not going to start. Stadiums, Taylor said, are built in the same mold.
"The stadium wasn't really used for anything for almost 500 days," Taylor said. "Other than a tournament or a political fundraiser of some sort. You go to start firing stuff up, the sprinkler system goes down, a video board goes down, the concessions equipment needs looked at."
Opening up and running Appalachian Power Park, a stadium that had not been used in a year and a half, proved to be one of the most challenging tasks for Taylor and the Power. The other? Building a team, almost from scratch, in just about two months.
"The craziest thing is from mid-March to where we are now, about two months, we put together a season, a promotional schedule, a team, everything that would normally be a six-month process," Taylor said. "In two months and a week. That's been challenging, for sure. We all worked together to pull that off, and here we are sitting out four days from opening day."
As a previously affiliated team, players were assigned from the MLB parent team to play for the Power. As a Single-A affiliate, those players tended to be youngsters, recently drafted and signed players who were sent to West Virginia. As an unaffiliated team for the first team in history, it fell on the team's shoulders to build a brand new roster.
The 18, 19, 20-year-old kids had to be replaced by 30, 31, 32-year-olds who have been around the block a few times. In coming to the Power, they're choosing to compete for the love of the game.
"[The new players are] coming to town to play, to win, to compete," Taylor said. "They're not coming to town like most of your Single-A, 18, 19, 20-year-old kids are coming to town trying to catch the first bus outta here. … [the 18, 19, 20-year-old players] don't want to be here and they don't want to play for you. There's always some kind of heat in the clubhouse between management or clubhouse attendants or whatever because they're just trying to get to the major leagues."
With a team built almost solely from experienced, veteran players, Taylor said the clubhouse atmosphere through spring training and exhibition games has been laid-back. The days of filling out reports for the major league affiliate and sending videos to development coordinators are gone. The coaches are not babysitters anymore.
Over the past two months, the Power has signed numerous players with MLB experience, including former Pittsburgh Pirates outfielder Jose Tabata, former Baltimore Orioles utility player Jimmy Paredes, former San Diego Padres outfielder Rymer Liriano and former WVU and current Blue Jay Alek Manoah's brother, pitcher Erik Manoah Jr., among others.
A pair of former Marshall pitchers have also joined the team over the past few weeks. 2013 MLB Draft first-round pick and former Atlanta Braves pitcher Aaron Blair has joined the Power as the ace, and Charleston native and former Marshall pitcher Arik Sikula has joined, too.
Although Taylor said the process of truly building a team from scratch was enjoyable, he would have enjoyed really getting a chance to learn more about the Atlantic League and all the teams in it before having to jump directly into shaping an all-new team. Regardless, he is excited about the future.
"I think if we were not coming off the COVID situation, I'd have loved it more," Taylor said. "Being in the process of contracts and scouting, doing all that stuff, if someone calls and says, 'hey, this guy from WVU is out, you should give him a call,' those are the guys you're looking for, you want those people with local ties."
Through it all, Taylor has remained confident that baseball would be played at Appalachian Power Park this summer. Opposed to 'is this it?' it's been more of a, "what are we going to do?' for the Power. Taylor said he kind of always knew that it was not over, but the path to return wasn't easy. However, it's finally here now.
The Power played a series of exhibition games against the Black Sox, a Road Warriors Pro League team from the Yinzer League, over the weekend, and despite a lack of general promotion, the games sold well over the weekend. While masks will not be mandated at Power games, in accordance with state governance, COVID-19 protocols will be followed to ensure maximum fan safety.
After a long, arduous process to ensure minor league baseball stayed in Charleston, the light at the end of the tunnel is finally starting to be seen.
"I can tell you, after 13 months of fighting it, working with senators and Congress folk to try to help save minor league baseball in West Virginia, what you thought was going to be the worst-case possible scenario in the end if you didn't get one ended up being the biggest blessing in disguise you ever saw," Taylor said.
After it seemed like minor league baseball in Charleston may have been finished, the Power is finally getting back on the field. And those within the Power couldn't be more excited to bring baseball back to Appalachian Power Park.
"I look forward to seeing what fans are gonna see why they come out," Taylor said. "Because our motto this year, our slogan is, 'A nine-inning carnival.' And what I've seen already, it definitely shall be. Entertainment is ramped up. You wanna go out, have fun and come back. That's the reason we do what we do."
The Power plays their first game of the season Friday against the Southern Maryland Blue Crabs at Appalachian Power Park. The first pitch is scheduled for 7:05 P.M.