Takeaways: West Virginia Should Commit to Zone Defense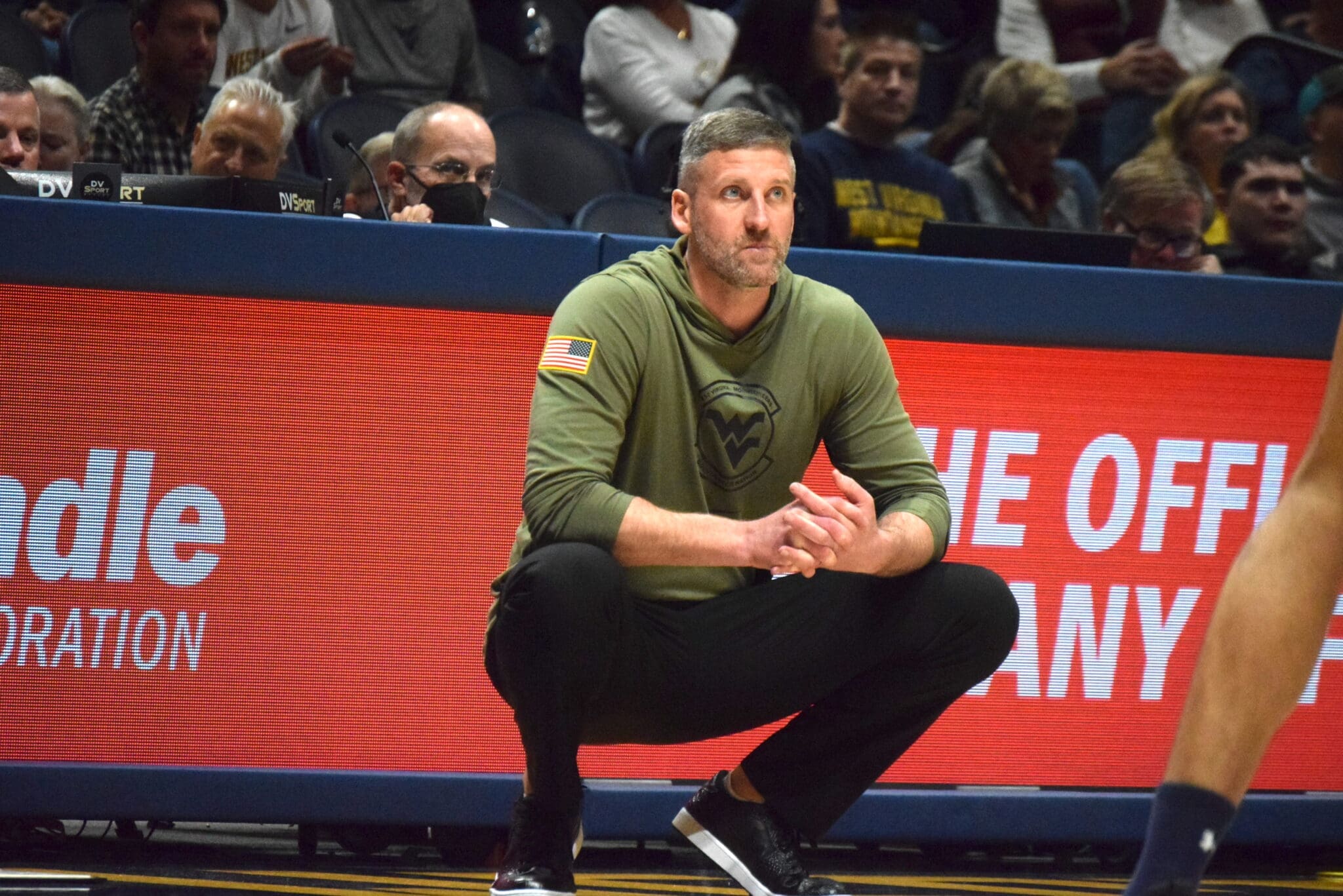 West Virginia basketball bounced back on Tuesday night, defeating Jacksonville State 70-57. The Mountaineers gained their confidence back after an embarrassing loss to Monmouth last week.
Here are takeaways from West Virginia's weekday win.
WVU Should Commit to 2-3 Defense
West Virginia has begun experimenting with a 2-3 zone in the early stages of the season. WVU played the most zone in a game against Jacksonville State but also switched between that and the signature man-to-man. Jacksonville State had scorers like Kyky Tandy to shoot them out of the zone but shot 34% from the field.
It is pretty logical to have Jesse Edwards teach the zone to the players who haven't had as much experience in it. Edwards played under Jim Boeheim at Syracuse for four years so he's very accustomed to it. The zone could also help West Virginia save energy. The Mountaineers are currently playing an eight-man rotation as they wait on Kerr Kriisa's suspension to end in mid-December.
WVU G Kobe Johnson played man-to-man under Bob Huggins for two seasons. Now as the team experiments with a zone for the first time, Johnson likes the idea.
"It does feel different, it's different than picking up full court but I get a little rest on my legs in 2-3," he said following the win.
WVU interim HC Josh Eilert is in a totally different scenario than 99% of college basketball coaches this season. Eilert has to win this season to stay and if not, WVU will conduct a coaching search at the end of the season. Eilert was with Huggins for nearly two decades but will do whatever it takes to win.
"[2-3 defense] could be a staple, I mean we'll see," Eilert said. "Nothing is off the table when you're trying to win games."
Kobe Johnson Playing Aggressive, with Confidence
Johnson finished with career-highs in points, rebounds and assists on Tuesday night. The career night meant a lot to Johnson as the junior guard stayed with the program throughout the entire offseason.
This was the first time where Johnson really showed his aggression while at West Virginia. Johnson had 19 points on 17 shot attempts as well as six rebounds and five assists.
"I think from day one when he walked into West Virginia and I watched him play, he's always been really steady. You knew you could count on him but you had to get more aggression out of him and that's been a struggle," Eilert said. "For Kobe to be more aggressive and to get that confidence, it's going to go a long way for West Virginia men's basketball."
Again, Edwards Needs the Ball
Edwards finished with 14 points and six rebounds in West Virginia's win. Edwards shot 4-of-6 from the field, which is efficient but not at the level that the Mountaineers need. West Virginia is without Kriisa, RaeQuan Battle (waiver appeal) and Akok Akok (health) for now and Edwards needs to shoot as much as he can.
Edwards is averaging eight shot attempts per game on 58% shooting through three games. Obviously, there are other factors as to why Edwards isn't shooting it as much as he should be. Opposing defenses are collapsing on Edwards in the post as soon as he touches the ball. WVU guards struggle at times to get Edwards the ball in the post early into the possession. The 6-foot-11 big man should be prepared to get a lot of his points from the free-throw line. Edwards drew 10 fouls against JSU.
Edwards needs to receive the ball more often as West Virginia begins to play tougher opponents.
Watch the WVSN postgame show below that discusses what changed from the Monmouth result to the JSU win.
WVU Postgame Show: Has West Virginia Found Best Recipe for Success?