Jevon Carter Makes NBA Debut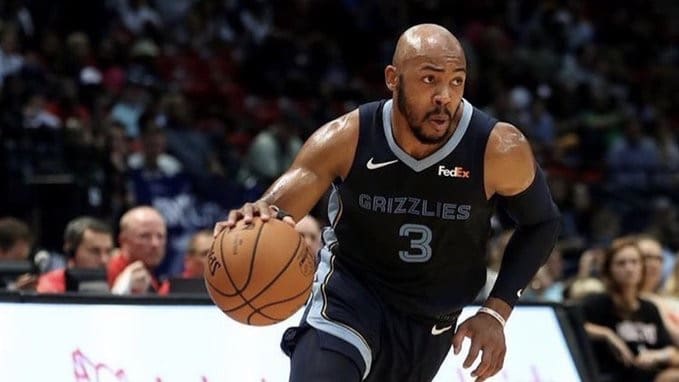 Jevon Carter finally made his debut for the Memphis Grizzlies on Saturday night against the Rockets. Since being drafted in the second round of this years NBA draft, Carter had yet to see any playing time for the Grizzlies as he spent the majority of the season with their G-League affiliate, the Memphis Hustle.
Carter entered the game early in the second quarter and quickly showed he belonged as he recorded a steal against Chris Paul. Carter struggled to score at first, missing two three point attempts in the second quarter.
Carter was able to improve in the second half, as he added several highlight plays, including a steal and score off of James Harden, and a block against Paul.
In total, Carter was on the court for 22 minutes tonight, and finished 4th in scoring for the Grizzlies, with 11 points off 5-9 shooting. Carter also recorded a defensive rebound, a block, two steals, and one three pointer. Ultimately the Grizzles fell short, as they lost 105-97 after trailing by 20 at one point.
After the game, Carter was awarded the Bass Pro Shops Trophy Game by the broadcast crew, as they lauded the energy that he brought to the game, especially on defense. While his 11 points helped keep the Grizzlies in the game, it was his tenacious attitude on defense that allowed him to stand out. Carter's presence was a huge turning point for the Grizzlies, and they looked like a different team with him on the court.
While this is only the first game Carter has played in so far, even with a loss, the Grizzlies have to be feeling pretty happy to have Carter on board.
Welcome to the new home of WVU football and basketball breaking news, analysis and recruiting. Like us on
Facebook
, follow us on
Twitter
and check us out on
YouTube
. And don't forget to
subscribe
for all of our articles delivered directly to your inbox.