What WVU Football Fans Can Expect from the Mountaineers in 2023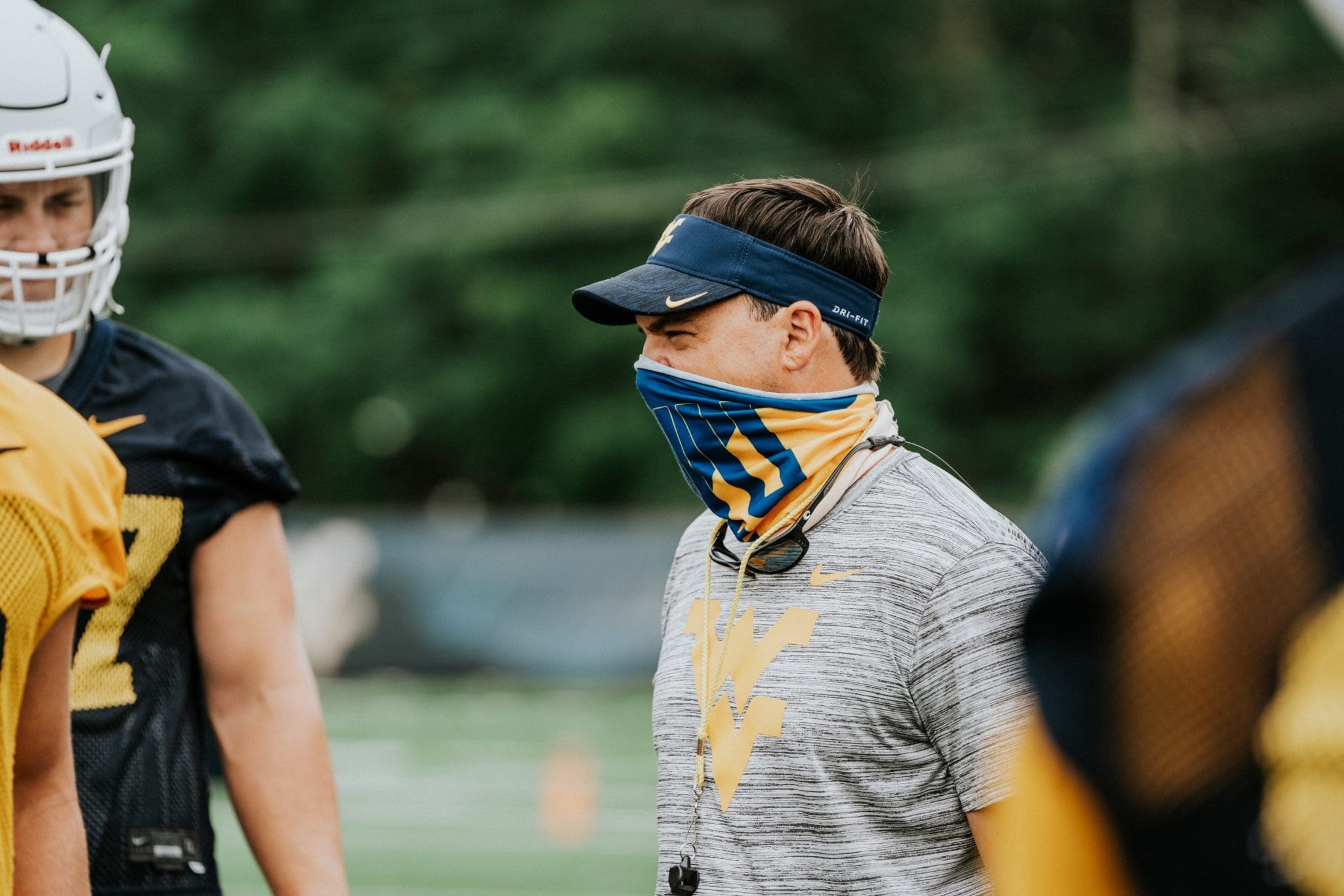 When WVU Football head coach Neal Brown sat down with the media ahead of April 23's Spring Game, he laid out a football culture seemingly different than the past three seasons.
The revolving door of players leaving and Graham Harrell entering aided in shifting the dialogue surrounding what Mountaineer fans could expect. When Brown welcomed the media to Milan Puskar Stadium, he spoke with what appeared to be renewed vigor. A 6-7 record in 2021 should theoretically leave a coaching staff ready to turn over a new leaf, but this felt different. Here's why.
ROSTER MANAGEMENT
Coach Brown and his staff have lost what, to some people, might seem to be an insurmountable number of players to the transfer portal. Even still, neither Brown nor defensive coordinator Jordan Lesley nor offensive coordinator Graham Harrell seem particularly distraught by the absences.
In fact, when asked about the frequency of student-athletes accessing the portal with ease, Brown said, "Let's call it what it is: it's free agency. In what other sport do you have free agency year-round? The answer to that is one. College athletics…What you do is you have your scholarship roster and you have potential flight risk. You have guys who, for a couple different reasons, maybe it's something going on at home and they have an issue with it that causes them to leave. Maybe it's somebody that if they don't get a starting job, then you know either them or their parents are going to really push them to leave, so you've got to kind of anticipate. Now, you hope it doesn't happen in most cases, but you've still got to plan. The ones that are really hard are the ones that come out of left field. To our credit, we've probably had two of those that I get an email from compliance saying somebody went over there. That's how it works. I don't think some people know that. Ninety-nine percent of people handle it the right way, but sometimes you get one of these notes from compliance, and that's what it is."
Although more than two dozen football players have left the WVU program since August, Brown is convinced that the right configuration of guys has stayed. The Mountaineer locker room currently has 62 players on scholarship, a dozen signed to play, and seven open spots for a combination of walk-ons and transfers. Brown appeared excited about that seven-player roster cap space, and intends to fill it with defensive and special teams players, specifically a linebacker, one to two additions to the secondary, and a special teams powerhouse from the transfer portal. He was confident in saying that the transfer portal is both a blessing and a curse, but in the same way that his former players used it to find greener pastures, he intends to be that resting place for others.
"I don't think it does us any good, myself as the head football coach or our football program, to come out and say anything glaringly negative about anybody that's leaving. I just don't think so. It doesn't serve us well, so that attitude I've taken is, 'Hey. We want to coach the kids that want to be here. Let's take what we have and coach them up as best we can and let's create a great environment where they're excited.' This isn't a knock to anyone that's left, but man, our locker room, they're hunting. They're excited. They feel really good about what's down there. It's our job as coaches to go add pieces and make us better."
Coach Lesley, who lost a huge chunk of his secondary to the portal, lauded the guys he has left for what he's seen so far.
"I love this group's mentality," he said. "We've been aggressive in what we've been doing, but I think each individual that's out there, we can be more aggressive. I think this group has that mindset… You guys have heard me talk about versatility. We're inexperienced, I understand that, but we also have a lot of versatility, a lot more options to move guys around, which is something I'm excited about."
Cross-training the secondary was a point of pride for Lesley's 2021 roster, but it remains to be seen how the newcomers will adjust to the change of conditioning and pace.
DEFENSIVE PERSONNEL CHANGES
"Defensively, we're really backed down our install for the spring and taken it a little slower," Brown said. "The focus is really on fundamentals and how we want these guys to be, how we want them to walk through the practice, as far as our standards are concerned, and new guys today, it was really, really fast."
Spring practices ahead of the Spring Game began this week, and Brown and his coaching staff are looking to fill gaping holes in the secondary. Defensive coordinator Lesley has major seniority returning in sixth year Dante Stills and redshirt senior Taijh Alston, as well as relatively high snap counts in players like redshirt junior Jared Bartlett and redshirt senior Exree Loe. He's also inheriting transfers like East Mississippi Community College's Lee Kpogba and Cincinnati defensive lineman Zeiqui Lawton.
"Dante and Taijh Alston, I think, have had an exceptional off-season, and they're significantly stronger at the point of attack, and that showed today," Brown said following a light practice on Tuesday. "It will really show when we put pads on. Dante's offseason is so much different than it has been in the past. It was a big push for why he came back and he's followed through with that. Taijh Alston is an upper-tier player in our league.
"[Redshirt junior defensive lineman] Jalen Thornton played his best football game in the bowl game against Minnesota, and I thought he followed that up with a sound day today. [Redshirt junior transfer linebacker] Lee Kpogba at MIKE linebacker, I think he has a bright future. He runs. We needed speed at that spot. He did some nice things here in day one."
In response to maintaining the strength of the lowerclassmen in their leadership positions, Brown deemed it an auspicious beginning for those student-athletes with limited playing time and room to grow.
"Jared Bartlett looks different when you get a chance to see him on Thursday," Brown told media ahead of tomorrow morning's open practice. "He's put on some significant weight. Fundamentally, I think he did some better things today. [Redshirt junior linebacker] Lance Dixon, I'm actually anticipating for Lance Dixon to make a huge jump going from year one to year two in the system. Then, Charles Woods. I think Charles Woods can be as successful as any corner in our league. He had a nice play today on a pick. We're adding significant depth, like Jordan Jefferson played well at the end of last year. Jalen Thornton is a guy. Sean Martin is going into year three, and it's time to click and I think it will. He's playing with a lot more confidence. Then Bartlett and LaNell Carr at the BANDIT position, so we have really high-end talent for our league, and we've got some depth."
MAJOR OFFENSIVE SHIFTS
For as different a training program as the defense looks to have, the offense will likely get an even more significant upgrade. The hiring of former USC OC Graham Harrell will give the offensive schemes a fresh look, but the fundamentals will stay constant.
"He's got full control, to be honest with you," Brown said of Harrell's involvement. "What he's basically done is he's come in and evaluated what we did. There were some things that we did well. It wasn't good enough as a total package, right, and I think some of that is he's going to give a new wrinkle to it. His personality and his success and things like that, but what I think he'll do is he's going to look and see what he feel really comfortable about what we were doing and hold on to those and then come in with the things that he's been really good at in the past and install those as well."
"There's some common things in the communication and teaching and that obviously helps," Harrell said. "The operation will look a little bit different and I think that's what we try to focus on as much as we can right now, just the operation of getting lined up, getting the ball snapped, seeing signals and signaling different and things like that that will look different. I think that's going to be a bigger learning curve than the actual Xs and Os."
One of the aspects on Harrell's side is that his quarterback room is inexperienced. To most offensive coordinators, this would be a red flag for eventual production, but Harrell doesn't view it that way. His big three (Greene, Marchiol, and Crowder) are all learning the major offensive play-calling alongside him.
"I'm excited to have these guys," Harrell said. "You can kind of mold them how you want them. We're going to do a lot of teaching. There's going to be a lot of things that will be new. I think quarterback play is obviously important at any level of football anymore. If you have good quarterback play, you have a good chance to win a lot of games. I do think that having young guys is fun. You can kind of engrain things in them that you want. You're not necessarily breaking four-year habits. You're only breaking one- or two-year habits, but at the same time, you can't replace experience either. Game experience is the best kind of experience, but we'll try to make up for it this spring and we'll get a ton of reps."
That playmaking has historically come from the running backs, including former Mountaineer Leddie Brown, current redshirt junior Tony Mathis Jr., and sophomore Justin Johnson.
"He's continued to do really well," Brown said of Mathis' development from 312 yards on 72 attempts in 2021. "He finished the season well last year. He had as good an off-season as anybody in our program."
"Justin Johnson," Brown continued, "Guy going from year one to year two… He played well in the bowl game and he looked really comfortable."
It's not just going to be about play-making though. Garrett Greene is a redshirt sophomore; Will Crowder is a redshirt freshman; Nicco Marchiol hasn't seen a single snap of college football. Any way Harrell slices the room up, the 2022 WVU Football team is going to be lead by a rookie. What those three lack in practical experience, they make up in personality and grit, according to Brown.
"The good thing about those three is they're kind of alpha mentalities," Brown said. "You want a guy who's a chameleon. No matter what group he's around, whether it's senior, whether it's the O-line, whether they're going to meet with a CEO or going to an elementary school, you want those guys who are kind of the face of your program, you want them to be chameleons. Regardless of the environment they're in, they kind of stick out and they attract others. All three of those have that rare ability."
Harrell echoed his head coach, saying, "Whatever we identify as our culture, whoever we say we want to be, those guys better embody it. If they don't you're in trouble as a football team. If those quarterbacks, if they don't embody your culture, if they don't embody who you are as a football team or what you want to be as a football team or what you're preaching as a coaching staff, you're in a lot of trouble because everyone's looking at them. If they don't embody it, no one will. They all three have personalities that you're drawn to, and I think that's what you look for in a quarterback: someone who other people are drawn to that influence other people. To me, the best quarterback is the guy who makes all the players around him better."
Even the best quarterback can't get a play off without a wall in front of him. Brown is excited about the seniority coming back on the offensive line. WVU Football is returning every single offensive lineman who started last season, including Freshman All-Americans Zach Frazier and Wyatt Milum, Doug Nester, and new father-of-two, redshirt senior James Gmiter.
"I think this gets lost sometimes," Brown said regarding Gmiter's progression. "He hasn't played the position very long and he missed a lot of time there in 2020. He welcomed a second child, and prior to that, I think he had his best off-season here. He was really sound today. His footwork is getting better. His body position is better. Then, Jordan White, a guy who we need to make a jump. He's capable of doing that. I thought he had a nice day."
Identity-wise, Brown refrained from commenting on the totality of his seniority's impact on all sides of the ball. He did seem as though players who had made not only names for themselves last season, but also came out fighting to start this week of practices off would stand ready to lead this team.
"I think we have a chance because we've got veterans and we've got talent at those positions."
West Virginia fans will get their first glimpse of this rejuvenated Mountaineer team on Apr. 23 at Milan Puskar Stadium for the Gold-Blue Spring Game. Kick-off is set for 1 p.m.