Can WVU's Leddie Brown Repeat His 2020 Season?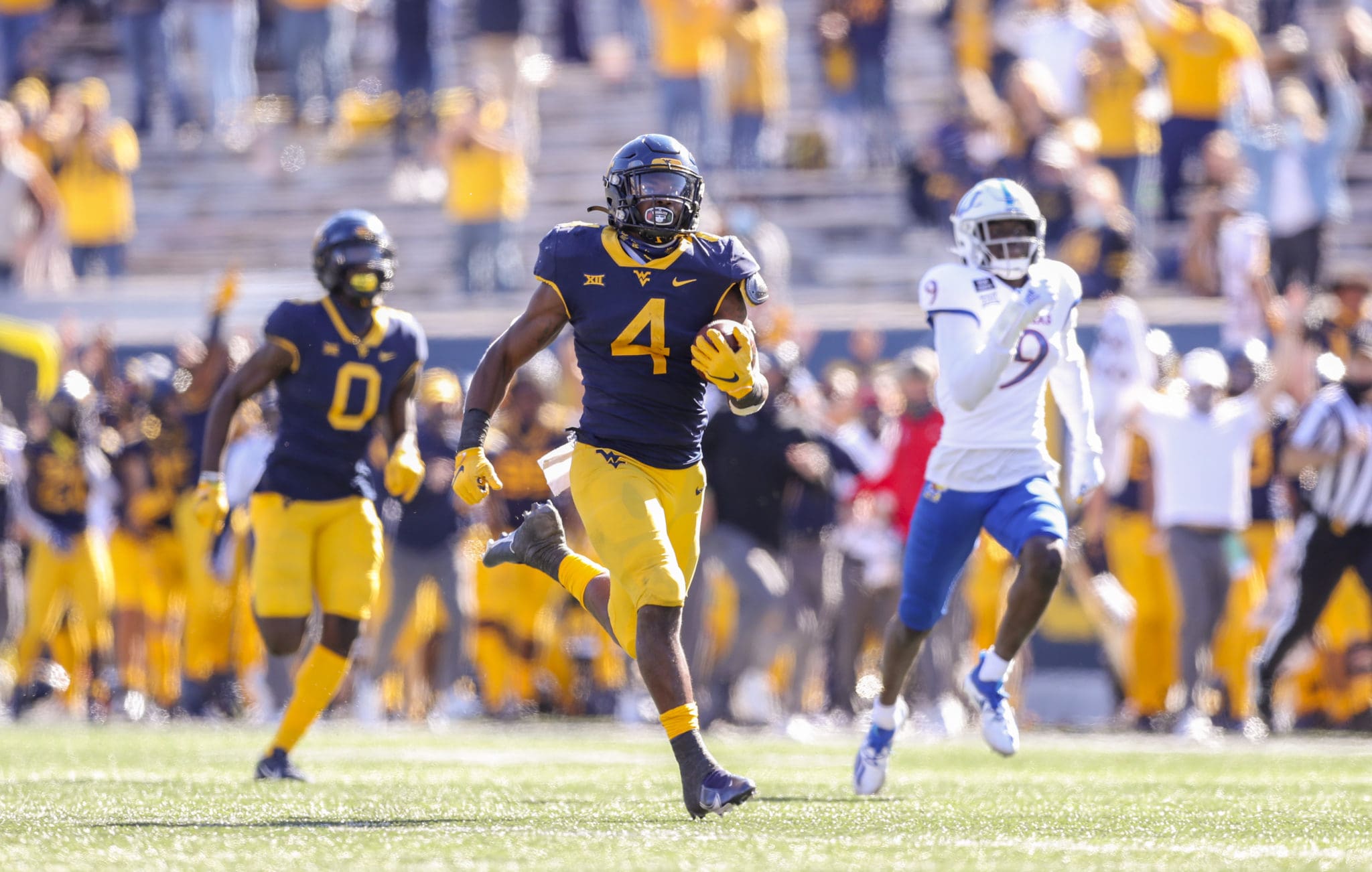 MORGANTOWN, W.Va. – Leddie Brown finished his junior season as the second best running back in the Big 12, behind Iowa State's Breece Hall. Only thirteen running backs in all of Division I football rushed for more yardage than Brown. Even after racking up 31 receptions for 202 receiving yards and two touchdowns and 1,010 yards rushing for nine touchdowns, he still feels as though he has a chip on his shoulder.
"Last year was a statement year, just going into the season, didn't nobody think we were going to run the ball as good as we did, but we did it," Brown said, "We made a point."
Now, he's itching for a repeat 1,000-yard season.
He's been working diligently with running backs coach Chad Scott and receivers coach Gerad Parker on fine-tuning his routes and watching film. He also pays close attention to NFL running backs like Alvin Kamara, attempting to emulate the four-time Pro Bowler's quick feet.
Of Parker, Brown said, "We've been watching film, especially of NFL running backs catching the ball in the backfield. He'll show me like, 'See how that linebacker played up on that route? You should do the same thing,' or 'you should try this and try that,' so I'm really trying to improve my route running. I think it's coming along pretty good with the help of Coach Parker."
Brown's route running, although still a work in progress in his own mind, has caught his teammates' attention.
"I feel like he's very special," wide receiver Winston Wright Jr. said. "He can catch the ball in the backfield, run through tackles, make people miss. I feel like he's very unique."
The two have been practicing kick returns together during fall camp, trying to build on their agility and nimble footing. The move is short-lived for Brown though.
"I'm just joining just to get the feel of it. Just to show the scouts that come and watch practice that I can do kick-off return and I can return punt team, kicks, just to show my versatility," Brown said.
"I think I can probably give Winston a little run for his money. That's his spot," he said of Wright Jr.'s kick return prowess. "He's doing great at it. I'm just here to learn."
Brown sees the practice reps on kick return as the catalyst to a potential NFL career. Building his repertoire is paramount at this stage in the game, with one more season between him and the future he envisions for himself. He doesn't shy away from lighting up the field in front of the scouts at every position, even if it's just temporary. His confidence is high and he believes that this is his time. Now… he just needs the scouts to believe in him too.
"If they have questions about my speed, I just show them. I do have speed. I know I'm fast. I can break runs, and that I'm tough. I can lead this team.
"I want to do whatever it takes to win. If that's getting the ball every play, so be it," he said.
Welcome to the new home of WVU football and basketball breaking news, analysis and recruiting. Like us on
Facebook
, follow us on
Twitter
and check us out on
YouTube
. And don't forget to
subscribe
for all of our articles delivered directly to your inbox.