Dana Holgorsen Shares Feelings Towards West Virginia Ahead of Matchup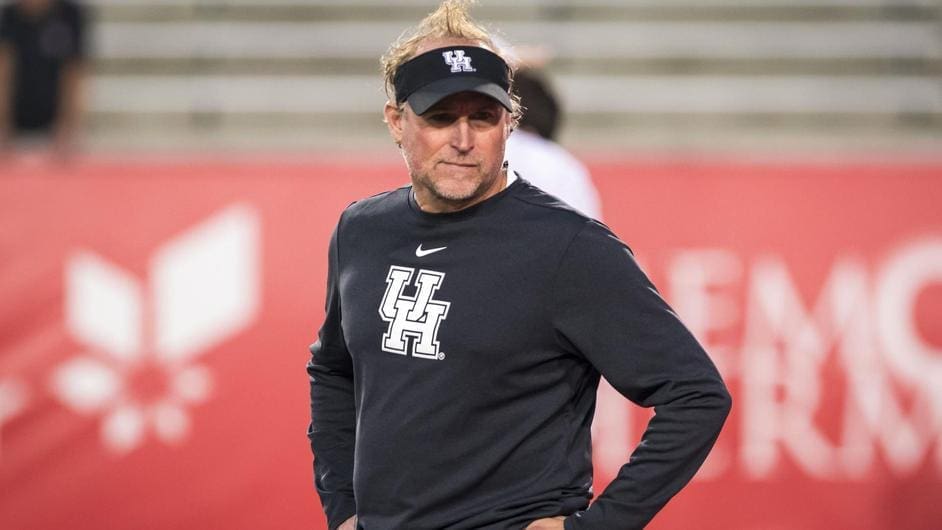 To no surprise, the hype leading up to the West Virginia and Houston football program's meeting for the first time ever is centered around Dana Holgorsen facing his former team.
As expected, Holgorsen, who is in his fifth year as head coach at Houston after being Neal Brown's predecessor at WVU, was asked about going up against the Mountaineers on Thursday night. While this matchup may not carry the emotions as Holgorsen's return to Morgantown will next year, it's still something Holgorsen knows makes this game different.
"At the end of the day, I've been in this situation a lot where you leave a place and then you play them and all that. The best way I figured out how to approach it is to turn the phone off and go to work," said Holgorsen at the start of his press conference on Monday.
Houston head coach Dana Hologorsen's response when asked about facing his former team in West Virginia on Thursday: pic.twitter.com/Pz6PAmPx9o

— Wesley Shoemaker (@wesleyshoe) October 9, 2023
He then did continue on to with his opinions on who Houston hosting WVU in their first year in the Big 12 instead of the opening contest being at West Virginia and what he thinks of the current Mountaineers.
"This is for the fans. The fans get into that. The fans appreciate that. I mean, I enjoyed my time at West Virginia. No question. A lot of really really good people. And I know a lot of them are coming. So should make it for an exciting game."
Even though Holgorsen understands why this game may carry more weight for some people, he's still trying to just stay focused on the task at hand. "But at the end of the day, it's about doing my job and getting our team ready to play," he said.
After Holgorsen was finished with his speech, a reporter jokingly asked him if he asked Big 12 commissioner Brett Yormark to not send him to Morgantown for the first game against WVU. Holgorsen instantly started smirking and crossed his arms before responding.
"I didn't. I'm shocked that that didn't happen. My prediction was week three year one that was going to happen. So we'll see 'em next year up there, you know," Holgorsen said. "But they're going to travel. They got a great fan base. Mountaineer Nation is alive and well. They're playing well. They got tremendous support. They coming and should make for an exciting night."
Some may have expected Holgorsen to unleash some epic rant against his old team and talk about how much he wants to beat them, but he decided to take the high road and reduce the opportunity for dram as much as possible.
Keeping up with the being nice theme, Brown offered some praise for Holgorsen's tenure at WVU. "Dana (Holgorsen) did a really good job here. I see his face whenever I drive in for the Orange Bowl win. He had two 10-win seasons," said Brown about the success of his predecessor.
WVU HC Neal Brown: "Dana (Holgorsen) did a really good job here."

— Mike J. Asti (@MikeAsti11) October 9, 2023
But as Dana Holgorsen likes to say, at the end of the day, nothing matters except what happens on the field when the Cougars host West Virginia on Thursday night. Kickoff is set for 7 pm ET and the game will be televised nationally on FS1. WVU is currently being considered a slim road favorite.
For a related story, one of Dana Holgorsen's former star players at WVU wants the Mountaineers to 'punish' his old coach.