Grading WVU Football Position Groups at Bye Week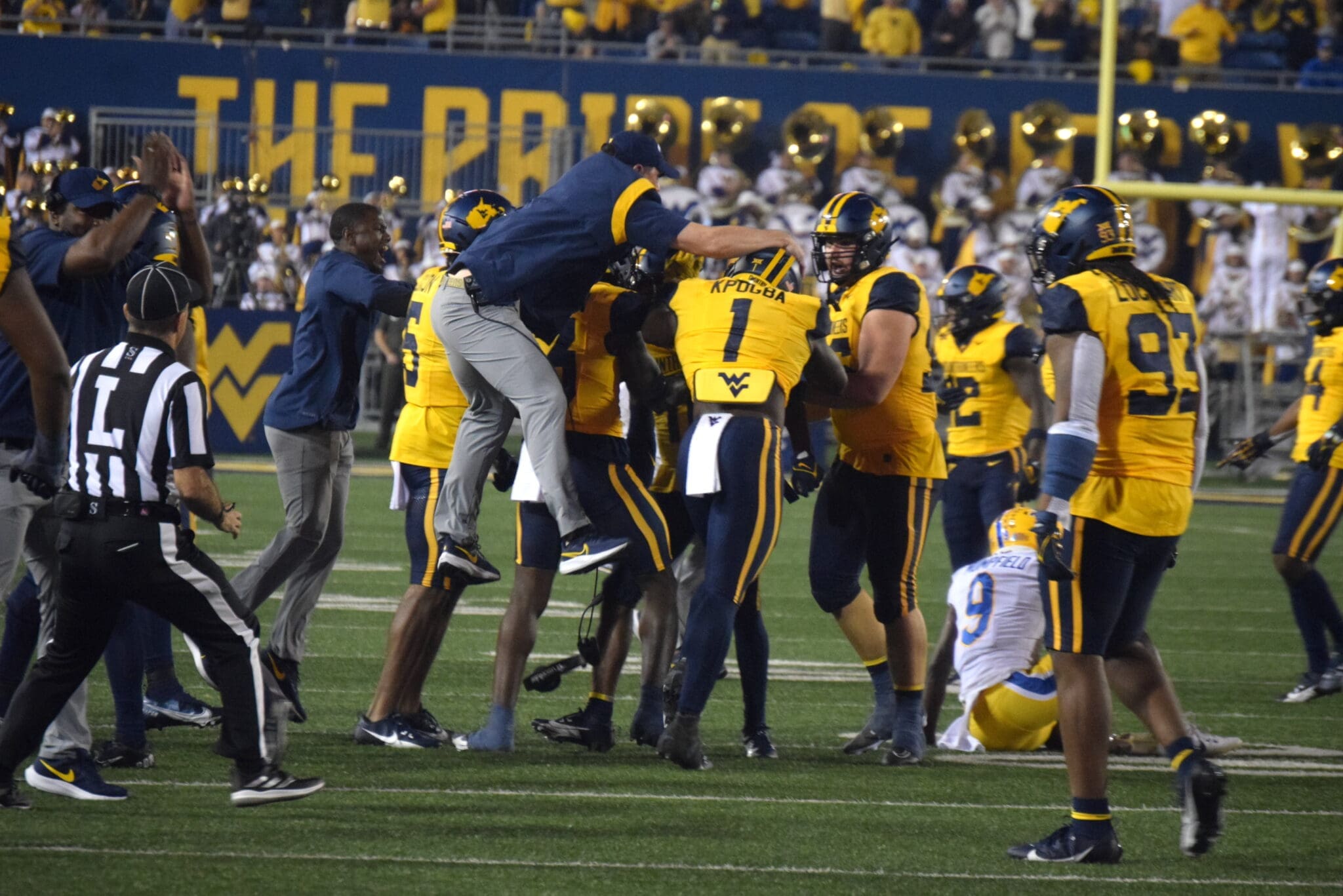 With five games in the books and a bye week ahead, it's the perfect opportunity to evaluate the WVU football team as a whole and analyze how each aspect of the 2023 Mountaineers has actually been performing.
West Virginia holds a 4-1 (2-0) record with their only loss coming on the road against Penn State, a team considered to be one of the best teams in the country. But despite winning, and even beating last year's national runner-up, the Mountaineers have been far from perfect.
Head coach Neal Brown has continually said he won't apologize for winning, nor should he, but how has each position group and segment of the team actually played so far this season?
Let's hand out some grades.
Offense
Quarterback(s): B
The quarterback play hasn't been the driving force of the wins so I'm being generous and going B here. Too many big plays have missed by both Garrett Greene and Nicco Marchiol to earn an A, but they haven't all been the fault of the quarterback either.
An argument can be made that Marchiol's three turnovers should drop this down to a C, but WVU won those games and I think it's fair to be a bit easier on him as a backup forced to play due to injury. Greene provides more of a spark for the offense and will need to stay under center for the Mountaineers to keep winning throughout the rest of the season.
Running backs: C
West Virginia has tons of talent at running back, but it's hard to grade the position above a C when the top back has had back-to-back subpar games, no one else has truly set the world on fire and only twice has WVU even had an 100-yard rusher this season.
There's an argument to be made that Jahiem White deserves more carries, something Brown agrees he's earned. An excuse for Donaldson struggling recently is that defenses have been stacking the box. All that can be true, judging off performance, the production from the running backs has to start increasing.
Is It Time for West Virginia to be Concerned About CJ Donaldson?
Wide receivers: D 
WVU's new group of receivers have been a collective let down. When a player who didn't even start the season on scholarship is arguably your most reliable weapon, that shows the top guys haven't delivered nearly enough.
Devin Carter was brought to Morgantown to be the wide receiver one. And while he's been a great leader and team guy, he's just not delivered the numbers of good team wants from its WR1. Cortez Braham never developed into the playmaker he believes he can be and he is no longer with the program.
Breaking: Two Former Starters No Longer with WVU Football Team
Brown has talked about how the receivers aren't helping the quarterbacks, and that was especially the case when Marchiol started.
I could go on, but the offense needs more from the receivers, and they know that.
Tight ends: A
A tight end is a very important position to an offense. WVU finally has one with elite talent who can do it all.
Kole Taylor is steadily emerging as that security blanket for the offense. His ability to be both a receiving threat and a skilled blocker make him invaluable to an offense being led by a quarterback without tons of experience. Treylan Davis has been doing the dirty work.
Regardless of the statistics, which are tougher to measure for a tight end anyway, the tight ends are doing their jobs.
Offensive line: A
As tempted as I was to give the offensive line a humbling B for some bad penalties, I just can't do it. The experience of Zach Frazier and company has been invaluable to a team that's had to deal with quarterback flip flopping and youth under center. The holes have also been there. The line is not why the running backs only earned a C.
Asti: WVU Offensive Line Could Lead Mountaineers to Prove Critics Wrong
Overall grade for offense: C 
It's just been too impotent too often to earn anything else.
Defense
Defensive Line: A
The defensive line has actually been better and more aggressive without Dante Stills. It sounds weird to say, but it's true. That's no slight to Stills, who established a solid West Virginia legacy and is now in the NFL with the Arizona Cardinals. However, this unit has set the tone for the rest of the defense and led the team to several wins so far in 2023 after struggling to generate much of a pass rush at all last year.
The success of the linebackers and secondary from the Backyard Brawl on can be traced to the line. Texas Tech's Tahj Brooks is the only running back to surpass 100 yards individually against the WVU defense, in particular the line, to this point.
Linebackers: A
Led by veteran Lee Kpogba, the linebacker crew has far exceeded expectations. They are the main reason why the Mountaineers have missed among the fewest tackles in the Big 12. This is in contrast to last season when missed tackles was a serious issue all year.
Lee Kpogba Embodies 'Effort, Aggression, Together' Motto of WVU Defense
The aggressiveness of the linebackers, most notably against Pitt, has lit a fire under the rest of the defense and ignited an infectious energy that's helped build momentum for West Virginia in games.
Secondary: B
For as good as the secondary has been at times, it started off the season as a clear weak link. Missed chances in State College against Penn State, an awful start to the Duquesne game and even losing one-on-one battles early in the TCU game stand out as bad moments that prevent any grade above a B.
Three interceptions of Phil Jurkovec beat Pitt. That obviously holds a lot of weight, although Pitt fans will tell you Jurkovec is the problem. Beanie Bishop has arguably been WVU's best addition this season. He's brought a swagger, both on and off the field, and has been playing with a tenacity the West Virginia defense seriously lacked a season ago.
WVU DB Beanie Bishop Blasts Pitt QB Phil Jurkovec, Calls Him Bad at His Job
Overall grade for defense: A 
Without the defense, WVU would likely be sitting at 1-4.
Special Teams
Return Game: B
Field position is night and day from 2022 to 2023. What caused West Virginia to operate at a disadvantage has become something the Mountaineers can feel they have an edge in this season. Will one finally break for a score?
Kicking Game: A 
Casey Legg didn't miss a field throughout all of 2022 until the end of the season and his WVU career. That type of accuracy was always going to be impossible to replace, but West Virginia now has a kicker with a stronger leg (no pun intended) in Michael Hayes,
Even though Hayes has officially missed a kick, he got screwed due to a penalty by the offensive line. He already has a 49-yarder to his credit and is perfect with extra points.
Punting wise, Oliver Straw has a low game net average of 41 and a high of 52. Straw has at least one booming punt of 50 yards or more in every game and has upped his overall average from 42.5 to 43.7 in now his second season punting for WVU.
Overall grade: A
Brown literally credited the special teams for winning TCU game, West Virginia's most quality of all the wins so far. And multiple blocked field goals on the road against the reigning national runner-up makes that claim tough to argue.
For a related story, Mike Asti explains why the WVU football team should be ranked.