WVU Baseball Earns Second Big 12 Series Win, Beats Baylor 8-4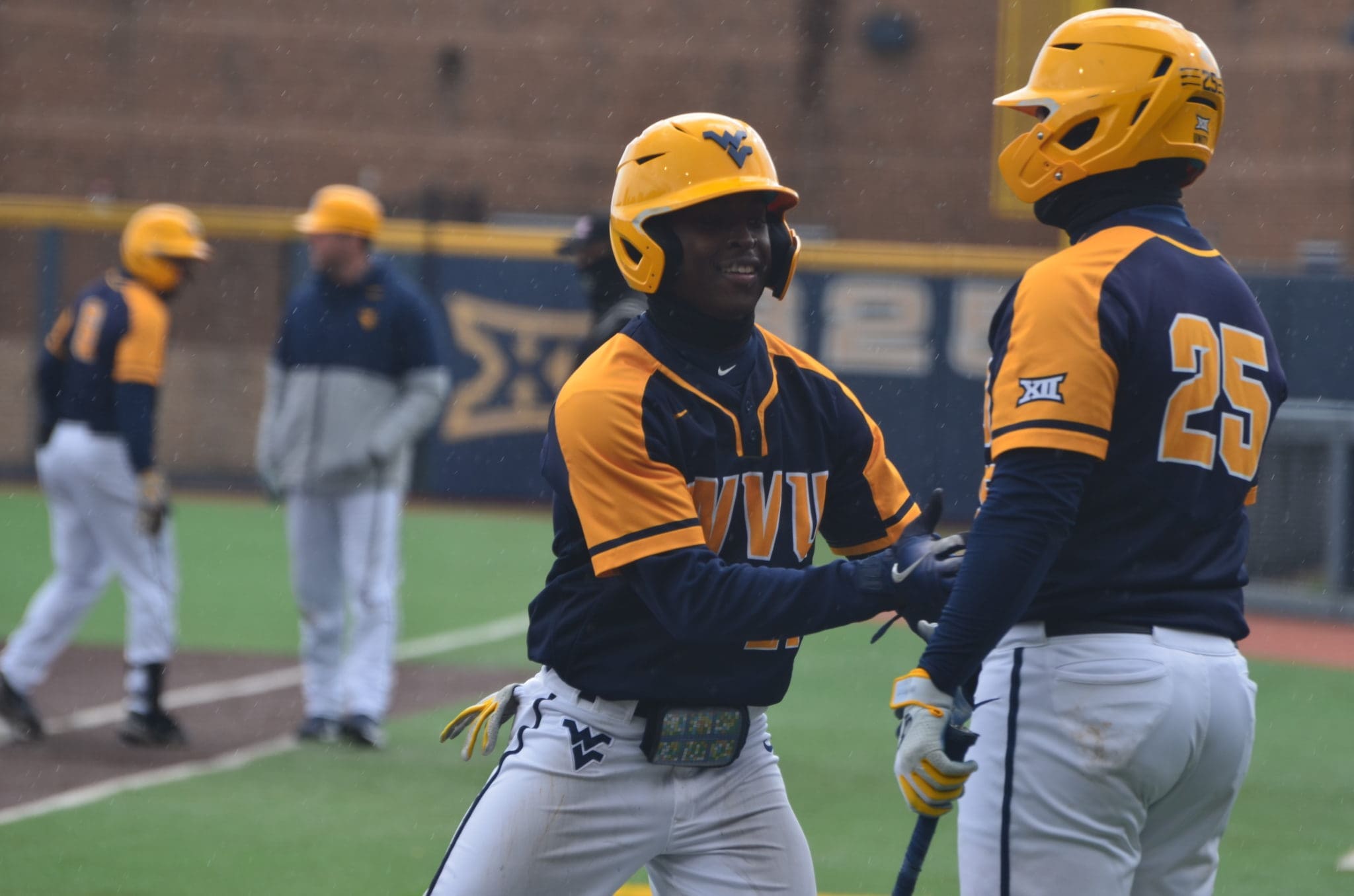 MORGANTOWN, W.Va. – In the sleet, snow, and hail, Monongalia County Ballpark hosted the West Virginia Mountaineers (18-10, 3-1) and Baylor Bears (16-13, 2-5) for the middle game of the series. Yesterday, WVU came away with the 7-6 victory, and the team was hungry for a second Big 12 conference series win.
Today's outing signified West Virginia head coach Randy Mazey's 500th game at the program helm, and the team rallied to serve him a win on a silver platter.
After surrendering an RBI single to Baylor sophomore Jared McKenzie in the top of the first, the Mountaineers got the go-ahead run in the home half. Senior Austin Davis lead off the inning with a single and freshman JJ Wetherholt backed up the power with one of his own. Junior Victor Scott came in clutch with a third-straight single that scored Davis from third, and Wetherholt came in right after off a McGwire Holbrook sac fly.
Now a 2-1 ballgame, a pitching duel was about to break out; for the Mountaineers, sophomore southpaw Ben Hampton. For the Bears, fellow sophomore southpaw Kobe Andrade. The second, third, and fourth innings flew by with the minimum for both sides, and Andrade tacked on a 1-2-3 fifth as well. With the pressure mounting, WVU's defense excelled in the top of the inning. Baylor's bats were moving; back-to-back singles placed Baylor's Harrison Caley on second, the tying run. To end the inning and maintain the 2-1 lead, Davis and Scott fielded two potentially costly fly-outs to quell the Bears' scoring opportunity.
"The defense is incredible," Hampton said. "They've been incredible all year. I didn't quite have the velocity or location that I normally have, so the defense definitely stepped up today and made some crazy plays out in center. AD cutting that off was big-time. We turned some big double plays in some situations that could have, innings could have turned a lot different. Defense changed the game."
The sixth inning brought the action back. Baylor's 2-spot Tre Richardson singled, and McKenzie proved his perfect lineup placement by shooting a home run over the right field wall to bring both Bears home and tie the score.
The Mountaineers wouldn't let the tie game stand for long. In fact, it only lasted four batters.
"Shoutout to the offense for getting runs each run that I gave up," Hampton said. "They scored runs in the bottom of that inning, so it made it easy to continue to pitch."
Andrade faced the top of the West Virginia order in the bottom of that inning, and relinquished back-to-back singles to Davis and Wetherholt before Scott caught a hold of a pitch and turned it into a 2-RBI double. Davis and Wetherholt scampered home to lift the score in the Mountaineers' favor 4-2. After 5.1 innings, six hits, four runs, and no strikeouts, Andrade was exchanged for sophomore right-handed pitcher Brett Garcia.
After walking redshirt senior Vince Ippoliti, Garcia watched another WVU run come in, courtesy of a sac bunt from sophomore Braden Barry. Scott crossed home plate to pump the WVU lead up to 5-2.
Hampton dealt the Bears another 1-2-3 inning in the seventh, and the West Virginia offense added two more cushion runs in the bottom of the inning.
Garcia walked redshirt junior Tevin Tucker, and the Mountaineer shortstop advanced after a Davis pop-up bunt and a fielder's choice from Wetherholt. Scott logged a fourth RBI after he flew a ball out to left field, aiding Tucker's homeward advancement. Holbrook added two more RBIs off a single that scored both Davis and Wetherholt, and the Mountaineers were up to a hefty 8-2 lead.
Hampton left the game in the eighth, after 7.2 innings, six hits, a duo of runs, five Ks, and 96 pitches. Fifth year right-handed reliever Chase Smith came in and sat Richardson down to close the inning in two-pitcher, 1-2-3 fashion. It became a reliever pitching battle in the eighth, when Baylor's senior left-handed pitcher sat the Mountaineer side down on a strikeout and a pair of ground outs.
Smith started the ninth inning with five pitches to his name, but Baylor would soon work his pitch count up. Sophomore Kyle Nevin singled and advanced on a throwing error, and then was brought home courtesy of McKenzie's third RBI, this time a single to give the Bears an 8-3 deficit.
On the mound, Smith was feeling the pressure. Baylor worked him into a bases loaded, one out scenario. The Mountaineer middleman forced a groundout out of Esteban Cardoza-Oquendo for the second out, but McKenzie scored from third to tag on the fourth, and final, Baylor run.
With the final out on the line, Mazey brought in right-handed closer Zach Ottinger. The senior secureed the final out on a line drive to Wetherholt at third base, and the series was rendered a WVU victory.
Hampton earned his fifth win of 2022 (5-0) and the save was credited to Ottinger, while Baylor's Andrade picked up his first loss of the season (2-1).
On offense, West Virginia's eight runs came from nine hits, while Baylor was significantly less likely to convert, moving eight strong hits into only four runs and six scoreless innings.
WVU will host the series finale tomorrow at 1 p.m., barring unforeseen weather issues. That game is currently slated for 1 p.m. and Mountaineer fans should see right-handed pitcher Zach Bravo on the mound.