How Well Do the Mountaineers Know Kicker Michael Hayes?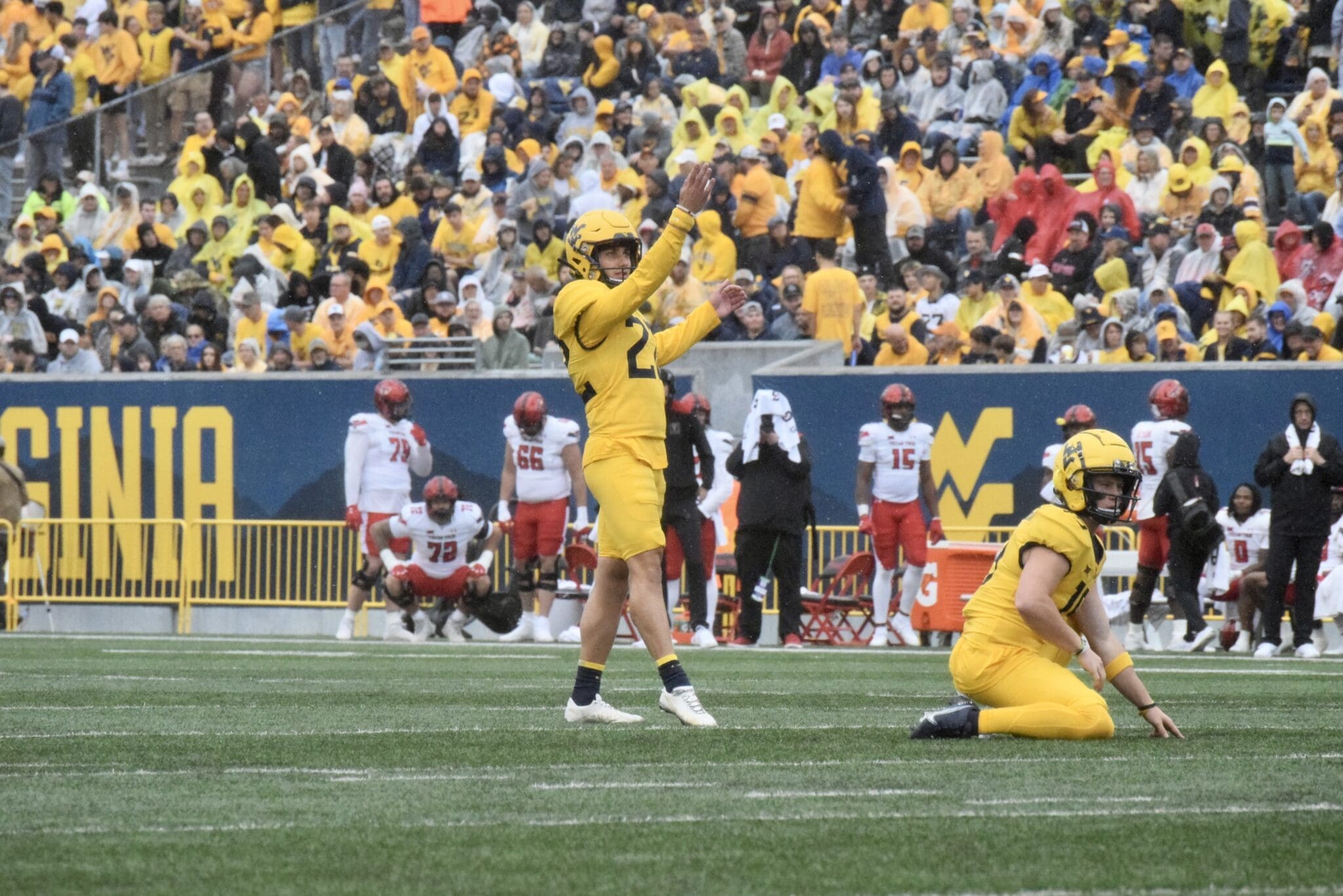 At this point, West Virginia fans may think they know kicker Michael Hayes. But while speaking to the media in a formal setting for the first time since arriving in Morgantown, the redshirt junior revealed he hasn't fully shown his true self to Mountaineer Nation.
Hayes was instantly someone the WVU staff pointed to as a replacement for Casey Legg once they learned of his retirement at the end of last season. Hayes' booming leg and the confident swagger he displayed during his time at Georgia State stood out and made him seem like the perfect fit.
But even though head coach Neal Brown and special teams coordinator Jeff Koonz have talked about liking their new kicker, both as a player and person, as they are getting to know him, it now sounds like who Hayes is showing people is a bit different than who he was on his previous team. And that's a calculated move by a man growing in maturity.
On Monday, Hayes was directly asked about why WVU fans haven't seen him acting the same way he did last year. At Georgia State, Hayes was often seen hyping up teammates on the sidelines. There are pictures that show him smoking cigars in the locker room to fully soak in the joy of victory. There are even stories about Hayes playing pranks during practice. Where's that guy now? He has yet to appear this season.
Hayes' answer as to why he's toned that side of him down connects to why he decided to transfer in the first place. He wants everyone to know the big personality side of him isn't buried forever, but he's also well aware of what playing for the West Virginia Mountaineers is all about. He believes representing WVU is serous business. He knows that kicking for the 15th winningest program in college football history with arguably the most passionate fan base in the country is serious business. He knows trying to get WVU back to national contender status is serious business.
I asked WVU K Michael Hayes about why he hasn't fully unleashed the personality he was at GSU as much. He says he's more focused on task at hand now and older. He says he knows the magnitude of this level compares to where he was. He may show some as his time continues though.

— Mike J. Asti (@MikeAsti11) November 6, 2023
And because of all of that, Hayes feels he has to act like his job is serious business. Hayes admitted he's intentionally suppressed some of how he acted at Georgia State due to now being on a bigger stage. And it was the opportunity to be on a national stage week in and week out that made Hayes want to move on from a Sun Belt program to experiencing life in the Big 12.
He's also made sure the work he's putting in matches the level of play. "I think it goes back to my hard work and the repetitions I put in to execute for the team," said Hayes about what's led to his success this season.
So while Hayes knows showing off a big personality can enhance an athlete's brand and provide a "Pat McAfee-like" path to success, that's not his priority right now. Hayes' only focus right now is to be the best kicker he can possibly be and help the Mountaineers win. He knows there's still time to worry about the rest in the future.
Hayes, who admitted to being very superstitious, is also not about to change a strategy that's been working for him in 2023. And there's no denying his success so far, connecting on 12 out of 13 field goal attempts and being perfect on extra points. His longest as a Mountaineer is a 49-yarder, but he says his range extends to as far as 55 yards.