WVU RB Leddie Brown Credits Early Success to Improved O-Line Relationship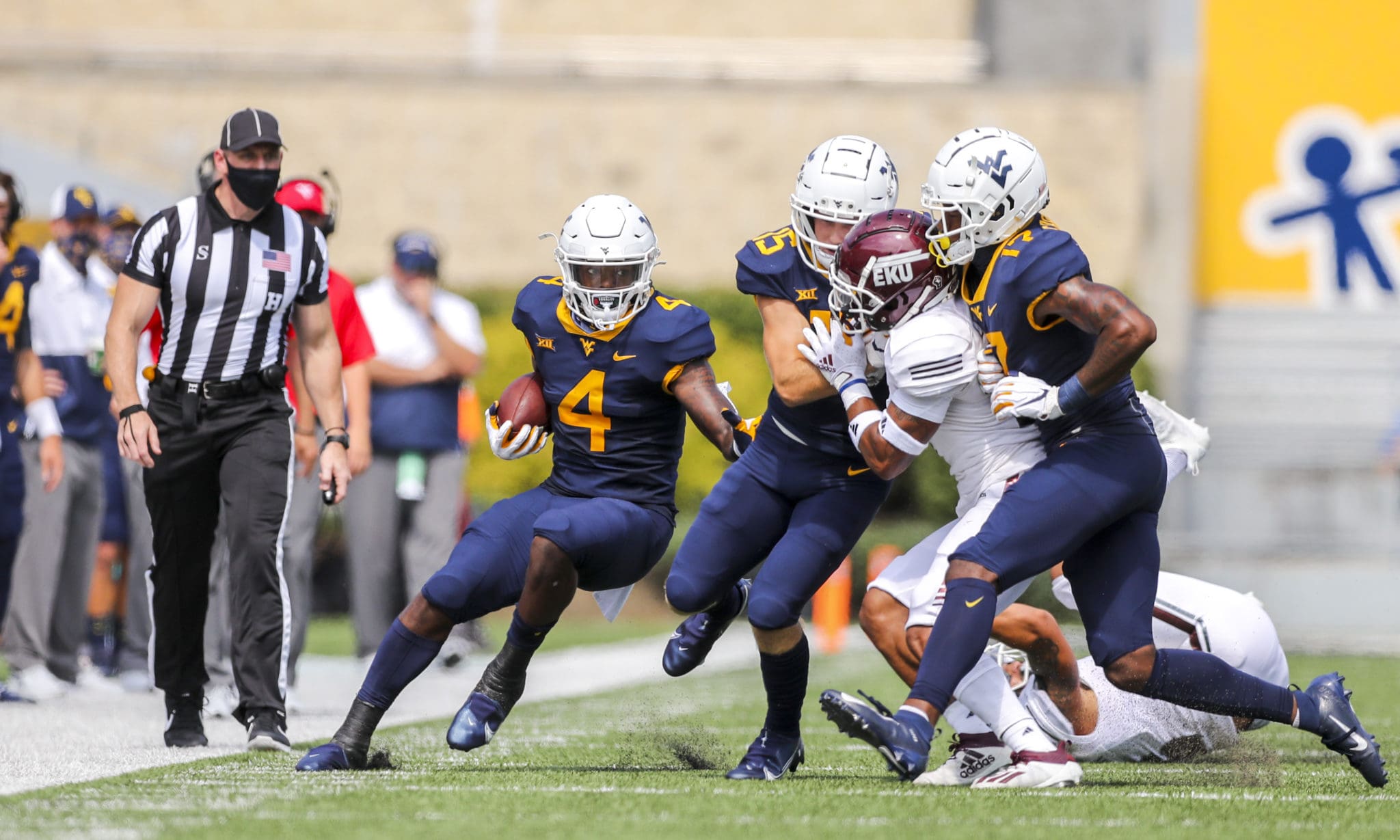 Leddie Brown's 2019 stat line does not reflect the caliber of football player that he is. In 2020, he's out to prove that.
Through two games this season, Brown has certainly shown that his 2019 season was the exception, not the rule. As a sophomore last season, Brown carried the ball 107 times, more than any other West Virginia University running back. He gained just 367 yards on those carries, however, leading to the Mountaineers having one of the worst team rushing attacks in the entire nation.
Through just two games this season, Brown has already run for 227 yards on just 36 carries — a 6.3 yards per carry average.
What's changed for Brown this season? The junior running back said his relationship with the WVU offensive line has improved, and that is making a difference for him so far in 2020.
"The biggest difference is my relationship with the linemen," Brown said after WVU's game one victory over Eastern Kentucky. "All camp, since we came back in July, I've been trying to get closer to the line, trying to figure out what they're doing so I can know what to do. That's been a big stride from last year."
The man in the middle of that line, senior center Chase Behrndt, said this week that he agrees with his running back.
"When it comes to an offense, I think that's probably one of the strongest relationships there is," Behrndt told media members Tuesday afternoon. "Sometimes we haven't been the closest group and it really shows out of the field. Even with us not being here with quarantine, we all kept a very strong relationship. Every running back whether it's the fifth string or the starter, all of us are really close."
Brown ran for 123 yards in WVU's first game and 104 yards in the team's second game against Oklahoma State. WVU has more yards as a team in a two-game stretch just twice last season, from game three to game four and from game four to game five.
Behrndt acknowledged that Brown's physical abilities are a reason WVU has run the ball better this season.
"I think he's one of the strongest running backs that we've had, maybe that we've seen in the Big 12 in a little bit," Behrndt said. "To have someone that you know that every run you're getting at least back to the line of scrimmage, really helps you out as an o-line. There's times when he's stiff arming guys twice his size and still running for a 5-10 yard gain and that's all you can ask for out of your running back."
West Virginia offensive coordinator Gared Parker agreed that Brown's ability to gain consistent yards is an important aspect of his game.
"Great backs are judged by the four-yard run, in my opinion, more so than the big one, and then their ability to get yards after contact," Parker said. "His eyes are getting better and better about where he wants to put the football and I think it's really, really helped him to put himself in a position to be able to get the ball vertical when it's time to."
The Mountaineers' ability to effectively run the ball this season could be a big factor in how many games the team wins. In five victories last season, WVU averaged 114 rushing yards. In seven losses, they averaged just 44.1.
After the Eastern Kentucky game, Brown summed up his relationship with the offensive line in just five words: "I love the fat boys".