Notes and Observations: James Madison Edition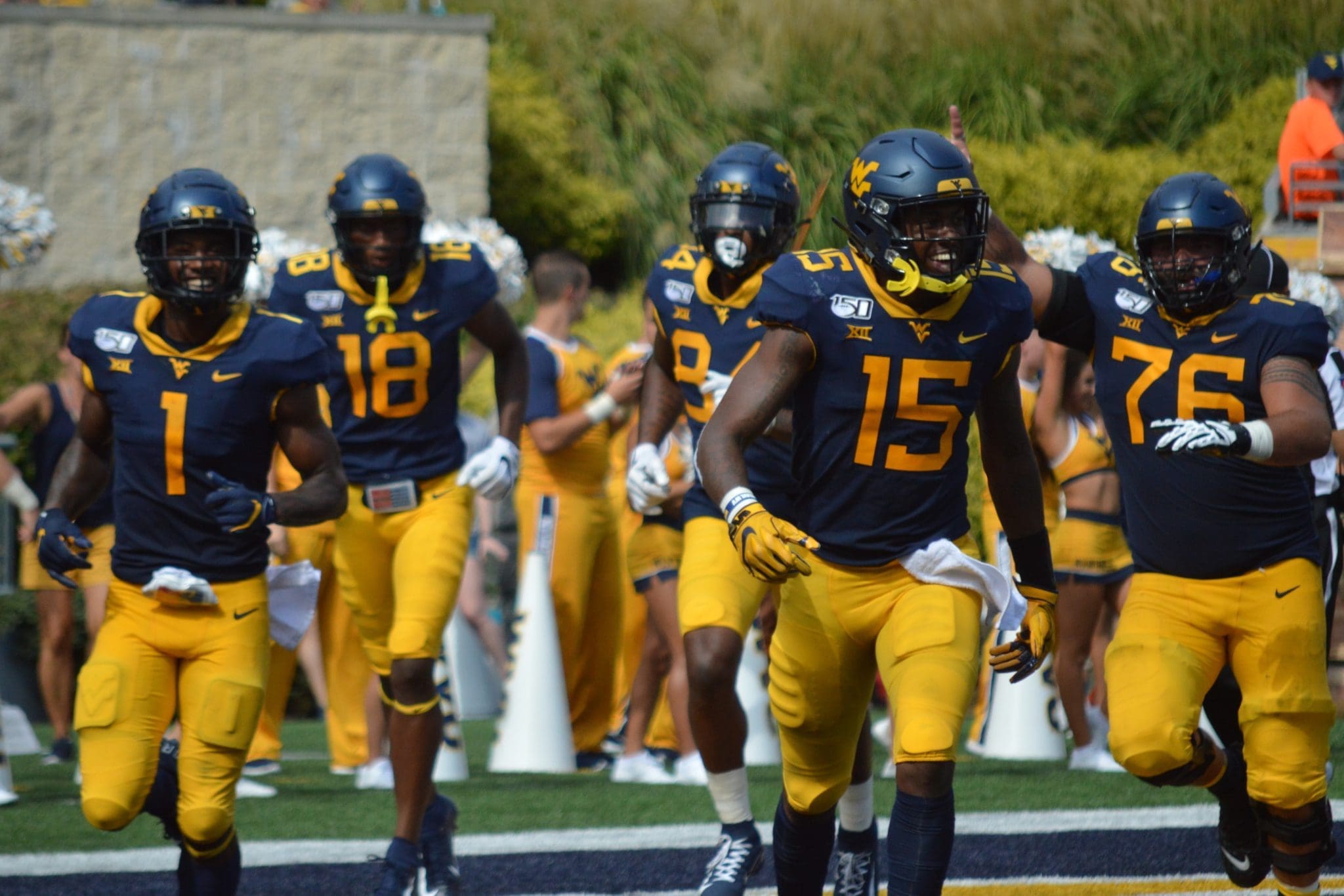 | Matchup | | |
| --- | --- | --- |
| 1st Downs | 18 | 13 |
| 3rd down efficiency | 5-14 | 6-18 |
| 4th down efficiency | 0-0 | 1-1 |
| Total Yards | 328 | 294 |
| Passing | 156 | 260 |
| Comp-Att | 13-20 | 27-42 |
| Yards per pass | 7.8 | 6.2 |
| Interceptions thrown | 1 | 0 |
| Rushing | 172 | 34 |
| Rushing Attempts | 48 | 24 |
| Yards per rush | 3.6 | 1.4 |
| Penalties | 2-20 | 6-35 |
| Turnovers | 3 | 0 |
| Fumbles lost | 2 | 0 |
| Interceptions thrown | 1 | 0 |
| Possession | 30:50 | 29:10 |
During the West Virginia/James Madison game Saturday afternoon, these are the notes I took during the game with some of my observations. Then I give some thoughts at the end.
Start of the Game
The West Virginia defense began the game with a three and out. They were able to get off the field after a 3rd and 2.
Mountaineer offense goes three and out. Brings out the LSU transfer Josh Growden and the Aussie style punter forces D'Angelo Amos to come up and he muffs it. Exree Loe recovers.
West Virginia has a third and false start pushes WVU back five yards, McKoy was not set and it stalled the drive. Gives Staley a 49-yard attempt and it goes wide left.
James Madison was moving up the field with ease. They go 36 yards before Kwantel Raines forces a fumble and Dylan Tonkery recovers.
West Virginia's first – first down comes at the 6:00 min mark (1Q). Austin Kendall to TJ Simmons for 8 yards. The drive ends on 3rd and 7 on a corner blitz not picked up and/or not recognized. Forced to punt.
The Dukes following drive, two catches from Brandon Polk for a combined 42 yards highlighted a touchdown drive. On catch was a beautiful grab on the sideline while the other was a spin move to get upfield. JMU started to get the defense off balance at this point.
West Virginia starts to get into a rhythm offensively. TJ Simmons hauls in two passes for 31 yards and Sam James had a nice 16-yard reception on a shallow cross he turned upfield for 16 yards. On 2nd and 9 Kendall just misses Wheaton in the endzone from 21 yards out. Then on 3rd and 9, Kendall throws high to Sinkfield on the shallow route.
JMU kept the defense on its heels using Ben DeNucci as a runner and got down to the 10 before Darius Sill blocked the field goal.
143 yards of the 206 yards came on two drives for James Madison. 80 yards on the scoring drive and 63 from the drive that ended in a field goal.
18 rushing yards for WVU in the first half. More defenders in the box than Mountaineers. JMU was selling out on the run.
Kendall 14-23 49 yards. All passes were overthrown. He was clearly hyped up. Both Kendall and Neal Brown reiterate that sentiment after the game.
TJ Simmons was getting open with ease from the slot.
Halftime
West Virginia receives the ball to start the second half and the first play from scrimmage Kendall hits Tevin Bush on a shallow cross and he turns upfield for a 41-yard gain.
Two plays later it's 3rd and 13. Kendall stays poised in the pockets works through his progression and fires a dart over the middle to Sean Ryan for 19 yards.
WVU in 3rd and long again, Kendall hits his first deep pass. It goes to George Campbell for a 28-yard touchdown. Kendall was 4-6 on the drive for 86 yards and the TD.
James Madison puts a nice drive together to get down to the WVU 10-yard line. Mountaineers had them in third in long at the WVU 38 but a 17-yard scramble by DeNucci kept the drive alive. A sack by Rueben Jones, then a pass breakup by Hakeem Bailey holds JMU to a field goal.
The Mountaineer offense continuing to move the ball. Convert two 3rd and two's by bringing in fullback Logan Thimons in to even things out in the box. WVU had a third opportunity until a false start makes it a 3rd and 7. Kendall overthrows. Forced to punt.
Three and out for the WVU defense. Also, record their third sack of the quarter.
4th and 2 at the JMU 35, Kendall hits Sam James over the middle for eight yards.
On 3rd and 11, a handoff to Kennedy McKoy up the middle gains two yards. Sets up Evan Staley for a 43-yard field goal that puts WVU up 13-10.
First play for JMU, DeNucci throws an interception to Keith Washington and its returned to the JMU 26.
On the third play of the drive, Kendall hit a wide-open Tevin Bush for a 22-yard touchdown pass. WVU takes a 20-10 lead.
James Madison responds again. Two pass plays of 17 (Polk) and 18 (Kyndel Dean) help set up another Ethan Ratke field goal. WVU leads 20-13 with 4:33 left to play.
West Virginia was only able to use 25 seconds off the clock. A two-yard run from McKoy (Timeout JMU). Then, Kendall slightly overthrows James, but James may have been able to bring that in. 3rd and 8 run up the middle by McKoy for three yards and another timeout by the Dukes.
The Dukes get the ball back and on 2nd and 8, Darius Stills gets a sack sets up a 3rd and 15. The defensive line creates pressure and has to dump it short to Austin Douglas for seven yards. JMU punts with just under three minutes remaining.
After a four-yard run from Martell Pettaway, a false start on 2nd and 6 makes it 2nd and 11. On third and 10, Kendall throws on Target to Sam James at the first down marker but it's dropped. WVU punts it away and JMU has 58 seconds from their own 38.
DeNucci completes a 14-yard pass to Devin Ravenel. Then, he scrambles to 10 yards to the WVU 38. However, a holding penalty puts JMU back at their own 42. The defensive line gets into the backfield the final two plays and DeNucci can't get a pass off.
Post-Game Thoughts.
I'm not going to over-analyze this game for a couple of reasons. First, this is an inexperienced team that made several mistakes. I don't think there was one player that didn't make at least one mistake throughout the game.
The second is it's a whole new coaching staff that's incorporating new systems on both sides of the ball. The coaching staff didn't over complicate it for them. For the most part, they went with a lot of base packages and adjusted throughout the game. Most notably at halftime.
This was an experience JMU team and it was evident in that they had their offense wide open and executed at a high level. Their defense was disciplined and stayed in their gaps.
Offense
The ground game is obviously the biggest concern. It's hard to spin it into a positive with WVU only rushing for 34 the day. However, they did get some push upfront. The biggest issue was they weren't creating much of a gap and JMU sold out on the run game. There were several times that if Kendall would have kept it on the read-option, he would have run for at least 20 yards down the field. That would have kept the linebackers from immediately crashing down and filling the holes. I'm sure it was in the plan for Kendall not to run on Saturday.
Neal Brown did say after the game that they have more options in the run game.
"We've got to do some things in the run game." Stated Brown. "We didn't do a whole lot of what I call dressing up run plays today. We will. You get into a first game and you can't show everything that you've got. We had some things that if we needed to in the second half, we could have gotten to. We didn't get to those, but we do (have them)."
It was evident Kendall was a little hyped up for his first career start. The several overthrown balls might improve going forward, but overall, he had command of the offense and gained confidence as the game went along.
The receivers had a couple dropped passes and they cause the majority of false starts.
They didn't have one turnover. That's impressive with a young inexperienced team that's learning to play together in a new system.
Defense
They got bullied up front to begin the game, but they settled in, got stronger and made better reads throughout the game. A lot of that had to do with the defensive line. It's been a while that you've seen a Mountaineer D-line still making plays at the end of the game and weren't completely worn out.
The corners were playing off the receivers at the beginning of the game and JMU took advantage early and it was an easy pitch and catch down the field. Once, the corners came up, the Dukes struggled and gave the D-line time to get into the backfield.
It's the same with the linebackers, they were caught out of position at times, but they got a feel for the game and got better as it went along.
That's our starting point. Not going to think too much on game one. Now, it's time to see how they improve up in Week 2 against Missouri.