WVU Honors Hall of Fame Coach Don Nehlen by Immortalizing His Name at Stadium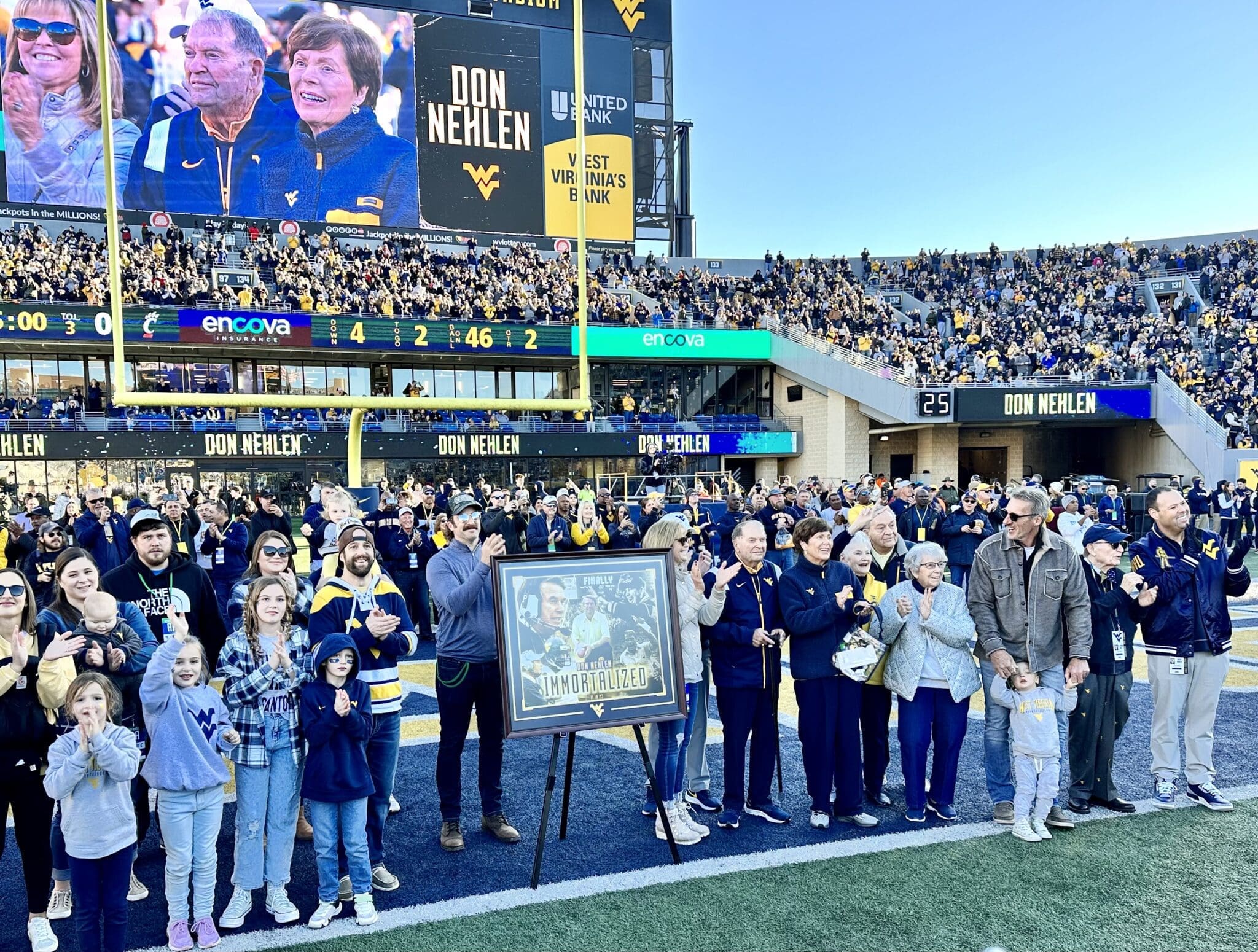 All-time great players may be fortunate enough to earn the right to have their number retired, but it's even more rare for a coach to be honored the same way. WVU felt one of the program's legends deserved to be immortalized just as much, if not more, than any player.
And that coach is Don Nehlen. The Hall of Fame coach was celebrated in the middle of West Virginia's final home game of the 2023 season against Cincinnati on Saturday. Nehlen's name has now been added to a wall inside Milan Puskar Stadium.
The standard-bearer. Immortalized forever.#HailWV pic.twitter.com/1LqUf6ctUc

— West Virginia Football (@WVUfootball) November 18, 2023
The name Don Nehlen will now sit forever at next to the greatest players to ever play for the Mountaineers, most notably the legendary quarterback that is so synonymous with Nehlen's success – Major Harris.
Below offers a description of Nehlen's accomplishments and illustrious tenure provided by WVU Athletics.
Nehlen coached 15 first team All-Americans, 28 total All-Americans, 82 All-Big East Conference honorees and 80 NFL players from 1980 to 2000. In 1988, Nehlen was recognized with three national coaching awards, the Walter Camp Coach of the Year Award, the Bobby Dodd Coach of the Year Award and the AFCA Coach of the Year. In 1993, he was named the Big East Coach of Year and was inducted into the College Football Hall of Fame in 2005.
Nehlen guided his WVU teams to 13 bowl game appearances, 17 winning seasons and the 1993 Big East Conference title, and his 1988 and 1993 squads finished the regular season with undefeated records. The 1997 president of the prestigious American Football Coaches Association, Nehlen received the 2002 Distinguished West Virginian Award from the West Virginia Broadcasters Association, and in 2017, he received the AFCA's Amos Alonzo Stagg Award for advancing the best interests of college football.
His final numbers included 202 victories, two Lambert Trophies for eastern football supremacy, the 1993 Big East championship and at the time of his retirement, he was just one of 17 coaches to win 200 or more career games on the collegiate level.