Keys to Victory: How Can WVU Avoid Being Trapped by Cougars?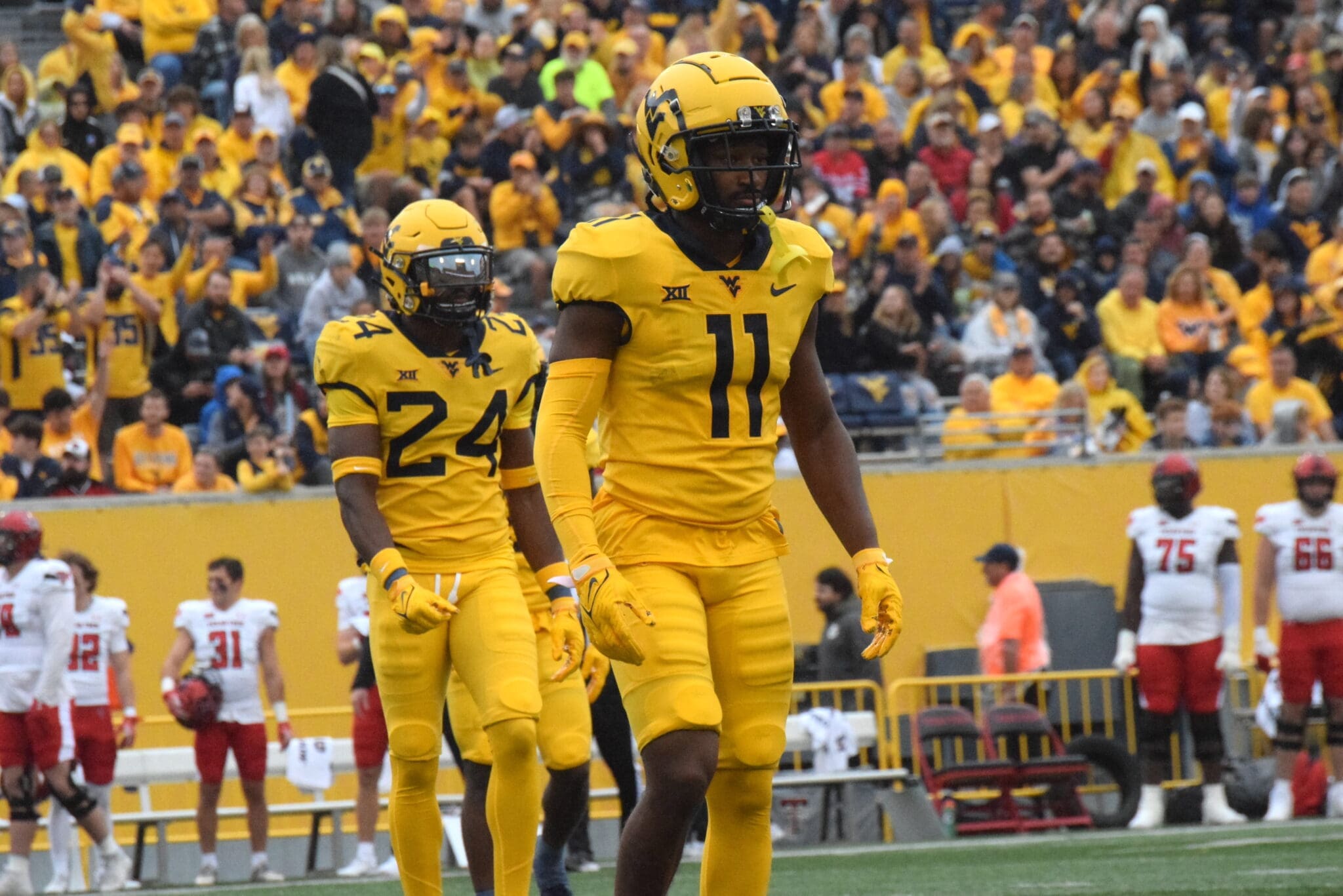 All the talk about Neal Brown vs. Dana Holgorsen or the WVU football program going up against its old coach won't matter once the ball is kicked off. What matters for West Virginia if the Mountaineers have what it takes to beat Houston and keep their win streak alive?
While WVU is entering the game at 4-1 (2-0) and the Cougars are limping in at just 2-3 (0-2), oddsmakers say the game will be close. As Brown has said countless times, winning on the road in a major conference like the Big 12 isn't easy no matter what the circumstances are.
What are the main keys of the game that West Virginia needs to accomplish in order to keep proving people wrong and to continue their goal of making 2023 a special season?
Secondary Must Compete with Houston Receivers
The biggest challenge WVU will encounter against Houston is the speed they have at wide receiver. The Cougars have absolute burners who can take the top off any defense.
This group is led by sophomore Sam Brown, a former Mountaineer who spent the 2020-2021 season at West Virginia before transferring. After only seeing the field in two games during his lone season in Morgantown, Brown has found a home in Houston and already has 34 caches for 518 yards on the season.
There is a significant drop-off in production below Brown, but that doesn't mean he's the only weapon this Dana Holgorsen offense has at its disposal. This matchup could be a problem for a WVU secondary that did struggle earlier in the season and is pretty banged up. If Aubrey Burks can't play, and he's listed as questionable, that will put even more pressure on guys like Beanie Bishop to be a star and require depth guys to step up.
The addition of Beanie Bishop has been gigantic for WVU this season.

— Mike J. Asti (@MikeAsti11) October 1, 2023
It's almost a certainty that Holgorsen is going to put West Virginia's secondary to the test early and often. With the Mountaineers' offense not necessarily built to comeback, giving up big plays early in the game could make for a very long night.
Find a Way to Generate Big Plays
Even though Brown isn't about to apologize for winning ugly, he agrees the offense needs to be more explosive in order for the team to reach its goals. Flipping flopping at quarterback only makes that more difficult, but the bye week allowed Garrett Greene to rest up and recover.
Greene is now good to go and Nicco Marchiol now has some valuable experienced under his belt if he has to go in again. That should at least now allow chemistry to be built between Greene and his receivers. The receivers need to be better and the run game, most notably CJ Donaldson, has to get going early in the game. And if Donaldson struggles, does Brown give his carries to true freshman Jahiem White, a player who the coaches have raved about since he stepped foot on campus and has produced when given an opportunity.
Is It Time for West Virginia to be Concerned About CJ Donaldson?
If WVU can establish the run early, it can allow for the possibility of converting play action passes and incorporating more RPO (run-pass-option) plays. Greene as healthy as he has been since the start of the season could lead to the offense being at its best.
But Houston's defensive line, both in the interior and at the edges, will make it tough on Greene to try to make too many big plays happen with his legs. This is a game Greene may have to air it out some, and that means everyone involved with the offense will have to bring their best efforts.
What Else?
Let's be real here. As much as I usually like to provide at least three keys to every game, the ones listed above are the main keys to this matchup. They just are.
If you really want more, here are some obvious ones. West Virginia has to take care of the ball. West Virginia has to play smart and not try to do too much, which if it back fires, can hand momentum and then the game over to the Cougars. WVU has to win the battle of the trenches. But while all relevant, these are all cliches.
This is a game the Mountaineers should win, and a game they absolutely have to win. It's also a trap game they could easily lose. A loss wouldn't surprise me since Houston, despite their record, does a lot well that could give be an issue. In all honesty, this could easily be a matchup disaster for West Virginia.
WVU and Houston will kickoff from John O'Quinn Field at TDECU Stadium at 7 pm ET. The game will be televised nationally on FS1.
Based on current odds, West Virginia is considered a three-point favorite. The line initially opened at four points, but has been consistently predicting a close game as it's moved.