WVU Football's Jared Bartlett Claims Big 12 Defensive Player Honors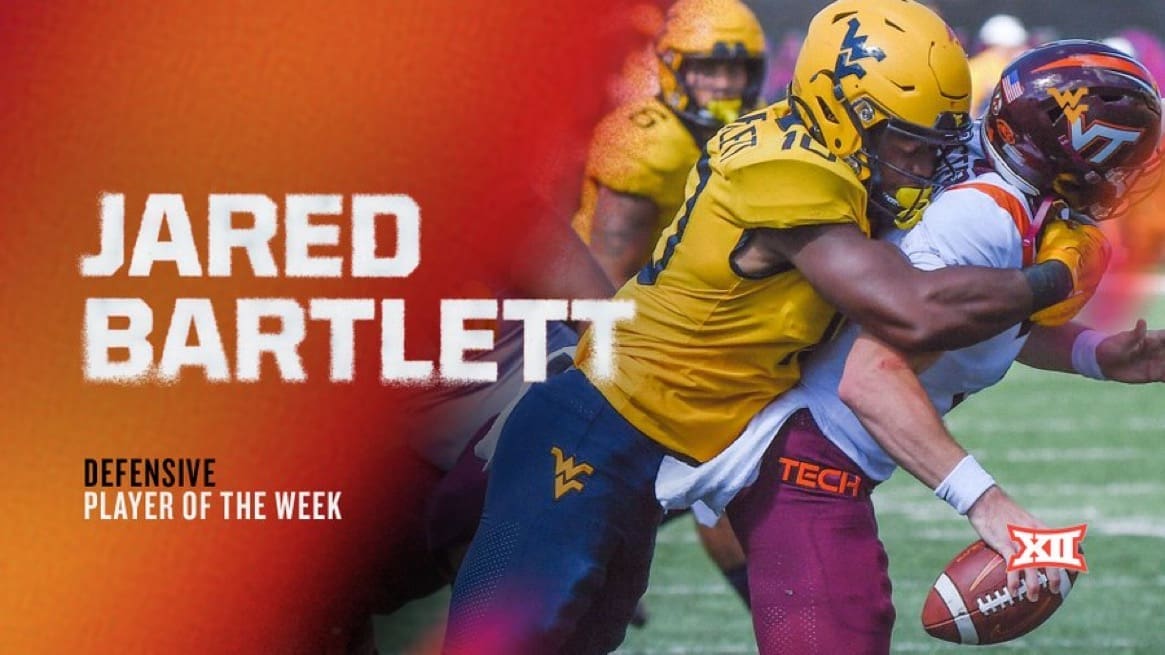 MORGANTOWN, W.Va. – The Big 12 Conference awarded WVU's redshirt sophomore BANDIT Jared Bartlett Defensive Player of the Week honors following his Week 3 showing against Virginia Tech.
𝙅𝙖𝙧𝙚𝙙 𝘽𝙖𝙧𝙩𝙡𝙚𝙩𝙩, 𝙒𝙚𝙨𝙩 𝙑𝙞𝙧𝙜𝙞𝙣𝙞𝙖, 𝙇𝘽#Big12FB Defensive Player of the Week

🏈 Bartlett had a season-high five tackles, including a game-high and career-high three sacks in WVU's 27-21 win over No. 15 Virginia Tech

Details ➡️ https://t.co/QzAr19DbbK pic.twitter.com/05I4GAG1Uf

— Big 12 Conference (@Big12Conference) September 20, 2021
Bartlett, in his third season with the Mountaineers, added season-high numbers against the Hokies on Sept. 18. He not only registered five tackles, boosting his career record in a Mountaineer uniform up to 20; he also burst through the pocket to find VT's Braxton Burmeister three separate times in the 27-21 WVU victory and recorded three tackles for loss, both career-highs; he quickly became an integral part of the Mountaineer defense, recording half of Burmeister's sacks by the end of the win.
Those three sacks tied Darius Stills' record at Baylor in 2019. Along with a forced fumble, Bartlett also helped the Mountaineer defense to its most sacks since Baylor the following season. This is Bartlett's first Big 12 Conference weekly honor.
Outside of Bartlett's recognition, the Oklahoma State Cowboys swept the honors. Week 3 Offensive Player of the Week and Newcomer of the Week, Oklahoma State's Jaylen Warren and Special Teams Player of the Week Jason Taylor II will meet Bartlett and the rest of the Mountaineers on Nov. 6 in Morgantown.