WVU Formally Retires No. 66 for Football Legend Chuck Howley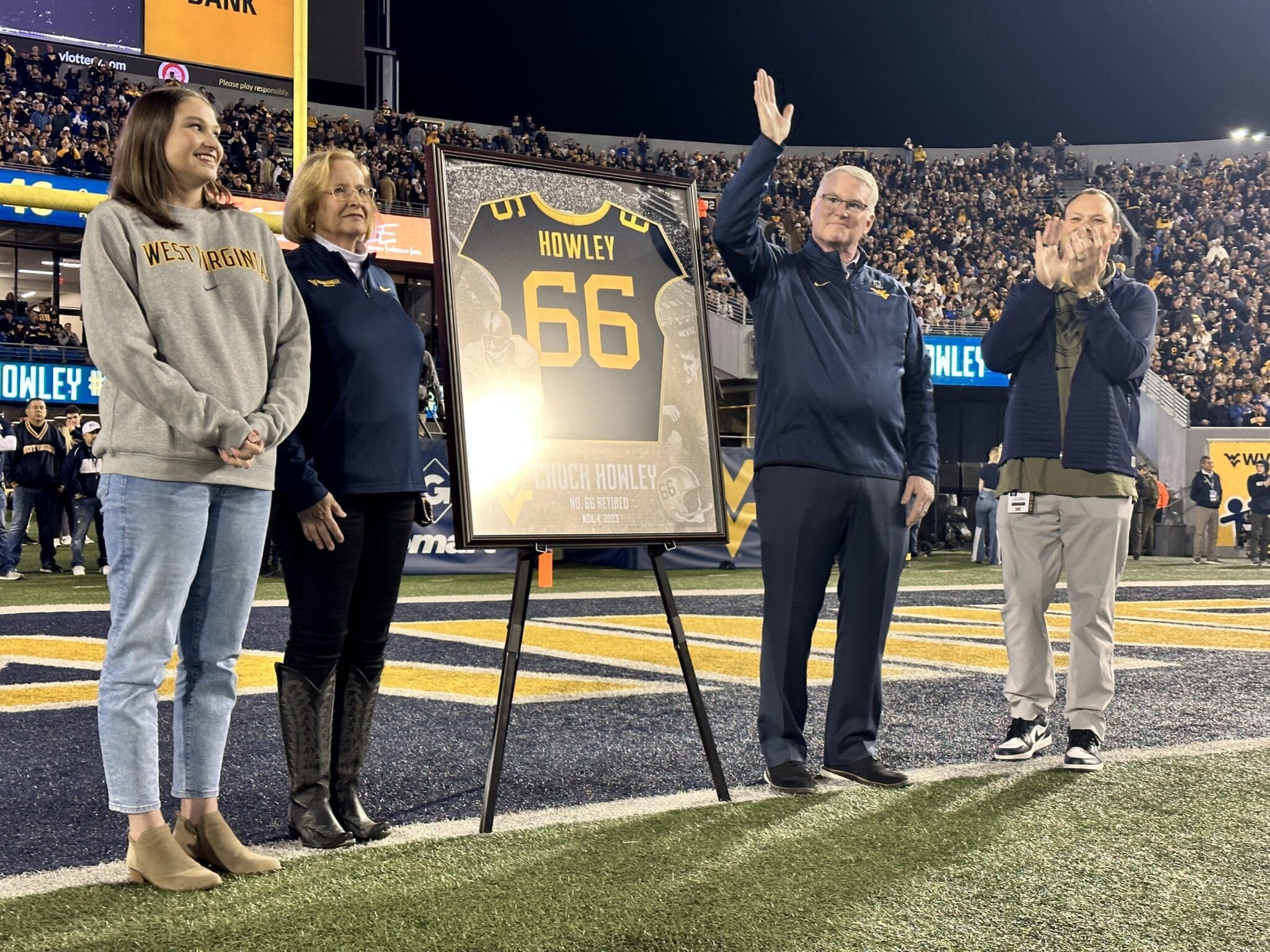 One of the greatest Mountaineers of all-time finally took his place among other West Virginia legends. The number 66 for Chuck Howley was formally retired by WVU on Saturday.
WVU made the decision to retire Howley's number months after his induction into the Pro Football Hall of Fame earlier this year. His family was honored on the field during West Virginia's game against BYU as they watched his name and number be added to the stadium wall.
Howley's 66 became the sixth number to ever be retired by the WVU football program. The other retired numbers are Major Harris (9), Ira "Rat" Rodgers (21), Sam Huff (75), Bruce Bosley (77) and Darryl Talley (90).
Current offensive lineman Ja'Quay Hubbard who wears No. 66 for the Mountaineers will finish his career in that number before it goes into permanent retirement, per WVU in the release about Howley.
A native of Wheeling, West Virginia, Howley played football (and other sports) at WVU in the mid to late 1950's before being drafted with the number 11 overall pick by the Chicago Bears in 1958. He's the only five-sport letterman in WVU history. After two season in Chicago, Howley found his way to the Cowboys, the franchise he would be most associated with spend the rest of his career. In Dallas, Howley became a five-time All-Pro and six-time Pro Bowler.
Howley also stands as the answer to the trivia question of being the only player to ever win Super Bowl MVP in a losing effort. He did so in Super Bowl V, a game Dallas lost to Johnny Unitas and Baltimore Colts. Howley, however, would claim a Super Bowl championship the next year in Super Bowl VI.
Howley became the third WVU player to earn enshrinement in the Pro Football Hall of Fame, joining Sam Huff and Joe Stydahar.
Watch former Cowboys teammate and football legend Roger Staubach inform Howley he made the Hall of Fame in the story below.