Mountaineer Nation Mourns the Loss of Dale Wolfley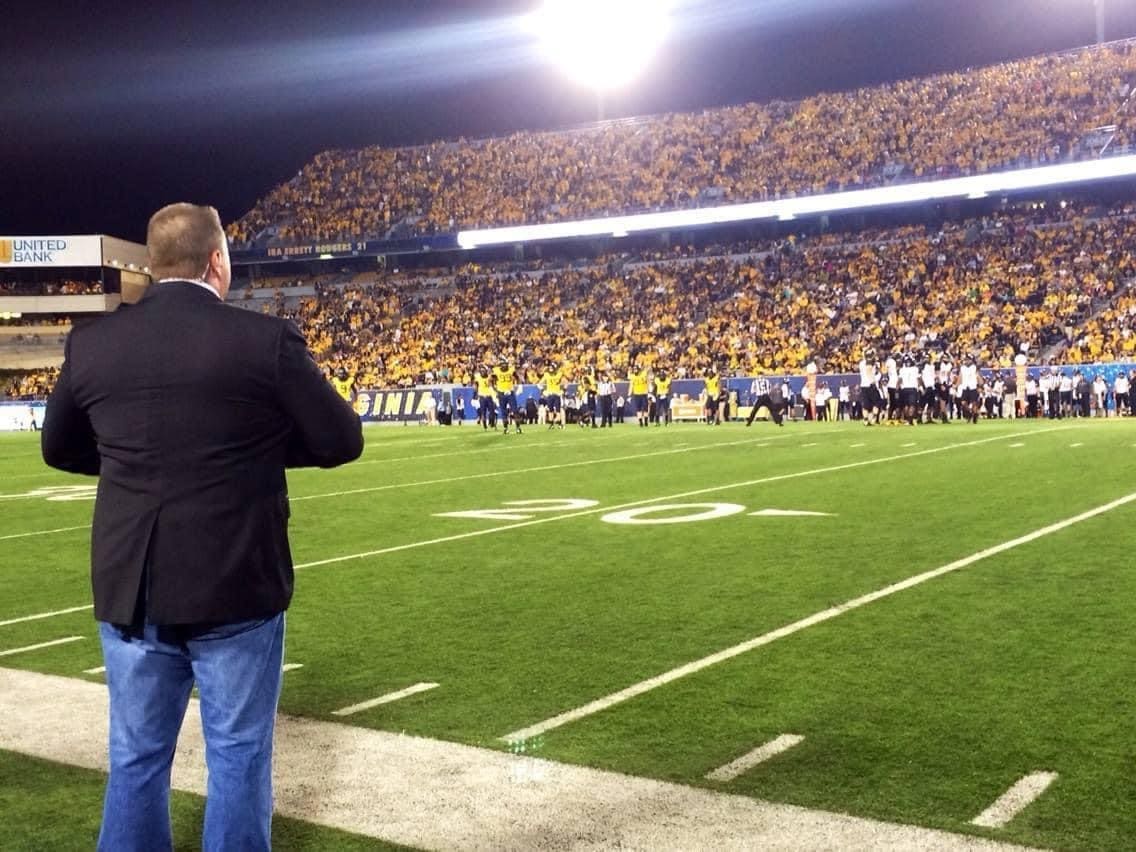 As the news about the death of Dale Wolfley began to circulate Sunday evening, WVU fans and colleagues started to share their sadness.
Wolfley touched everyone he came in contact with and that's evident by what people are now saying about him as a man. He will forever be remembered as a former West Virginia player, broadcaster and passionate supporter of the Mountaineers.
Here are some comments about Dale Wolfley.
Extremely devastating news. You were always my biggest fan Wolf!! Your legacy lives on forever. Thank you for your impact you've left on the state of West Virginia. Your inviting arms allowed my dad and I to build a never ending bond with you. Pray for the Wolfley family.… https://t.co/jEO41R6AkM

— Nicco Marchiol (@MarchiolNicco) October 9, 2023
Rest in Peace to our friend, Dale Wolfley.

Prayers for the Wolfley family. https://t.co/hIjFzckLTm

— The Ryan & Rush Show (@ryanandrushshow) October 8, 2023
Say it ain't so 🥺 no one brought the passion like the Wolfman! This one hurts. Was such a great guy to us in all of our interactions. One of a kind. Will certainly be missed! https://t.co/Df9SppS98F

— Country Roads Webcast (@WVUCountryRoads) October 8, 2023
Just hitting me that I just talked to Dale Wolfley less than a week ago. Great man. Incredibly passionate about the West Virginia Mountaineers. Gone way too soon. Appreciate every moment with loved ones. You truly never know.

— Mike J. Asti (@MikeAsti11) October 8, 2023
Sad news… we lost The Wolfman last night. Big Smile… Big Boom. Miss you in the "Wolf's Den" 📺 RIP -Your Producer pic.twitter.com/BNhAO4Cql5

— Charles Scatterday (@cScatTweet) October 8, 2023
My condolences go out to the Wolfley family, close friends and Mountaineer Nation

I only knew Dale for a relatively short time, but his huge heart and big spirit were infectious. We were honored to have him as an integral part of our #WVU channel at "The Voice of College… pic.twitter.com/KFjbVdCbbg

— Mark Rogers (@MarkRogersTV) October 9, 2023
Damn ..RIP Dale Wolfley 🙏🏾

— john flowers (@jflow41) October 9, 2023
"My Mountaineer Brother! This is truly hard to believe. When I heard the news of Dale Wolfley's passing, I didn't want to believe it. Dale was my teammate at WVU, my friend and Mountaineer brother. He was truly a special person and will be missed by all. RIP my brother." ❤️ pic.twitter.com/O6DIjzZ2ul

— Eugene Napoleon (@napoleon_eugene) October 8, 2023
I've worked with a lot of big personalities, none bigger than Dale Wolfley.

He will be missed.

Our condolences & prayers to his family during this time. 💛💙♥️ pic.twitter.com/IMBh2DOHC3

— Amanda Ross Mazey (@AmandaMazey) October 9, 2023
My condolences and prayers up to the entire Wolfley Family. Dale loved everything about the Blue & Gold🙏🏼

— Anthony Becht (@Anthony_Becht) October 8, 2023
Sad to hear of the passing of Dale Wolfley. He was a friend and frequent guest on the Courtside With Coach Crist show. We communicated with each other often and developed a great relationship. He will be missed. A true Mountaineer. pic.twitter.com/Mq4rRJtGbG

— Greg Crist (@CoachCrist) October 9, 2023
Sad to hear of Dale Wolfley's passing last night–what a great ambassador he was for WVU; I was thrilled to meet him twice in recent years…God bless the Wolfley family! pic.twitter.com/TfRwRJob5c

— J.D. Anderson (@profquest) October 8, 2023
It seems Mountaineer Nation lost one of brightest stars, former offensive lineman Dale Wolfley. Wolf was my friend. He was always there to give me a pep talk & share his insights on the team. He was funny, warm, sincere & an overall great person.

— C.W. Lambert (@InsideTheBig12) October 9, 2023
I know dying is a part of life but I don't know how much more I can take of people dying that I get close to. Two of the best people I know in this world where West Virginia fans who showed me absolutely nothing but respect. Gold and Blue Dude and Dale wolfley. Rip Brothers

— Talk Is Pitt (@Talkispitt89) October 8, 2023