WVU HC Neal Brown Feels 'Pissed, Nearly Embarrassed' Over Oklahoma Loss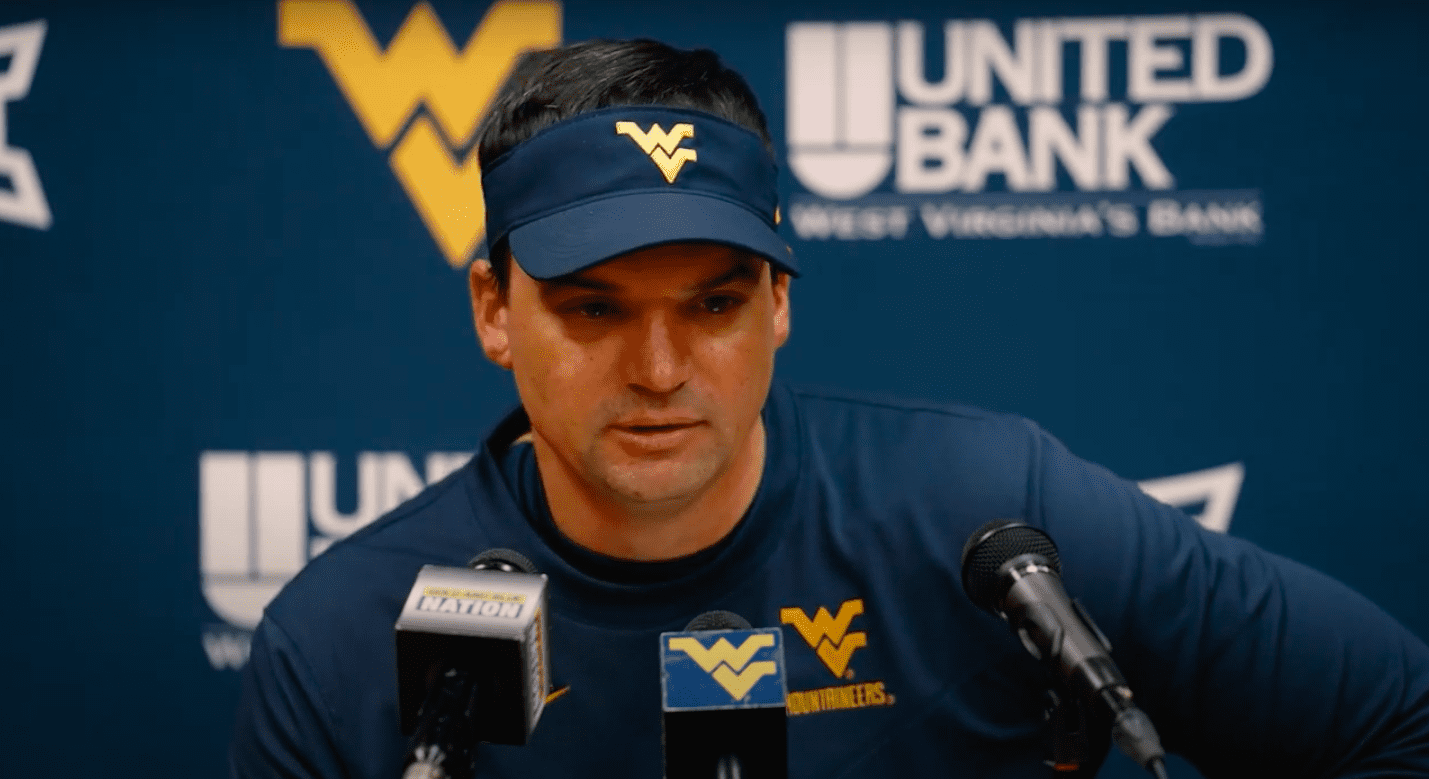 To say Neal Brown was pissed off at his team after West Virginia's 59-20 loss to Oklahoma would be an understatement.
Brown made comments about being "embarrassed" and how no one from the coaches to the players was "good enough" on Saturday night. And what made this result so frustrating for Brown was that his team was playing well entering the game. He even said they had a great week of practice.
It's safe to say Brown did not see the effort put forth against the Sooners coming.
"I didn't see that coming, we practiced well. The last two years against Oklahoma combined score have been tied and you know, that didn't resemble anything. That football in all three phases didn't resemble anything that we put on tape this year and credit to Oklahoma, they beat a soundly, Brett (Venables) had those guys ready to go after the two losses and the home crowd was into it and they played with a lot more energy and a lot more execution than we did," said Brown to open up his postgame press conference.
The Mountaineers got beat in every phase of the game by an Oklahoma team that had lost back-to-back games prior to facing WVU. And after praising Garrett Greene in recent weeks for his play throughout the season, especially since returning from an injury over a month ago, Brown knew his quarterback did not have anything close to his best day in Norman.
Greene completed only 10 out of 37 pass attempts for just 154 yards. He did throw two touchdown passes, but also thew a costly interception. Greene only added 24 yards on the ground. He didn't play the type of smart football Brown is always harping about.
"Offensively if you look at it, Garrett really struggled after that first Drive in the first and second quarter – didn't play like himself. They beat us up front, especially a thought after our first initial drive there in the first second quarter, where the game got away from us a little bit. They got after us up front, that's really the first time it's been done all year," Brown said.
It wasn't just about Greene for Brown though. The offense looked disjointed all game after scoring on the opening possession.
"We can't be any quality teams if our pass game is in the shape, it was tonight. It is probably as bad as stats passing has ever been associated with. We had drops, we missed reads, we missed throws. We got hit more tonight than we have. And then our third down execution, this wasn't good enough," he added.
But as bad as the offense was at times, the defense was that much worse and it was their poor performance that angered Brown more than anything.
"Defensively, they pretty much did what they wanted to. You know if you look at it, basically 10 of 14 on end of possessions down. We couldn't get off the field. They exposed us in coverage. They took advantage of matchups. They went after some people tonight. We didn't fit the run, especially early. We didn't fit the run very well. Like I said, couldn't get off the field. And so, disappointed."
Brown then offered a proclamation that the defense, and overall team. will look much better moving forward. He feels his team has shown they are better than how they played against Oklahoma and will end the season the right way.
"I can promise you this, that won't be how we finish. We've had nine games, we played football at a pretty high level even the games we lost. Penn State competitive one score game going the fourth quarter. Lose on a Hail Mary, and then, up in the fourth quarter against Oklahoma State, and all that, we played pretty sound football looks like a well-coached unit and played and competitive," Brown explained while clearly frustrated.
Even though he's shocked by what he watched on the field, Brown did put plenty of the blame on his own shoulders too. "And I don't want to get into it till watch the tape, but we didn't coach good enough. We didn't execute good enough and that didn't resemble anything that the 2023 Mountaineers have been."
And if he hadn't already make his feelings known, Brown reiterated how disappointed and embarrassed he is with this West Virginia team right now.
"To say that I'm disappointed would be an understatement at the at the least. Quite frankly I'm pissed and nearly embarrassed by what we put on the tape tonight."
Unfortunately for Brown and his team, there's nothing they can do about what took place in Oklahoma now. In fact, it's very likely West Virginia may never get another opportunity at the Sooners again.
All that can be done at this point is to try to regroup and truly provide proof that the program is climbing in the right direction by winning. WVU has two very winnable games remaining on the schedule.
The Mountaineers will play at home for the last time in 2023 against Cincinnati next Saturday and then end the regular season on the road at Baylor.