WVU Wrestling Dominates No. 17 Northern Colorado for First Big 12 Win of 2021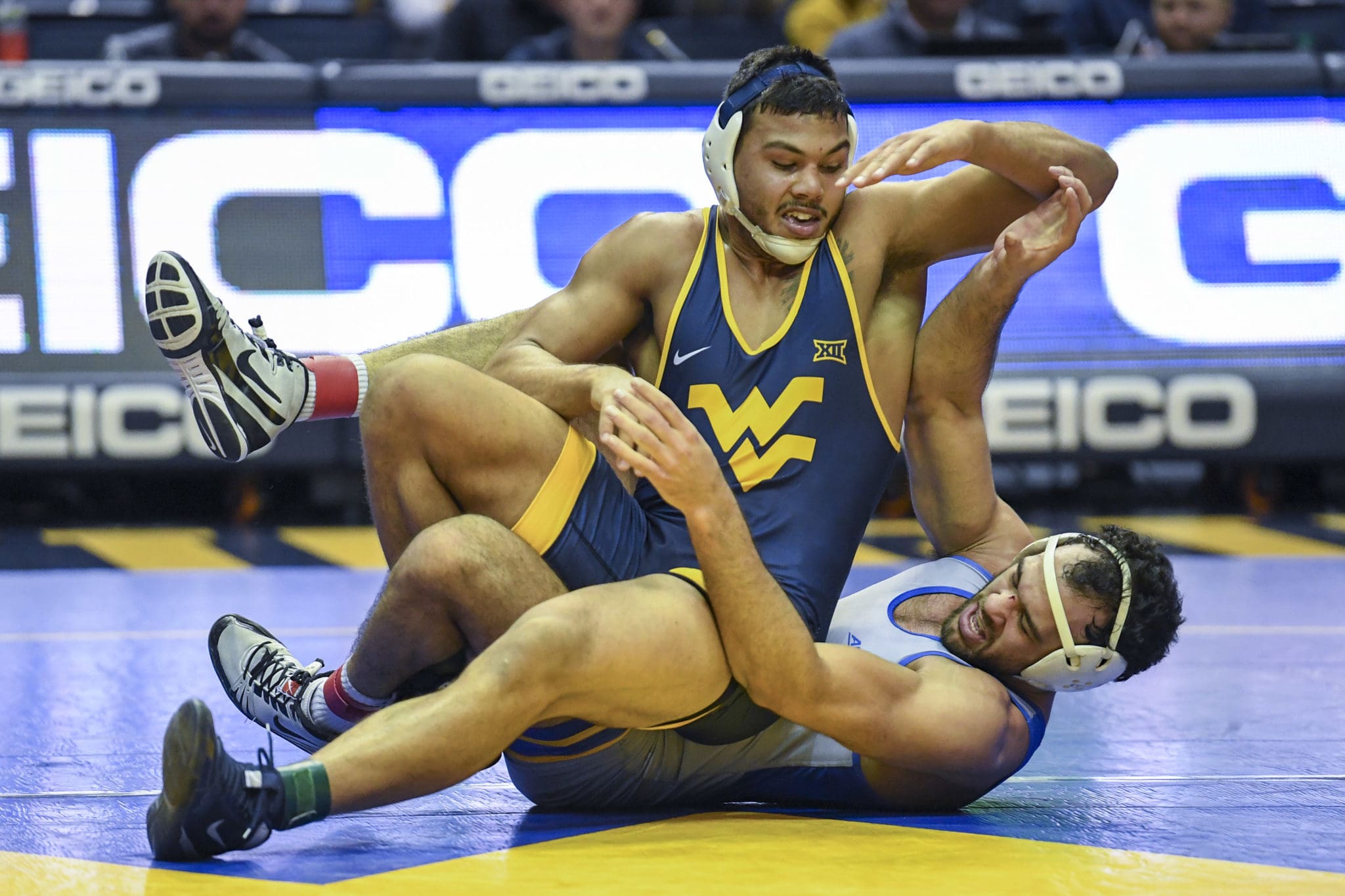 The West Virginia University wrestling team put together its most dominant showing of the 2021 season Sunday, upsetting No. 17 Northern Colorado by way of a lopsided 25-11 final score at the WVU Coliseum in Morgantown. It was West Virginia's first dual win against a ranked opponent since the 2018-2019 season.
With the win, the Mountaineers improve to 5-2 overall and 1-2 against Big 12 competition. Northern Colorado, making its return to dual competition for the first time since Jan. 8 following three cancelled events, falls to 4-1 overall and 3-1 in the Big 12.
Despite a dominant start the match's first two bouts for the visiting Bears, WVU was able to wear them down and rally late — winning seven of the final eight individual matches, including an upset win by Pitt transfer Ryan Sullivan at 133-pounds to help secure the win.
The win was Sullivan's first in a non-exhibition scenario since he arrived in Morgantown from Pitt.
"That was huge," WVU third-year head coach Tim Flynn said of Sullivan's win via fall at 133. "I was happy for Ryan. He's put in a lot of work. He came back kind of heavy and had to work at getting his weight down. Not only did he get his weight down, but he looks good. He looks sharp. He did a really nice job today. The [Northern Colorado] kid was hurting, we could see he was hurting. [Ryan] smelled the blood, and went out and got a fall."
With a commanding 7-2 lead over No. 20 Theorius Robinson in the second period, Sullivan — a Pittsburgh native — was able to turn Robinson and secure the fall. Sullivan's win extended the WVU team lead to 16-8, with just four matches remaining — a lead the home team would never relinquish.
It's always good to celebrate a pin with the boys 👊 #HailWV pic.twitter.com/DXDbXqAUaa

— WVU Wrestling (@WVUWrestling) January 31, 2021
Noah Adams, the nation's unanimous No. 1 wrestler at 197 pounds, defended his top ranking with a dominate performance against a ranked opponent on Sunday. Adams beat No. 16 Jacob Seely 13-1 — Adams' third consecutive major decision win against Seely. The win also extended Adams' win streak to 39 consecutive matches.
"I think [Adams] was dominant and that's what we are trying to get him to do," Flynn said. "We're trying to get him to use all of his weapons. He was shooting, he was attacking the legs. He was using an underhook. He looked good [today]."
3️⃣9️⃣ straight‼️ The nation's No. 1 197-lb wrestler Noah Adams extends his match win streak to 39 straight! #HailWWWWWWWWWWWWWWWWWWWWWWWWWWWWWWWWWWWWWWWV pic.twitter.com/M5IwvNeAqu

— WVU Sports (@WVUSports) January 31, 2021
WVU redshirt junior Killian Cardinale also put together his best showing on the year on Sunday. Cardinale's 7-2 decision over Jace Koelzer included three takedowns and a whopping three minutes of riding time.
Today's win is Cardinale's second in a row following a major decision win last week for the Old Dominion transfer against Cleveland State.
Heavyweight Michael Wolfgram, who is currently unranked, joined in on the fun, earning a 5-3 win of his own over No. 15 Dalton Robertson. In the win, the York, Pennsylvania prep product proved he is a heavyweight who can shoot, escape. and ride.  He did all three successfully in his match.
At 141, Jeffrey Boyd prevailed in a lengthy OT match against Chris Sandoval, who appears ranked in a variety of polls. With the match tied at one in overtime, Boyd hit a takedown and followed it up with four-point near fall to earn a 7-1 decision. The match was far tighter than the score would indicate.
After suffering a surprising pin last week against Cleveland State, 157-pounder, Alex Hornfeck looked dominant in a 6-1 defeat of Northern Colorado's Bobby Lamb, who found his way into the Bear lineup due to COVID-19-related availability issues with its traditional starter. The win extended the WVU team score margin to double-digits.
Freshman Peyton Hall, who was the tenth match of Sunday's dual, didn't wrestle his strongest match, but managed to come away with an 8-5 decision that will likely keep him a nationally ranked wrestler heading to next week with a 6-1 overall record.
West Virginia 25, No. 17 Northern Colorado 11
174: Jackson Hemauer (UNC) major dec. Scott Joll (WVU), 11-2
184: Alan Clothier (UNC) major dec. Jackson Moomau (WVU), 10-2
197:  Noah Adams (WVU) major dec. No. -/16/26 Jacob Seely (UNC), 13-1
HWT: Michael Wolfgram (WVU) dec. Robert Winters (UNC), 5-3
125:  Killian Cardinale (WVU) dec. Jace Koelzer (UNC), 7-2
133: Ryan Sullivan (WVU) wins by fall No. -/20/28 Theorius Robison (UNC), F 3:48
141: Jeffrey Boyd (WVU) dec. No. -/-/24 Chris Sandoval (UNC), 7-1 [SV-2]
149: Nathan Moore (UNC) dec. Brayden Roberts (WVU), 4-3
157: Alex Hornfeck (WVU) dec. Brody Lamb (UNC), 6-1
165: No. -/24/25 Peyton Hall (WVU) dec. Jordan Robison (UNC), 8-5
Extra Matches:
133: No. -/20/28 Theorius Robison (UNC) dec. Colton Drousias (WVU), 6-3
157: Caleb Dowling (WVU) major dec Nick Knutson (UNC), 12-3
165: Jack Blumer (WVU) dec. Jordan Robison (UNC), 12-7
174: No. -/23/24 Jackson Hemauer (UNC) major dec. Casey Recrosio (WVU), 13-4
Looking ahead, WVU opens the month of February on the road, as the Mountaineers head to Laramie, Wyoming, for a dual against Wyoming on Saturday, Feb. 6, at 1 p.m. ET. Following its match against the Cowboys, WVU travels to Greeley, Colorado, for a pair of neutral-site matches against Air Force (9:30 p.m. ET) and Fresno State (10:45 p.m. ET) later that evening.
*All team ranking information is via the NWCA Coaches Poll rankings released Jan. 26. *All individual ranking information is via FloWrestling rankings released Jan. 25
Welcome to the new home of WVU football and basketball breaking news, analysis and recruiting. Like us on
Facebook
, follow us on
Twitter
and check us out on
YouTube
. And don't forget to
subscribe
for all of our articles delivered directly to your inbox.