Edwards Leads WVU Past George Mason in Exhibition, 85-78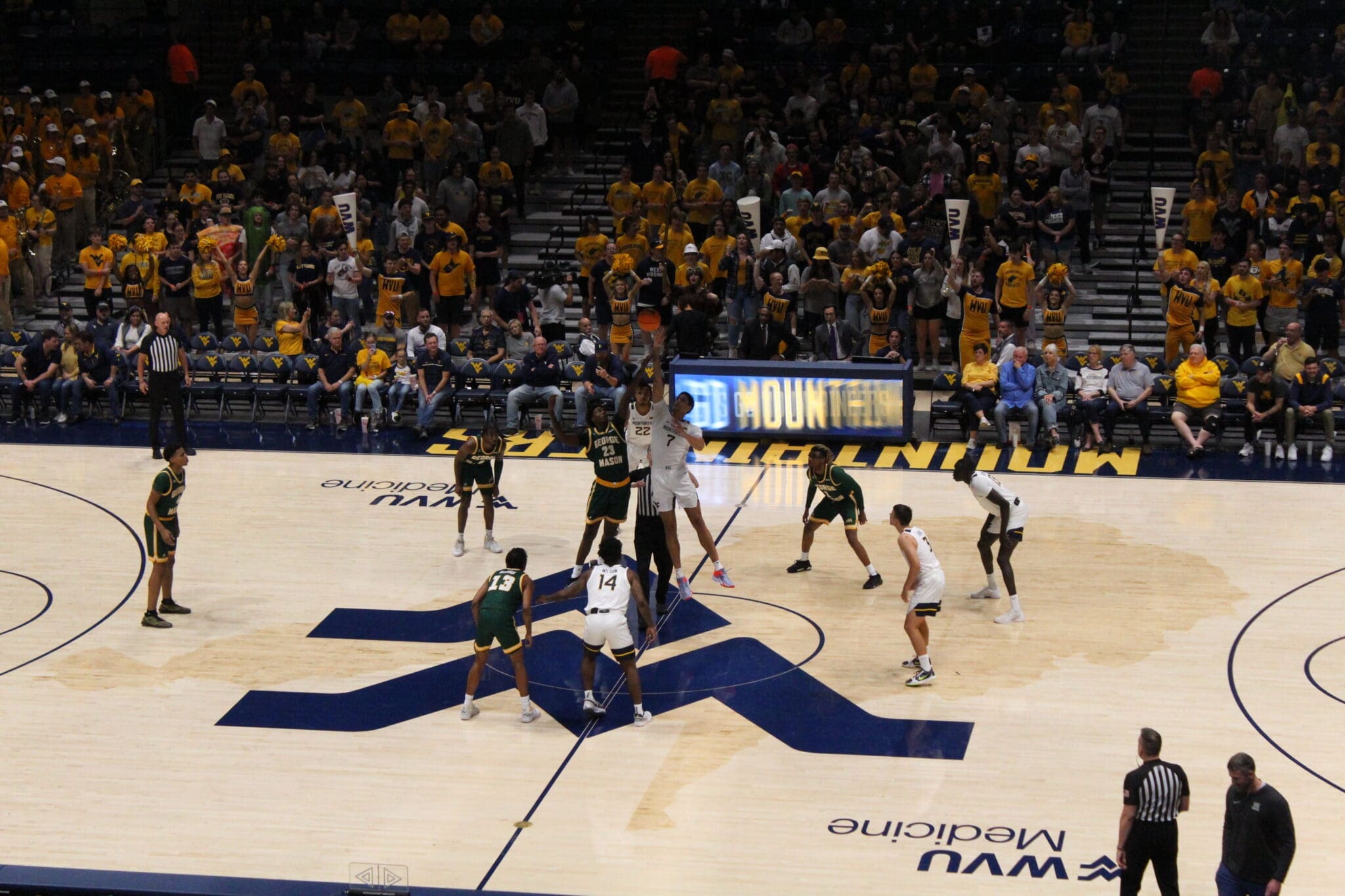 MORGANTOWN, W.Va. — West Virginia hosted George Mason in a charity exhibition game on Friday night, with the Mountaineers taking the win 85-78.
WVU's top transfer addition Jesse Edwards converted on multiple and-one plays in the final minutes to push the Mountaineers past the Patriots. Edwards ended the night with 21 points, seven rebounds, two assists, two steals and three blocks. The 6-foot-11 big man shot 8-of-12 from the field.
With 16 minutes left in the second half, WVU F Akok Akok collapsed on the floor at the end of the play. Multiple medical workers rushed over to attend to Akok for about 13 minutes before stretchering him off the floor. Play resumed after a five minute break.
George Mason shot the ball incredibly well throughout the 40 minutes, finishing on 48% from the field and 44% from the free-throw line.
WVU's bigs faced foul trouble early in the first half as Jesse Edwards and Akok Akok each had two fouls. Iona transfer Quinn Slazinski subbed in off the bench and provided an offensive spark. Slazinski finished with 21 points on 5-of-12 shooting.
West Virginia spent this game finding their identity on both sides of the floor. WVU only returns four players from last season in Seth Wilson, Josiah Harris, Kobe Johnson and Patrick Suemnick. Wilson and Harris were inserted into the starting five.
Wilson finished with seven points while Harris had 12 points and eight rebounds.
WVU G RaeQuan Battle did not participate in the exhibition game due to his waiver status. Battle was denied immediate eligibility by the NCAA on Monday. West Virginia Governor Jim Justice completed a letter to NCAA President Charlie Baker on Friday, asking for them to reconsider their decision. WVU is appealing the decision.
Former WVU HC Bob Huggins was in attendance, appearing at the very first Mountaineer game at the coliseum since his resignation over the summer.
West Virginia will open up the season against Missouri State on Monday, Nov. 6 at 7 p.m. ESPN+ will carry the broadcast between the Mountaineers and Bears.