'I'm a Risk Taker': Carmelo Adkins on Committing to Interim Staff at WVU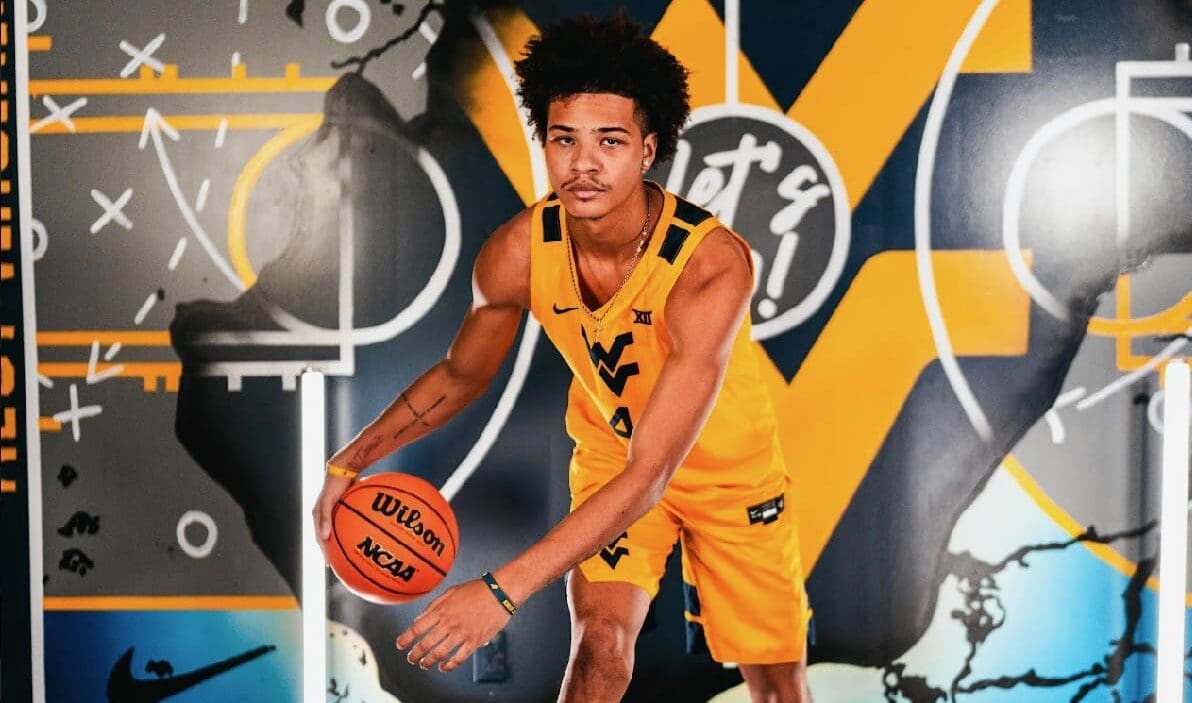 West Virginia Basketball received a commitment from 2024 combo guard Carmelo Adkins on Thursday night. Adkins, a 6-foot-5 prospect, is WVU's first commitment in next year's class. Adkins talked to WV Sports Now about his commitment.
WVU interim HC Josh Eilert and his staff are in a year of unknown as AD Wren Baker will evaluate the performance of the team at the end of the season. Adkins knows it's a risk but isn't afraid to take it.
"It sucks knowing that they are in that position right now, but I'm very positive that they'll be back to coach me next year," he said. "Obviously it was a risk but I'm a risk taker."
Adkins received an offer from WVU assistant Jordan McCabe after the former Mountaineer guard watched the Texas prospect in person. McCabe made the trip to Phoenix, Az. to watch Adkins' PHHoenix Prep team work out. In his first action drill, Adkins twisted his ankle. With McCabe and other coaches in the building, Adkins wanted to tough it out and showcase his skills. Adkins got back into drills, defended on and off the ball while hitting shots. That's exactly what McCabe loved about Adkins' game.
"Having Jordan McCabe believe in me is such a blessing," Adkins said.
Adkins then officially visited West Virginia on Oct. 21 and enjoyed his time.
"Morgantown is a college town and seeing how the fans support the athletes on and off the field is just great to be around," Adkins added. "After seeing the team practice and scrimmage, I see that they want to get a lot of threes up and that's my style of play."
Adkins received offers from Bryant, Holy Cross, UT-Arlington and West Virginia. Adkins also planned on visiting UC Santa Barbara and UTA but those plans have changed. With Adkins' unique play style at the combo guard, there's a lot of versatility in his game for the Big 12. The 2024 prospect actually grew up watching Texas Tech and now will prepare to play for West Virginia next year.
"I'm from Lubbock, so growing up watching Texas Tech play every year in the best conference just motivated me to want to play in the Big 12. I couldn't ask for anything better," Adkins said.
West Virginia's program has not received a lot of positive news as of late this offseason. From Bob Huggins resigning in June to only having eight scholarship players available for the season opener, Eilert and his staff needed to hear some good news. Adkins was happy to give them the good news on Thursday.
"West Virginia basketball is dealing with some NCAA issues right now, so whenever I told them I committed they were as excited as I was," he said. "I just want West Virginia fans to know that I'm going to go all out for the basketball team!"
WVSN will keep you updated with Carmelo Adkins and the process through his prep year this season.