Storylines to Keep an Eye On for WVU-Oklahoma State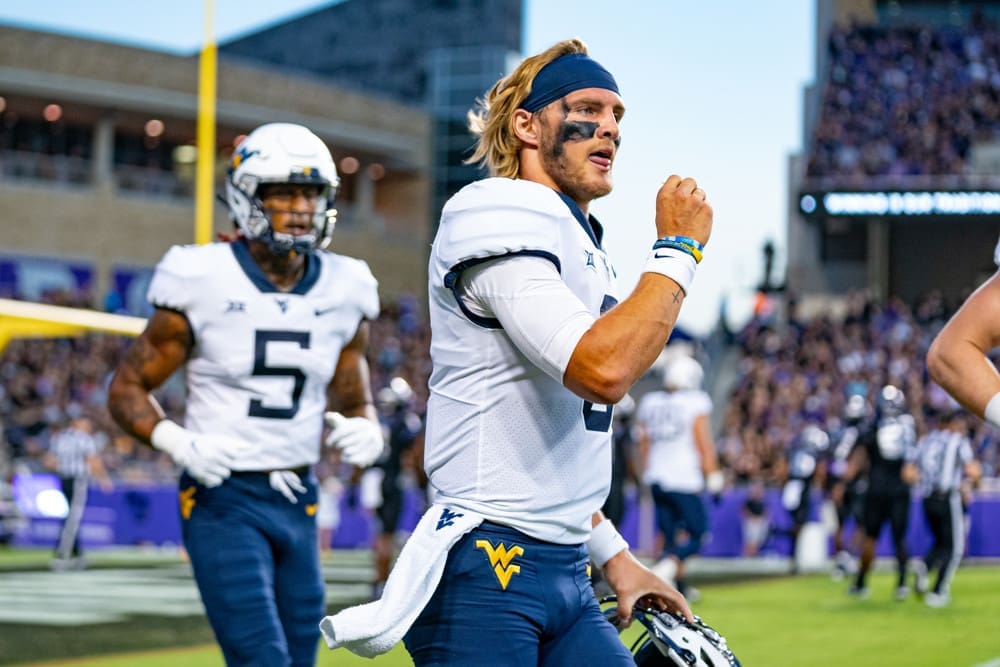 This matchup between WVU and Oklahoma State may serve as an elimination game in the middle of a season. The winner can prove they are a true contender and stay in the thick of the Big 12 race, but the loser will find itself with plenty of doubters and forced to fight an uphill battle the rest of the way.
Some are calling this game a must-win for WVU. If West Virginia wants to keep any hopes of 2023 being a special season alive they can't afford another conference loss at this point in the season.
The Mountaineers will have to be at their best to take down a Cowboys team that has completely turned their season around after a bad loss earlier in the year.
West Virginia and Oklahoma State are entering this matchup with identical records, but the Cowboys are the ones riding momentum with back-to-back wins over ranked opponents. Conversely, WVU is trying to get back on track and move on after enduring a tough loss in the final seconds in Houston.
Here are some key storylines to keep an eye on while you watch the game.
Prior to that faithful Thursday night, WVU was undefeated in conference play, only looking up at Oklahoma and arguing their case as deceiving of being rank. But now after enduring a tough loss to a an average Houston team, the Mountaineers find themselves tied with several other teams in the Big 12 standings and out of the national conversation all together.
This shows how much one game can really change the perception around a team, but West Virginia has still also achieved far more to this point in the season than most predicted they would. Neal Brown is no doubt selling his team on the fact that they are still very much in the thick of the battle for the Big 12 and their only loss besides Houston is to a Penn State team that vying for a spot in the College Football Playoff.
WVU S Aubrey Burks and OL Wyatt Milum are both expected to play against Oklahoma State, according to Neal Brown on his radio show Thursday night.
Burks had to be carted off the field against TCU and spent a couple nights in a Fort Worth, Texas hospital. He rejoined the team, along with linebacker Trey Lathan who will miss the remainder of the season, the Wednesday after the game.
Milum endured being racked in the eye and Brown previously compared his situation to a boxer and said his eye was too shut for him to go back in and play.
Brown also says OL Tomas Rimac's status remains questionable for Saturday.
West Virginia added Devin Carter to be their number one receiver. Carter wanted to become a Mountaineer to show he can be a top guy in an offense. And we are just now seeing signs of how much of a threat Carter can truly be.
After only recording three total receptions in his three previous games combined, Carter caught five balls against the Cougars. But more importantly, Carter surpassed 100 yards for the first time as a Mountaineer. He posted 116 yards for an average of 23.2 yards per catch.
Asti: Devin Carter Reaching Potential Allows WVU Offense to be Explosive
The offense needs to keep seeing the Carter from the Houston game to allow the offense to reach its full potential.
Will the Defense Respond?
One of the best days for a WVU offense in years ended up being ruined, mostly thanks to the defense having their worst effort of the season. For as good as the defense was during West Virginia's first five games, in particular the four-game win streak, it was that bad against Houston.
The secondary lost most matchups and there were too many missed tackles to count. Playing fundamental football was something defensive coordinator Jordan Lesley put an emphasis on all throughout the offseason, and it appeared to be paying off until that Thursday night.
WVU can not afford another performance like that one again. And if a repeat showing rears its ugly head, any hope of 2023 being a quality season will be washed away. It's possible the short week after the bye coupled with injuries was a perfect storm that led the defense to have a tough day, but that still can't be an excuse. Fortunately, Aubrey Burks will be back in action on Saturday.