Storylines to Keep an Eye On for WVU-Oklahoma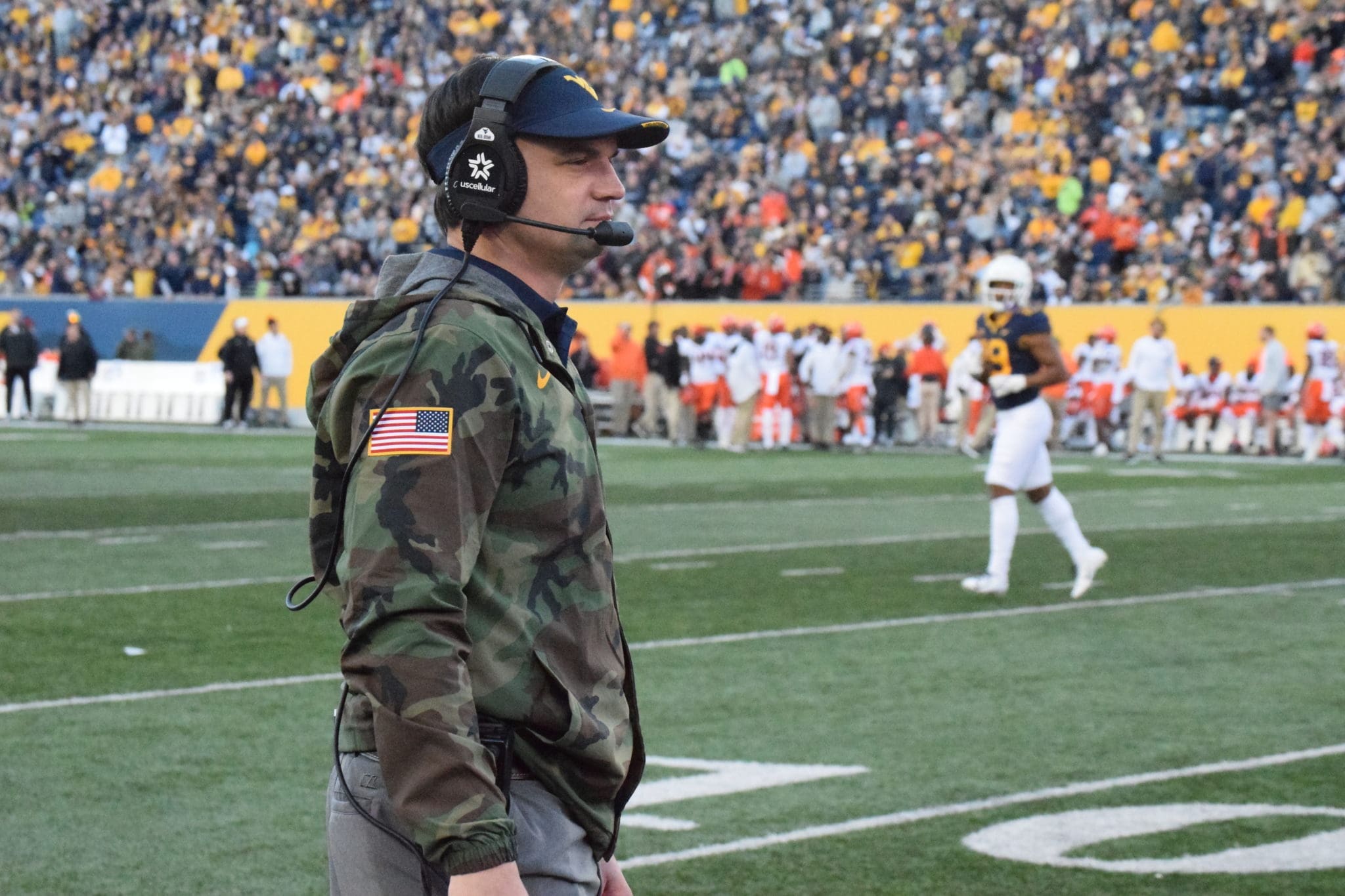 The stakes are going to be very high when WVU and Oklahoma meet for the last time while sharing a conference Saturday night. And with so much on the line, there are plenty of storylines to look out for in this game.
For starters, and most importantly, the winner will remain in the conference race and keep hope alive for an appearance in the Big 12 Championship Game. But revenge is on the mind of both teams too. The Sooners, of course, want to avenge last season's loss in Morgantown and avoid exiting the conference with back-to-back losses to the Mountaineers.
Even though WVU may have a leg up from the most recent matchup, Neal Brown actually has the 2021 game on his mind much more than what happened last year. When asked about holding serve from 2022's big win during his weekly press conference on Monday, Brown responded by saying the coaching staff and veteran players want to win in Norman, something they were close to doing two years ago.
Beyond those obvious storylines, what else should fans keep an eye on while watching West Virginia play in another prime-time game this week?
WVU Enters Game as Heavy Underdog
Despite having the same record in Big 12 play as Oklahoma and coming off two impressive wins, WVU is considered a significant underdog. Most major sportsbooks have the Sooners as a heavy favorite and the ESPN FPI is only offering the Mountaineers an 11.1% chance to win the game.
Mountaineer Nation can take some comfort knowing oddsmakers and the ESPN FPI have been frequently wrong trying to predict West Virginia games throughout this season.
Mountaineers Not Satisfied Just Being Bowl Eligible
The 2023 WVU football team is officially bowl eligible, but that's not on the mind of anyone involved with the Mountaineers.
After beating BYU 37-7 on Saturday night, West Virginia head coach Neal Brown was asked about reaching the magic number of six wins to ensure some type of postseason play. He said it's not even something he's addressed with his team.
WVU Football HC Neal Brown, Players Not Satisfied with Being Bowl Eligible
"We're alive and well in the conference race and that's what we're talking about. The best teams play their best in November. We're on a quest to play our best and I felt like tonight was the most complete game we've played," said Brown.
WVU Offense to Ride CJ Donaldson, Jahiem White
It's no secret the WVU offense, and therefor team, will go only as far as its running game takes them. Fortunately for the Mountaineers, the month of November is starting with the ground game clicking on all cylinders, and that's predominantly thanks to two key players – CJ Donaldson and Jahiem White.
West Virginia knew it had depth on the roster at the position, but through nine games, Donaldson and White are the ones standing out among the rest. And since they both possess such a different style, there's now talk of putting them both on the field at the same time.
Neal Brown Not Thrilled About Defense Leading in Ball-Hawk Rate
Some may argue the secondary has been both a strength and weakness for the WVU defense this season. Others may say injuries have played a big role in the roller coaster ride for the unit. But regardless of anyone's opinion and with most of the season in the books, West Virginia is leading the nation in a category that may make evaluating the secondary even more confusing.
Factoring in everything, and that means all of the good and the bad, WVU is sitting at the top spot in the country in something that on face value may seem like it means the secondary is doing its job.
Why Neal Brown Isn't Thrilled WVU Defense Leads Nation in Ball-Hawk Rate
West Virginia leads in what's being called the "ball-hawk rate" for a defense, according to the calculation of the CFB Film Room. The "ball-hawk rate" calculates the percentage of pass attempts in which a defender makes a play on the ball. At 20%, there's no better defense than the WVU defense at this. Notre Dame is just below at 19.7%. There are even some teams currently in position to make the College Football Playoff who are rank up there at this category like Florida State and Michigan.
While this may seem like a big positive stat for a defense, and I'm not saying it's a bad thing, WVU HC Neal Brown has brought up that it also means the defense should actually have more interceptions and create more turnovers than they do. He's communicated that with his team. https://t.co/YK8iz8qlD5

— Mike J. Asti (@MikeAsti11) November 8, 2023
But oddly enough, this is not something WVU head coach Neal Brown is too thrilled about. Why would a coach not want his defense to be leading a category that seems to be telling a story of being aggressive? The answer is actually pretty simple. To Brown, it suggests his defense has missed a lot of opportunities too.
It will all go down under the lights at Gaylord Family Oklahoma Memorial Stadium on Saturday night. Kickoff is set for 7 pm ET and the game will be televised on FOX.