Three Kansas Offensive Players To Watch For On Saturday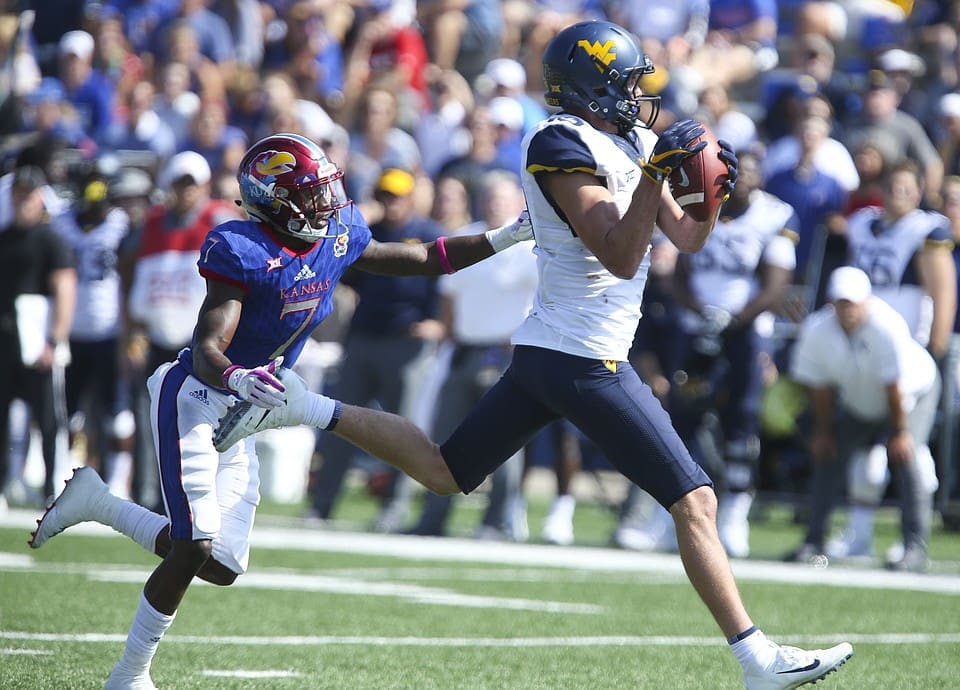 Homecoming is Saturday, the weather forecast looks glowing and coming off of a far-too-close road win over Texas Tech it seems like a prime opportunity for West Virginia to notch another blow out win in conference play.  While I like the picture that paints, West Virginia can ill-afford to look past anyone on their schedule, much less a Kansas team featuring arguably the conference's leading rusher.  With that in mind, here are three Jayhawks to be mindful of come Saturday.
Pooka Williams, RB– Few freshman have made quite the splash this year that Anthony "Pooka" Williams has.  The Louisiana native, who entertained myriad offers from power five schools including in-state LSU and Alabama, held true to his early pledge to the Jayhawks and, suffice to say, the folks in Lawrence are beyond thankful that he did.  The speedster, who allegedly ran a sub 4.3 forty in high school, has been electric in 2018 and has the stats to prove it: 547 total yards, 4 TD's and an incredible 7.9 YPC average.  What's more, he's had at least one 40+ yard run in his first four games in this his first season of college football.  Basically, the kid is really good.  So, for Tony Gibson's DAWGS, the objective is simple: see no.1, stop no.1.  Fortunately for the Mountaineers, who currently rank 21st nationally in team defense, runs stoppage has been far better in 2018 compared to last season.  If West Virginia's odd front, starting with Kenny Bigelow on the line, can contain Williams early, an anemic Kansas pass offense will have to try and work up a miracle in Morgantown.
Carter Stanley, QB– Up until last week's 48-28 loss to Oklahoma State, Peyton Bender had been the man under center.  HC David Beaty had a change of heart, however, and looked to junior Carter Stanley to try and add some effective balance to star freshman Pooka Williams' efforts on the ground.  Compared to what Kansas had been able to produce up to that point, the changing of the guard worked.  Stanley threw for a season and team high 247 yards on 24 of 32 passing with three TD's and no turnovers.  That's a good day's work in just about any case.  Now comes Stanley's chance to really earn the hearts and minds of Jayhawk nation against a defense that is only giving up an average of 17.8 PPG.  West Virginia will likely game plan around the run and dare Stanley to beat its secondary over top, especially since starting corner Josh Norwood will be sitting out the first half of Saturday's game due to a targeting call he incurred last week in Lubbock.  Regardless, the Vero Beach, FL native will need to be locked in if he hopes to silence a raucous Mountaineer crowd on Saturday.
Steven Sims, JR, WR– If Carter Stanely hopes to draw attention away from the run game and surprise the Mountaineers with shots downfield, it'll happen via his connecting with senior Steven Sims, Jr.  While no one in the Jayhawks receiving corps is flaunting dazzling statistics through four weeks of action, Sims is third in Kansas history on the career receptions chart and just tallied his first-ever 10 reception day against Oklahoma State, last week.  The Texas native is a slight, fast athlete that has good shake in the open field.  However, Sims is drop-prone and is only beginning to get in sync with presumptive resident starter Carter Stanley.  Can Sims have another big day this Saturday?  There's no way to know but riding off a successful passing performance against a decent Oklahoma State defense, no one should be surprised if the Jayhawks test the Mountaineers downfield early on.  If the Mountaineers can contain Sims on the outside, the rest of Kansas' receiving corps (combined 28 receptions for 290 yards and 0 TD's) don't figure to be much of a threat to Tony Gibson's secondary.