Speed and Power Hoist West Virginia 5-2 Over No. 3 Oklahoma State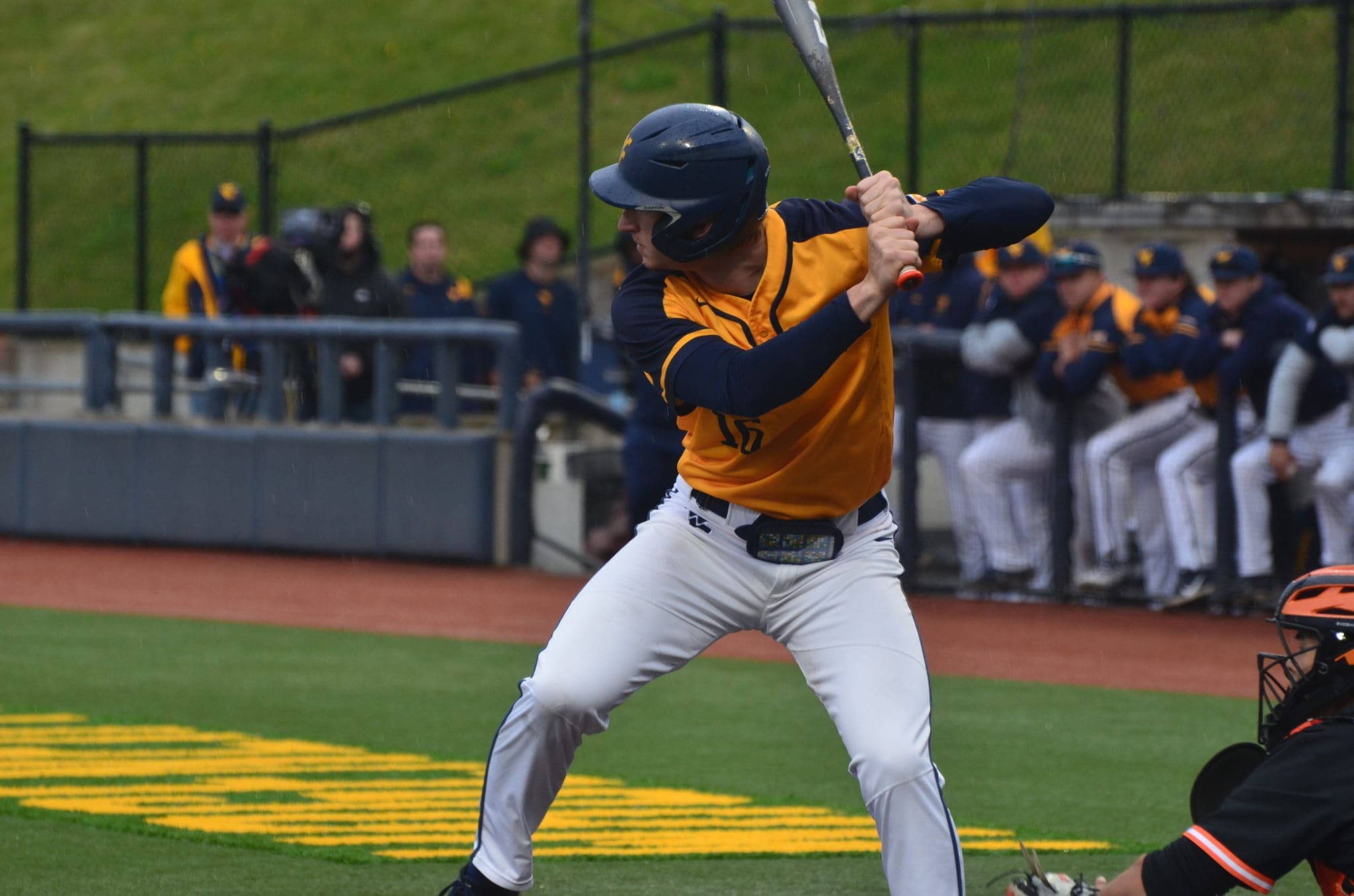 MORGANTOWN, W.Va. – Two West Virginia Mountaineer home runs. A single season individual stolen base record. A single season team stolen base record. A win over the No. 3 Oklahoma State Cowboys at home in front of a sold-out crowd.
This game made up for any trepidation Mountaineer fans had after last night's 2-1 loss.
On both sides of tonight's match-up, a drizzly, cold night turned blazing hot when the Mountaineer and Cowboy bats got going. Oklahoma State right-handed starter Victor Mederos ran through the entire Mountaineer lineup in two innings, but not before sophomore Nathan Blasick shot the second pitch of his at-bat 417 feet over the center field wall. Blasick, tonight's DH, got the start over Dayne Leonard and made the most of his two-out opportunity for the first home run of his 2022 campaign.
The Mountaineer bats struck first, and the West Virginia defense, lead by sophomore southpaw Ben Hampton, shut the Cowboys down in four batters in the first inning and 1-2-3 fashion in the second and third. West Virginia (21-11, 5-2) held Oklahoma State (25-9, 8-2) scoreless until the fourth inning; Hampton allowed grad student Griffin Doersching a walk with two outs, and the designated hitter promptly advanced on a wild pitch. An RBI single from first baseman David Mendham brought him home, but Hampton stranded Mendham at third and closed the inning with a cleanly-fielded groundout that popped back his way.
The Cowboys rallied again in the top of the fifth, courtesy of a batter hit, a double, and a fielder's choice. The latter of which came from grad student Jake Thompson and scored junior Hueston Morrill for Oklahoma State's final run.
By the time the Cowboys got two runs on the board in the fifth, West Virginia had already piled on what would eventually become an insurmountable 3-0 lead.
West Virginia's sophomore catcher McGwire Holbrook made up for last night's base running blunder in both the third and seventh innings, totaling four RBIs. In the third, a 2RBI moon shot sailed 407 feet over the left field wall. Freshman JJ Wetherholt, at second base off a single and a steal, came home with the run.
"I mean, I wasn't really looking for anything," Holbrook said. "I was seeing his slider and his fastball both pretty good, and he threw me a fastball up, and I'm usually pretty good at hitting fastballs up in the zone, so I saw it out of his hand and just drove it."
He struck again in the bottom of the fifth inning, off Cowboy right-handed reliever Bayden Root. Senior Austin Davis doubled into center field and junior Victor Scott walked to place two runners on the base path. During Holbrook's at-bat, Scott and Davis staged a double steal of second and third, respectively. When Holbrook got his bat on the ball, he grounded out to Root, and Davis scored to up the Mountaineer lead to 4-2.
Holbrook came back out in the seventh and knocked another run in. Redshirt junior Tevin Tucker had walked and stolen second to lead off the inning. A sac fly brought the speedy shortstop home for the Mountaineers' final run, 5-2.
Amazingly, five runs on seven hits and beating No. 3 Oklahoma State weren't even the most noteworthy events of tonight's Mountaineer showing.
Seconds after Holbrook's seventh inning RBI, Scott took off toward second and made history. His 30th stolen base of the season claimed the individual record from Mickey Mamarella's 29, done in 1986. With the stolen base, this WVU roster also re-set the team stolen base record, also from 1986, of 114. Scott's stolen base marked the Mountaineers' 115th swiped bag of 2022.
"I love watching those guys run," WVU head coach Randy Mazey said of Scott and Davis. "I love watching them. They're dynamic players and I'd love nothing more than for both of those guys to break (Mazey's stolen base) record and then chase each other's records."
Hampton (5.1IP-4H-2R-5K) earned the win (6-2) after allowing the pair of Oklahoma State runs on five hits; Trey Braithwaite earned the save after two innings, a hit and a strikeout. Oklahoma State's Mederos logged his second loss (3-2) and the Cowboys broke a four-game winning streak. With the 5-2 victory, the Mountaineers move to 22-11 (6-2) and force an Easter rubber match, set for tomorrow at 1 p.m.