Storylines to Keep an Eye On for WVU-TCU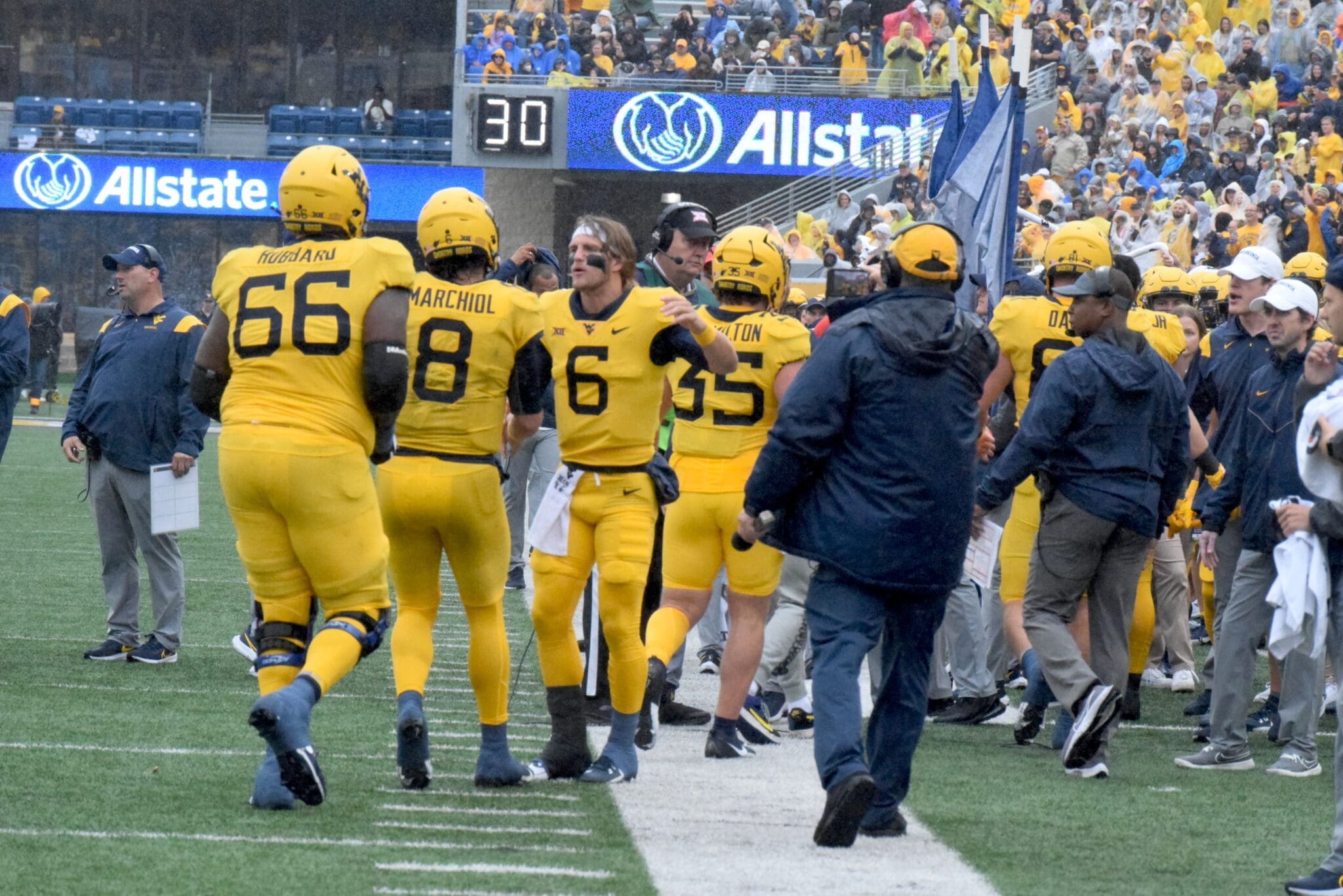 WVU will face off against TCU tonight in the biggest test for West Virginia so far this season. A win and Neal Brown forces people to recognize the Mountaineers are true Big 12 contenders. As is often the case, there are plenty of storylines to watch out for in this primetime matchup.
Even though WVU head coach Neal Brown was not planning to announce his starting quarterback before his team's game at TCU Saturday night, a source has told Brett McMurphy of Action Network that Garrett Greene will be back under center for the Mountaineers.
Greene, who started WVU's first three games, hasn't played since exiting the Backyard Brawl early with an ankle injury. Redshirt freshman Nicco Marchiol has since led West Virginia to wins against Pitt and Texas Tech.
Brown has continuously said that Greene would not play until he was fully healthy and able to do what he does best – be athletic. Last week, Greene was available as an emergency option if Marchiol had to leave the game.
Already in the midst of proving critics wrong, Neal Brown is now looking to transition to showing WVU can actually be a real contender. Brown knows that opportunity is right in front of the Mountaineers.
Some honestly predicted West Virginia would struggle to win three games all season, and yet WVU is sitting at 3-1 after its first four games, with the only loss being to one of the best teams in the country. Brown brought this up while speaking with the media on Monday and will likely continue to bring it up as long as his team keeps winning.
But Brown also brought up the fact that there are still plenty of people doubting the 2023 Mountaineers. There are people, and legitimately so, who will ague the wins came over an FCS team, and one West Virginia was not able to dominate until after a long weather delay, and then two Power Five opponents who have been struggling all season, not just when they played WVU.
WVU has suffered another blow to its defensive secondary.
In the midst of talking about his team's win streak, Neal Brown had to also deliver some unfortunate news during his weekly press conference on Monday. Brown said safety Keyshawn Cobb is slated to have surgery and will miss the rest of the season.
"He's going to get surgery this week and he will be out for the year," said Brown.
The WVU defense has been the driving force of West Virginia's ability to win early in the season. Without the defense playing as well as it has, the Mountaineers would likely be in a world of trouble.
How are they doing it? The answer can be as simple as being fundamentally sound, something defensive coordinator Jordan Lesley stressed throughout the spring and summer after his group endured a tough season in 2022.
WVU Defense at Top of Big 12 in Important Category After Struggling in 2022
PFF calculated the amount of missed tackles for each Big 12 team through the first four games of the season. To this point, WVU with 31 is only behind Cincinnati's 24 in terms of missing the fewest number of tackles. Conversely, Oklahoma State has missed the most tackles with 56.
The offense is tasked with trying to find more success and be more explosive. But the season isn't going to just wait for that to happen either. So until that occurs, it's up to the defense to carry the Mountaineers through an extremely important stretch of the season.
For a related story, WVU linebacker Lee Kpogba is helping to lead the defense by example with his physical play.
When West Virginia and TCU kickoff from Amon G. Carter Stadium in Fort Worth, Texas, WVU will be a heavy underdog. It's now up to Brown and his Mountaineers to keep proving doubters wrong.