West Virginia Football LB Wil Schoonover Named Finalist for Armed Forces Merit Award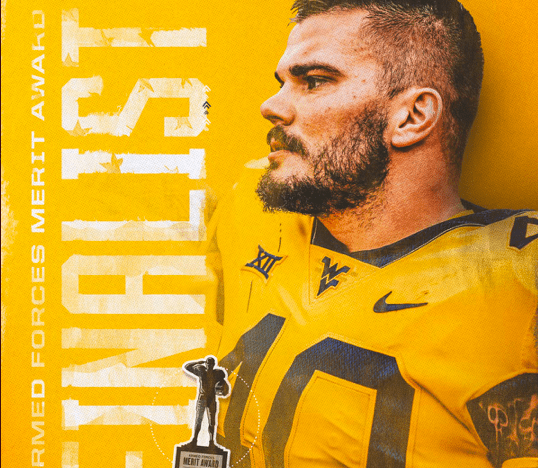 MORGANTOWN, W.Va – College football players may take pride in playing for their school or even a state, but none of that compares to representing their country.
West Virginia linebacker Wil Schoonover, who made the decision to delay his football career and enlist in the Army out of high school, is now being recognized for his three years in the Army. Schoonover has been named a finalist for the 2022 Armed Forces Merit Award. This award honors an individual with a military background who makes an impact to college football in some way.
𝟮𝟬𝟮𝟮 𝗔𝗿𝗺𝗲𝗱 𝗙𝗼𝗿𝗰𝗲𝘀 𝗠𝗲𝗿𝗶𝘁 𝗔𝘄𝗮𝗿𝗱 𝗙𝗶𝗻𝗮𝗹𝗶𝘀𝘁 🏆

The award honors an individual with a military background that has an impact within the realm of college football.#HailWV pic.twitter.com/vkUItuUs7k

— West Virginia Football (@WVUfootball) October 18, 2022
WVU head coach Neal Brown has been a big prominent of Schoonover since he arrived in Morgantown and walked onto the football team. After not seeing the field in 2021, Schoonover received time in a game for the first time earlier this season against Towson.
In a letter posted on the Armed Forces Merit Award website, WVU head coach Neal Brown wrote a letter to support Schoonover as a nominee.
"Leadership qualities and mature attitude have been a positive influence on our program. Wil attacks his day with energy and a positive outlook that has not only made him a favorite of his teammates, but to West Virginia fans. Part of your award is based on community service and Will knows the importance of this civic responsibility and never lets us down. He knows how to better a person, how to motivate, and how to connect with people of all ages," said Brown about Schoonover in the letter.
As a high school athlete, Schoonover rushed for more than 5,000 yards for the Yellow Jackets football team, and was voted a captain of the annual North-South All-Star Game. Between his high school football, wrestling, and baseball careers, he earned 10 all-state honors, including three at linebacker.
Schoonover served in the U.S. Army from 2017 through 2020, after which he enrolled at Potomac State University.