Joe Mazzulla Coaches Boston Celtics to NBA Finals Berth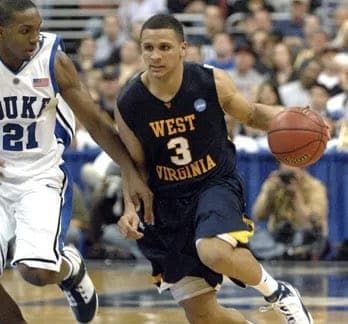 Former West Virginia guard Joe Mazzulla is heading to the NBA finals as an assistant coach for the Boston Celtics. The Celtics defeated the Miami Heat in Game Seven of the Eastern Conference Finals, 100-96.
Mazzulla has served as a coaching assistant for the Celtics since 2019, coaching under Brad Stevens and Ime Udoka. The Rhode Island native played at West Virginia from 2006-10.
Former #WVU G Joe Mazzulla will head to the NBA Finals as an assistant for the Boston Celtics

Celtics vs. Warriors | Game 1 on Thursday

— Ethan Bock (@ethanbock_) May 30, 2022
During his WVU days, Mazzulla was most known for his 17-point performance in the 2010 Elite Eight against Kentucky. Mazzulla stepped in for an injured Truck Bryant, helping the Mountaineers reach their first Final Four since 1959. Mazzulla played 145 career games at West Virginia.
Mazzulla went on to pursue a coaching career following his graduation from West Virginia. Following coaching stints at Glenville State and Fairmont State, the former Mountaineer was hired as an assistant of the Maine Red Claws, Boston's G-League team. Mazzulla went back to Fairmont State in 2017 to serve as the head coach of the Fighting Falcons.
After two seasons at Fairmont State, Mazzulla was hired as the Celtics' assistant coach. In the summer of 2021, Mazzulla was the head coach of the Celtics' summer league team.
Mazzulla and the Celtics will take on the Golden State Warriors with Game One starting on Thursday night on ABC.