West Virginia Defeats UAB 81-70 in Fast-Paced Matchup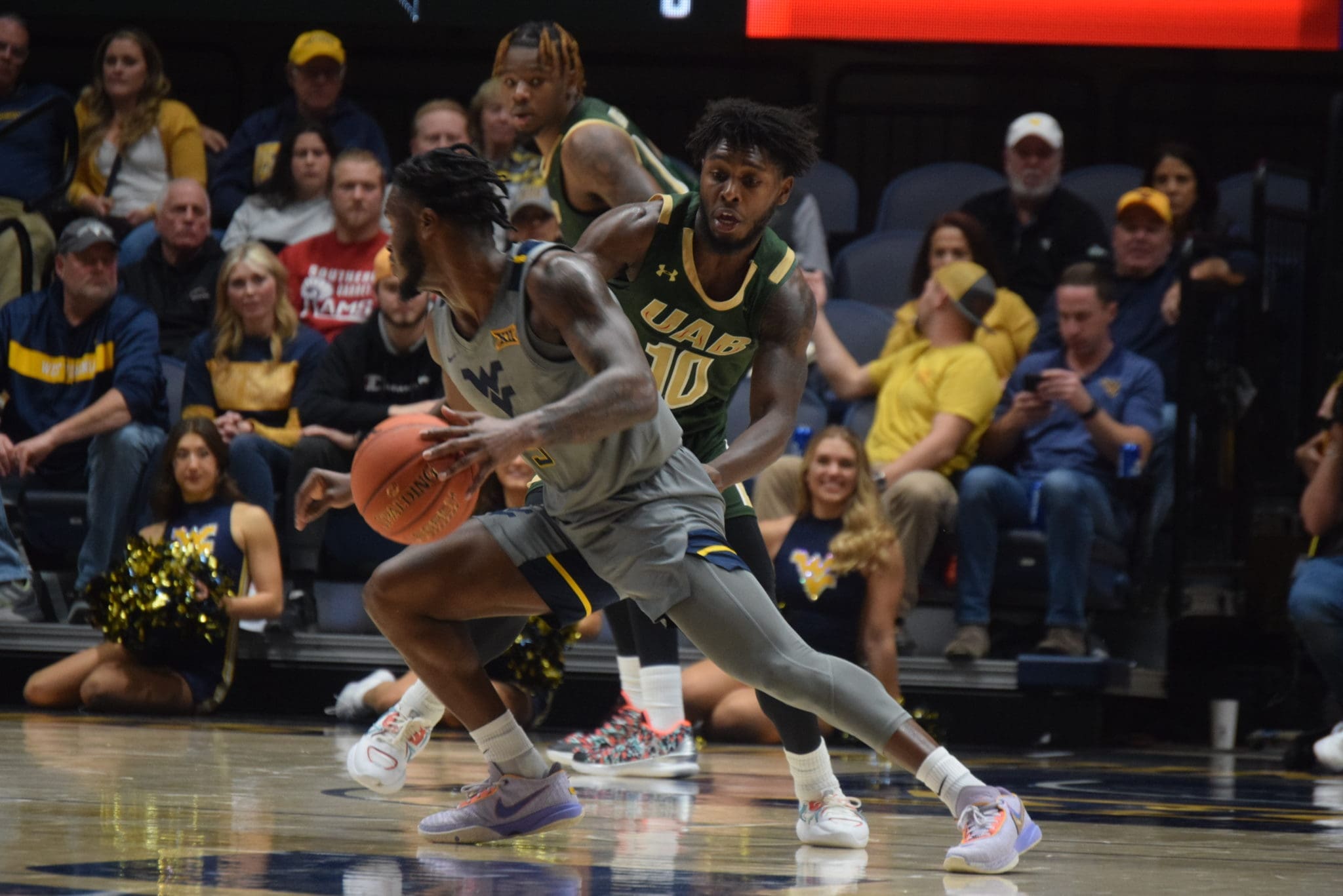 MORGANTOWN, W.Va. — Behind the play of guards Kedrian Johnson and Joe Toussaint, West Virginia defeats UAB 81-70 in a fast-paced game on Saturday night.
This pace was perfect for Johnson and Toussaint to thrive.
At the end of the first half, Toussaint scored a layup, deflected the in-bounds pass and drew a foul all within seconds. Toussaint's quick four points sent West Virginia (8-2) into the break, up nine.
Toussaint, as well as Johnson, played aggressive against UAB (7-2) for the majority of the game. Toussaint and Johnson gave UAB problems on both sides of the floor.
Johnson finished with 17 points on 5-of-10 shooting while Toussaint had 14 points on 5-of-12 shooting.
With 14 minutes to go in the game, UAB G Jordan "Jelly" Walker knocked down a three in transition to tie the game at 45. That completed UAB's 10-0 run in the second half to get back into the game.
Walker finished with 19 points, seven assists and seven turnovers.
Heading into the game, Walker was the leading scorer in all Division-I basketball, averaging 25.7 points. Walker is shooting 46 percent from the field and 42 percent from three.
UAB turned the ball over 19 times while West Virginia had 13.
The Blazers entered the game as the ninth-best rebounding team in the country. UAB won the rebounding battle 32-30.
Just a minute into the matchup, WVU F Emmitt Matthews landed awkwardly on his left knee after trying to catch a long pass. Matthews tried to stay in the game but was taken out and walked to the locker room on his own power.
Matthews walked out of the locker room just minutes later and checked back into the game. Matthews hit three first half three's to give WVU's perimeter offense a boost. The fifth-year senior ended with 16 points and nine rebounds.
WVU head coach Bob Huggins is a long-time friend with UAB head coach Andy Kennedy. Kennedy assisted under Huggins at Cincinnati from 2001-05. Last season, Huggins' Mountaineers defeated UAB 65-59. Huggins was asked about coaching against his friend Kennedy once again.
"It's actually kind of fun. Andy was terrific for us [at Cincinnati]. He's got a great relationship with the players," Huggins said on Friday.
With the win, West Virginia picks up their biggest win of the year, per NET rankings. WVU now has three quad-2 wins on their resume.
West Virginia will head into finals week with no games for the next eight days. WVU will host Buffalo on Sunday, Dec. 18 at the WVU Coliseum. Huggins is being honored before the game for his Class of 2022 Naismith Memorial Basketball Hall of Fame enshrinement. The Mountaineers and Bulls will tip-off at 5 p.m. on ESPN+.
Welcome to the new home of WVU football and basketball breaking news, analysis and recruiting. Like us on
Facebook
, follow us on
Twitter
and check us out on
YouTube
. And don't forget to
subscribe
for all of our articles delivered directly to your inbox.