The Cowboys plan to utilize Tavon Austin at running back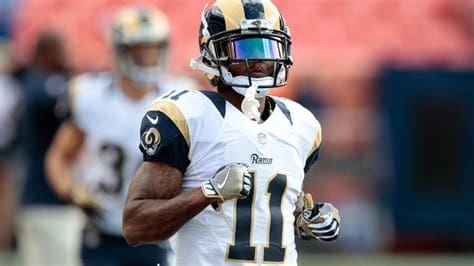 Earlier today the Los Angeles Rams made a move that would send former West Virginia star Tavon Austin to the Dallas Cowboys. Little did we know that Austin would be switching positions. After the rumors settled, it has been confirmed that the Dallas Cowboys intend to use Austin at running back.
This comes as a little bit of a shock considering that Austin has never been a full time running back since his high school days at Dunbar in Baltimore, Maryland, but it should be a smooth transition for him.
During his time at West Virginia he toted the rock 110 times for 1,033 yards and six touchdowns. That's an average of 9.4 yards per carry. The bulk of those yards and carries came from the game vs Oklahoma in which he compiled 344 rushing yards and 572 all purpose yards on the Sooners.
In the NFL, Austin has 1,238 yards on 184 carries (6.4 avg.) and nine touchdowns. He is not a big back standing in at 5'8″ 178 pounds, so he will not be the Cowboys every down guy, even if Ezekiel Elliott was not in the fold.
The Dallas Cowboys current running backs are Ezekiel Elliott, Rod Smith and Trey Williams. They also selected Alabama running back Bo Scarbrough in the 7th round with the 236th overall pick.
I would expect Austin to still get some looks in punt return and kick return as well., adding Austin also gives the Cowboys another pass catching option out of the backfield.