Bowl Eligibility on the Line for WVU Football's 11th Meeting with Kansas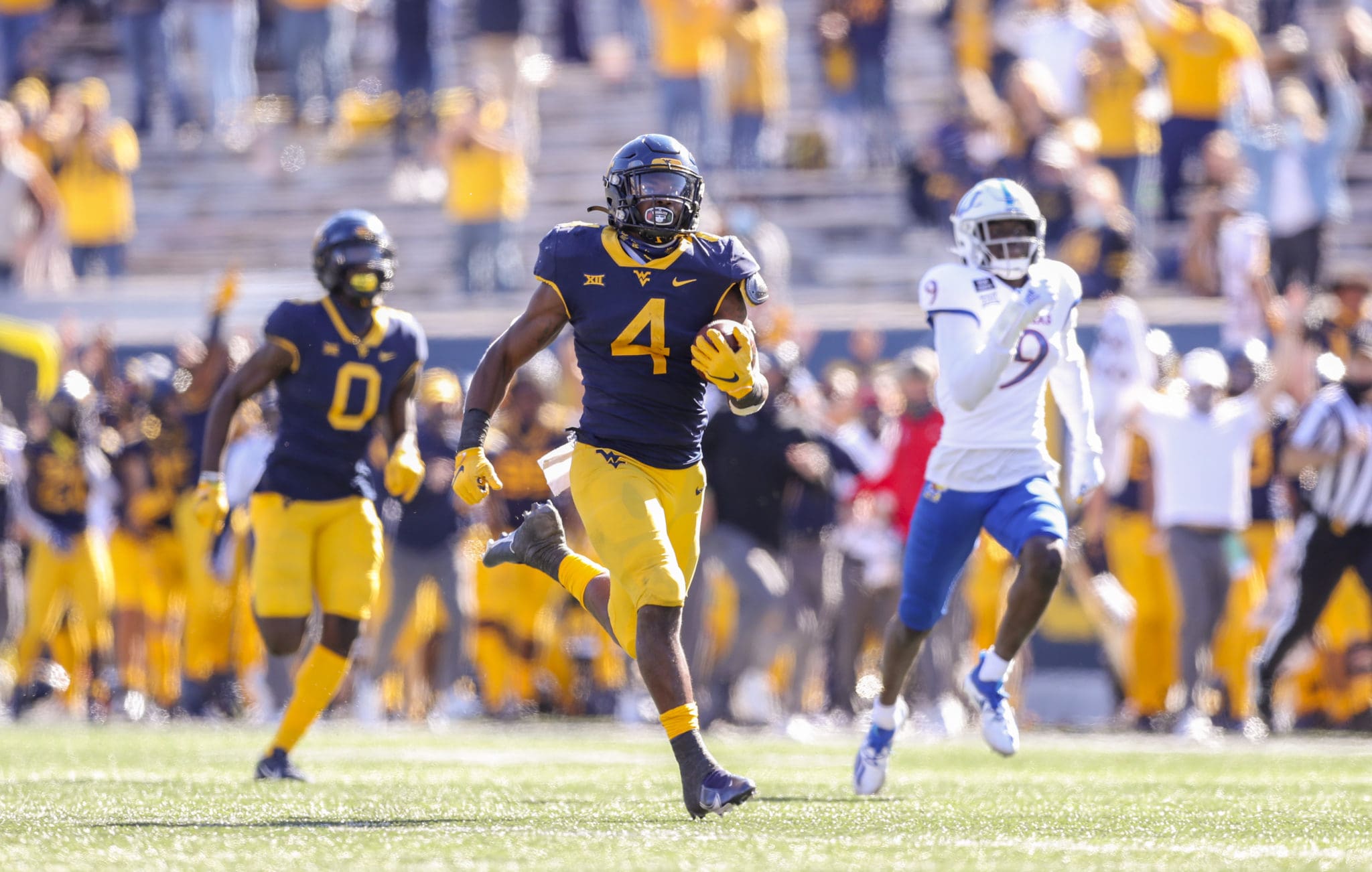 Against the Kansas Jayhawks, the West Virginia Mountaineers have only ever won by fewer than a 14-point margin two times.
WVU currently leads the series 9-1, including an indisputable seven-season win streak. This season though, there's more on the line for head coach Neal Brown's Mountaineer roster. Saturday's game has to be a win if WVU wants to cap its season off with a bowl game berth. In the past though, the WVU-Kansas match-up hasn't ever been a nail-biter.
Going all the way back to the two teams' first meeting in 1941, West Virginia has always been the dominant team. WVU head coach Bill Kern's Mountaineer squad invited Kansas to Mountaineer Field and proceeded to run up three touchdowns while keeping the Jayhawks scoreless. WVU (3-3) entered the game as an independent, while Kansas (2-4) played away from the Big Six, a precursor to the Big 12 Conference, for a game. The final score, a 21-0 success in Kern's second season, set the tone for this match-up's scores. It would take 71 years before these two met up again, but this time, as conference foes.
2012 saw the rivalry stay at a relocated Milan Puskar Stadium. When the Jayhawks flew to Morgantown for the first meeting of the two amid a new Big 12 Conference landscape, a 59-10 final score was in their future. WVU senior quarterback Geno Smith put up 407 yards and three touchdowns in the win, and running back Andrew Buie rushed 100 yards on 12 attempts, one of which resulted in a touchdown. Wide receiver Stedman Bailey ran for 159 yards on 11 receptions and a pair of touchdowns in the win.
The match-up moved to Lawrence, Ks. in 2013 and handed head coach Dana Holgorsen's Mountaineers the sole series loss. WVU was coming off two straight overtime games against TCU (30-27 W) and Texas (47-40 L). Unfortunately, this game wasn't as close. Kansas running back James Sims carried 22 attempts 211 yards and into the end zone three times. That alone was enough to stall the Mountaineer quest, and WVU's Charles Sims only put together 99 yards on 16 carries and a single touchdown. West Virginia quarterback Paul Millard was having a difficult time; the team was held scoreless in the second and third quarters, and when it seemed as though Millard and the offense were stacking plays together, his throws were intercepted. One was picked off by Kansas' Ben Heeney and run back to the WVU1. The next play was the single Jayhawk score of the final quarter. Millard found 242 yards and a pair of touchdowns on 23 completions, but two interceptions and a No. 100-ranked defense didn't help keep the Jayhawks out of the end zone. Kansas snapped a 27-game conference losing streak with the 31-19 victory, and the Mountaineers vowed to never let it happen again.
In 2014, the rivalry came back to the Mountain State, and so did the WVU winning. Holgorsen and WVU held the Jayhawks to a scoreless first half, while tallying 26 points of their own. WVU kicker Josh Lambert nailed three straight field goals (42-, 25-, and 43-yard attempts) to put the Mountaineers already up 9-0; it was followed by quarterback Clint Trickett finding Kevin White for a 63-yard touchdown, the longest connection of the night. At 16-0, the Mountaineers could have stopped scoring. Kansas only added 14 points in the second half, off a four-yard Corey Avery rush and a 76-yard punt return from Nick Harwell. WVU concluded the game with a 33-14 victory, and Trickett went 20-for-35 for 302 yards, a touchdown, and an interception; the Trickett and White combination notched 132 yards on six receptions, and added the aforementioned touchdown. A WVU defense which had failed in the series' last meeting dominated this one. WVU defensive coordinator Tony Gibson's schemes held the Jayhawks to a mere 64 yards rushing and forced Kansas specialist Trevor Pardula to punt 14 times. This game began a seven-season Mountaineer win streak.
2015 added the series' second straight Mountaineer victory, and in record fashion. Holgorsen's roster put the Jayhawks to bed, 49-0, at David Booth Kansas Memorial Stadium. The Mountaineers recorded six rushing touchdowns for a combined 100 yards; quarterback Skyler Howard even got in on the scoring when he found nine yards of Kansas real estate on a QB keep. This score came only four and a half minutes after Howard connected, through the air, with Cody Clay for a two-yard receiving touchdown. WVU posted 426 yards rushing and Howard went 13-for-32 for 133 yards and the Clay touchdown through the air. The final score became the series' largest margin of victory.
2016 saw a No. 14 West Virginia play host. The Kansas Jayhawks were 1-7 at the time, and Gibson's defense allowed 21 points to be scored. It was not without consequence, though. All 21 of those points came in the second half, while WVU hammered 48 points behind enemy lines. Howard produced 260 yards on 16 completions, and ran for 64 yards and a pair of touchdowns of his own in the 48-21 win. WVU's scoring was bookended by Mike Molina field goals, and six West Virginia touchdowns fell in between. WVU put up 341 rushing yards, primarily from Justin Crawford (130 yards and a touchdown) and Kennedy McKoy (129 yards). The WVU defense only allowed 6-of-16 third downs and zero of Kansas' three fourth down attempts to convert.
2017 was much of the same. Memorial Stadium in Lawrence produced four touchdowns out of WVU quarterback Will Grier and 127 yards and a touchdown on 18 attempts from Crawford. Conversely, the WVU defense allowed KU running back Khalil Herbert 291 yards on 36 attempts, the most this defense had ever given up to one rusher in program history. Even with Herbert's two touchdowns, the Mountaineers stood firm. Grier became the first quarterback in school history to throw for more than 300 yards (347 yards on 25 completions) in his first four games in a Mountaineer jersey. Coupled with a run game which totaled 288 yards and a field day 130 yards and two touchdowns from receiver David Sills V, the Mountaineers put out a solid product and a 56-34 victory in Lawrence.
2018 allowed Milan Puskar Stadium to play host for the series' fifth time. The 4-0 Mountaineers extended their unbeaten streak with a 38-22 victory over head coach David Beaty's Kansas team. WVU lead 21-7 at halftime, but Grier was having a difficult time. He had been sacked once of his eventual five and intercepted each of his three times, but even still, the Mountaineers pulled out 332 yards passing for four touchdowns. Freshman running back Leddie Brown added a 15-yard receiving touchdown from Grier to kick off scoring, and racked up 107 yards rushing and a touchdown on 11 carries in the win.
Postgame, Holgorsen said of Brown's promise with WVU, "He doesn't play like a freshman or look like a freshman, so don't call him a freshman. He's a good player and I'm glad we've got him."
2019 brought about the first match-up with the Jayhawks under WVU's Neal Brown era and the series' closest contest. WVU added an eighth series victory, 29-24, but it wasn't easy. Redshirt junior kicker Evan Staley added nine points on field goals on 37-, 44-, and 22-yard attempts, and his contributions ended up being the difference. After McKoy found the Kansas end zone on the first drive of the game, the Mountaineers were held to a stingy offensive presence. Running back Martell Pettaway added two crucial touchdowns on 23- and seven-yard runs to cap the Mountaineer scoring to only rushing touchdowns and Staley field goals. Even still, WVU quarterback Austin Kendall threw for 202 yards on 25 completions. The WVU run game, assisted by McKoy's 73 yards, Pettaway's 40, and Brown's 70, gained 192 yards and three touchdowns. Kansas' quarterback Carter Stanley passed for 275 yards and a trio of touchdowns on 19 completions, but was picked off by a leaping Keith Washington II and sacked twice by Dylan Tonkery and a sophomore Dante Stills. KU wide out Andrew Parchment found the end zone twice for the Jayhawks, but his 14 points didn't get the job done and the Mountaineers brought the series' eighth West Virginia victory back home.
Last season, amid an abbreviated COVID-19 landscape, Mountaineer Field served as the setting for the series' 10 match-up. 10,759 Mountaineer fans got to sit and watch WVU Football beat up on Kansas for the seventh consecutive season, but the game was a one-score game until the third quarter. Kansas put the first points on the board after a 41-yard field goal from Jacob Borcila and a 43-yard pass from quarterback Miles Kendrick to Parchment. Up 10-0, the Jayhawks steadily lost the lead as the first half wound to a close. Up against a redshirt junior Jarret Doege who finished the game with 318 yards through the air, including passing touchdowns to Bryce Ford-Wheaton, Brown, and Sam James, the Jayhawks couldn't pay for stops on WVU's explosive plays. WVU racked up 226 rushing yards on 38 attempts, primarily from Brown, who tallied 195 yards on his own 18 runs. The Mountaineers handed a winless Kansas its fourth loss of what would eventually be an 0-9 season. Conversely, last season gave West Virginia a 6-4 record and a win in the Liberty Bowl over Army, 24-21.
This season, Kansas is coming into the match-up only slightly better, at 2-9. A recent overtime win over the Texas Longhorns 57-56 is cause for concern, and with the Mountaineers on the bowl eligibility bubble, this game needs to be a win akin to 2015. Ending this season anything but 6-6 will leave a sour taste in the mouths of Mountaineer Nation, and a postseason berth in a bowl game is the best solution that this unpredictable regular season can produce. The series returns to David Booth Kansas Memorial Stadium at 7 p.m. EST and it will be televised on FS1.
Welcome to the new home of WVU football and basketball breaking news, analysis and recruiting. Like us on
Facebook
, follow us on
Twitter
and check us out on
YouTube
. And don't forget to
subscribe
for all of our articles delivered directly to your inbox.