HOW TO WATCH: WVU Football's Guaranteed Rate Bowl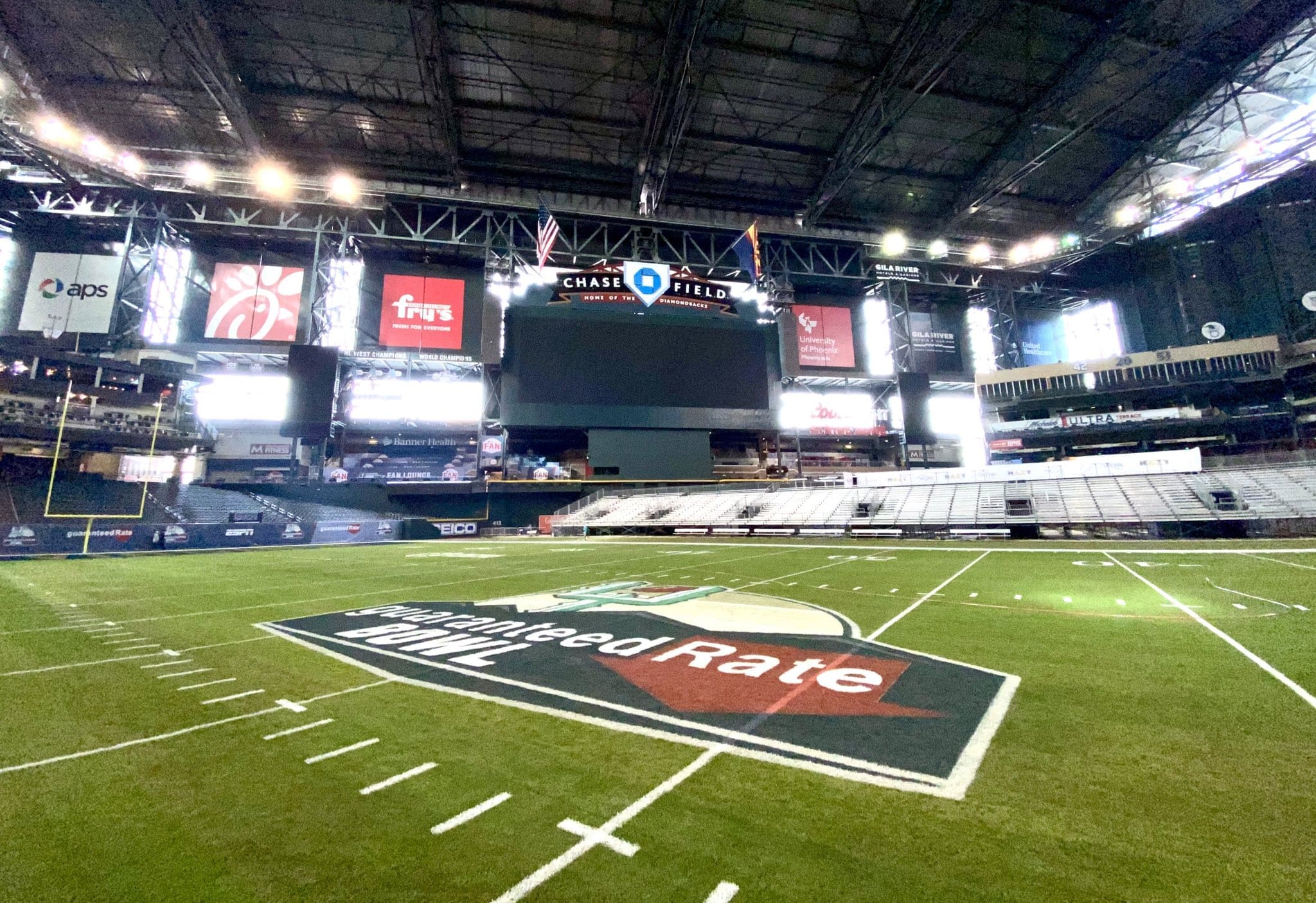 Today, the West Virginia Mountaineers (6-6) and the Minnesota Golden Gophers (8-4) will converge on Chase Field to play the 2021 iteration of the Guaranteed Rate Bowl. This is the first meeting of the two programs and will serve as the sole Big Ten – Big 12 rivalry happening this bowl season.
WVU enters Chase Field after a grind to become bowl eligible. The 2-4 Mountaineers needed to completely change the trajectory of the season heading into its BYE week. Two wins over TCU and a tough Iowa State team followed to get West Virginia back to .500. Still, with only four games remaining and a tough lot ahead, the Mountaineers needed two more solid wins under their belt in order for head coach Neal Brown to see his second bowl appearance at WVU. The next two weeks proved to be a tall ask; losses to Oklahoma State and Kansas State had the Mountaineers at 4-6… certainly not a position that normally warrants bowl eligibility, and winning out was statistically slim. Nevertheless, the Mountaineers came together when they needed to, defeating Texas 31-23 and Kansas 34-28 to close the regular season with a 6-6 record and bowl eligibility. Not pretty, but effective.
Conversely, head coach PJ Fleck and the Minnesota Golden Gophers hit their BYE week in stride. A Week 6 reprieve allowed Fleck's team to regroup after beginning the season 3-2. Three straight wins followed: 30-23 vs. Nebraska, 34-16 vs. Maryland, and 41-14 vs. Northwestern. Two additional wins and losses concluded the season 8-4, good enough for second in the Big Ten West.
Both teams are coming off two-game win streaks to polish off conference play, but this new test will prove a testament to the strength of each program in the long run. Brown is in his third season with the Mountaineers, while Fleck has created half a decade of culture shift with the Golden Gophers.
This game will likely be decided in the passing game, as the teams will have unconventional run game techniques, and subsequent emphases. Both WVU and UM are missing key offensive components on the ground. West Virginia's star running back Leddie Brown opted to focus on his professional stock instead of adding another bowl to his resume, leaving a slim running back room in his wake. Redshirt sophomore Tony Mathis Jr. will get the call-up for this bowl game, while true freshman Justin Johnson Jr. will be in the wings ready to begin making a name for himself among a great cast of characters leading into 2022.
Minnesota's offensive presence took an enormous injury hit, beginning in the first game of the season, when senior running back Mohamid Ibrahim's college career was ended abruptly with an Achilles tear amid the Ohio State loss. Fleck's offensive presence was down to a run game that had five, solid, scholarship players. By the end of the regular season, RB coach Kenni Burns was only working with two freshmen: Ky Thomas and Mar'Keise Irving. Sophomore Trey Potts and junior Bryce Williams were both sidelined throughout the season with serious injury, but Thomas and Irving made the difference when the team needed it. The two combined for 1,250 yards on 259 rushes for nine touchdowns.
On a positive note for both teams, neither will be missing any last-minute players due to COVID-19. If you aren't watching the Guaranteed Rate Bowl live from Phoenix, check the information below to find local listings and both audio and video outlets for the final WVU Football game of 2021. Thanks for sticking with West Virginia Sports Now for all your Mountaineer Football content this season!
TV Channel: ESPN
TV Crew: Dave Fleming (PBP), Rod Gilmore (analyst), Stormy Buonantony (reporter)
Radio: Mountaineer Sports Network from IMG
Radio Crew: Tony Caridi (PBP), Dwight Wallace (analyst), Jed Drenning (sideline)
Local Channel: WVU Football Radio Affiliates
The stream will also be on the free WVU Gameday app in the Apple App Store and Google Play.
SIRIUS XM: Ch. 80 for Beth Mowins (PBP), Kirk Morrison (analyst), Dawn Davenport (reporter)
Ch. 375 for Caridi & Co.
Welcome to the new home of WVU football and basketball breaking news, analysis and recruiting. Like us on
Facebook
, follow us on
Twitter
and check us out on
YouTube
. And don't forget to
subscribe
for all of our articles delivered directly to your inbox.