Leddie Brown is Progressing Into One of the Best Running Backs in the Big 12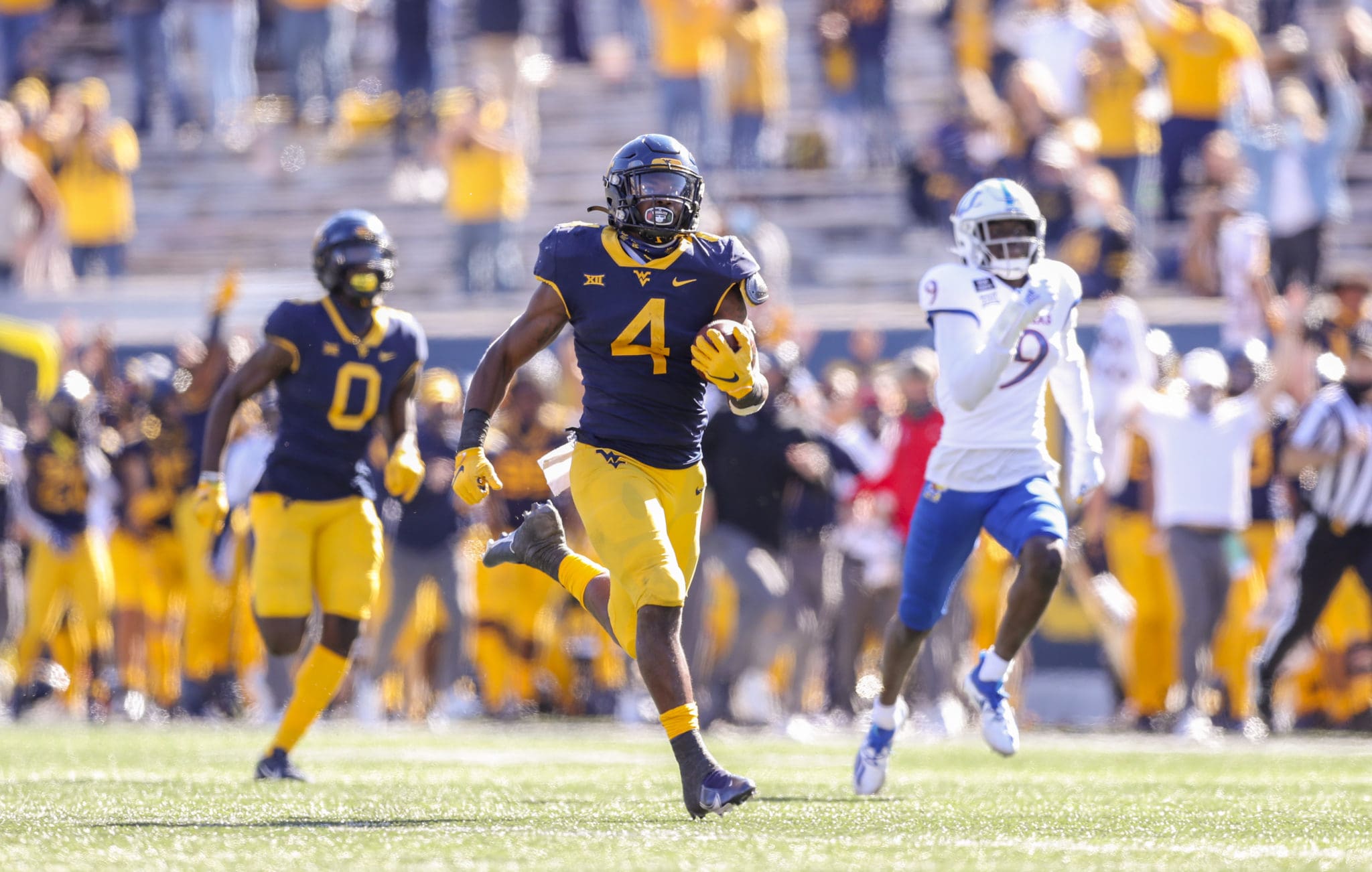 Prior to this season, West Virginia running back Leddie Brown had registered two career 100-yard rushing performances and his career-high for rushing yards in a single season was 446.
After a career day against the Kansas Jayhawks Saturday in which Brown ran for 195 yards, he has now already eclipsed the 100-yard mark three times and has set a new career-high with 515 yards through just the first four games of the shorted 2020 schedule. This coming off of a 2019 season where the West Virginia running game was historically bad, failing to rush for even 900 yards as a team.
Saturday's game was not always looking so good for Brown and the Mountaineers, however. After WVU's first two drives, the team had gained just 13 yards on six plays, lost a fumble and was trailing 10-0. It was then that WVU head coach Neal Brown decided to turn to his best offensive player.
"We struggled on those first two drives so we kind of went back and said hey let's put in a guy who's really been our best offensive player to this point, which is Leddie," Neal Brown said. "I thought he got us going on the next two drives. On the scoring drive, he kind of carried us down there."
Watch: Neal Brown Pleased After Beating Kansas 38-17
The play of the game came when Leddie Brown took a handoff on third and one from WVU's on 13-yards line and broke through the line to take the ball 87 yards into the endzone. On the day, Leddie Brown finished with 231 totals yards and two touchdowns on 23 touches.
Brown has said he is taking WVU's rushing success personally this season and he is showing everyone how good he can be.
"Last year, confidence was really, really low," Brown admitted following Saturday's game. "That's why I decided to get closer with the line, understand what they're doing up front. This year the running game has been clicking on all cylinders."
Watch: WVU RB Leddie Brown Discusses Long Touchdown Run, Overall Success
What has lead to this breakout effort from the Philadelphia native? Leddie Brown attributes it to the close relationships he built with his offensive linemen this offseason. Neal Brown says it's the junior's practice habits.
"Leddie has gotten better as his practice habits have improved," Neal Brown said. "On Tuesdays and Wednesdays, when it's workday for us, he is working. He has high player loads, he hits top speeds, he's setting up his blocks regardless of if we're going against our defense or going against the scout team. As his approach to practice and approach to taking care of his body has improved, he's only going to get better. I think he's in the conversation with a lot of the top running backs in our league."
Indeed, Saturday's performance puts Leddie Brown among the best running backs in the Big 12 so far this season. He and Iowa State running back Breece Hall are the only players thus far to rush for more than 400 yards this season, with Leddie at 515 and Hall at 531.
"It's like a weight lifted off of my shoulders," Brown said. "I'm really proud of our progress from last year to this year. I hope I keep doing what I'm doing."