WVU OC Graham Harrell Doesn't Feel 'Air Raid' Label Fits His Offense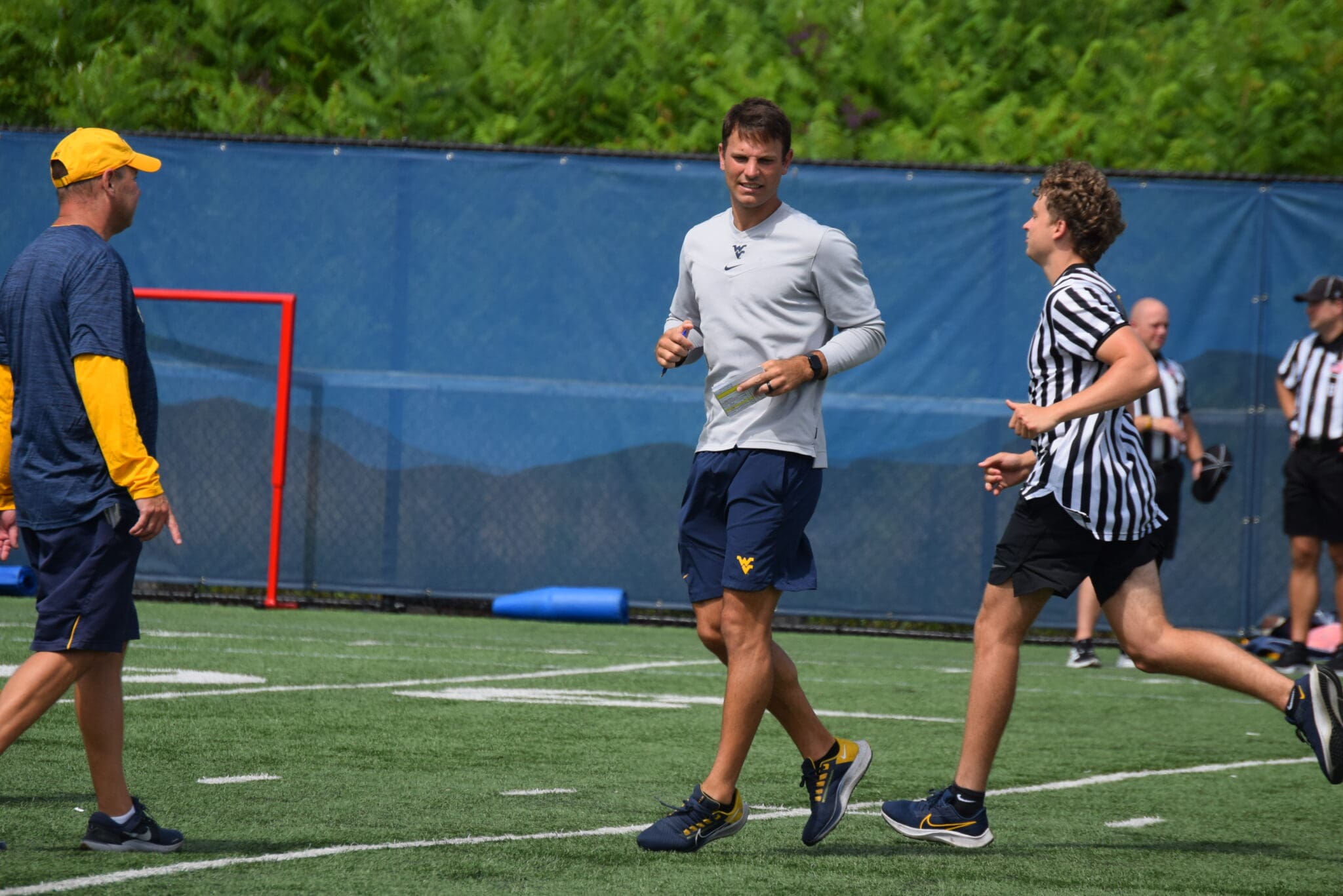 Everyone associates Graham Harrell with the "Air Raid" offense, but does the West Virginia offensive coordinator agree that label fits him?
The answer is not really. Harrell feels he runs more of a balanced offense. While discussing his offensive scheme, which often comes up as a focus of his press conferences, Harrell was asked about how balanced this year's WVU offense has been with so much success on the ground and if that was the plan or has been more of a surprise. Harrell just shrugged off the question, not in a disrespectful way, as he's always in a good mood when talking with the media (or anyone for that matter), but to suggest that he's just giving good players the ball. He explained that his offense at North Texas, where he first earned the title of offensive coordinator in his coaching career, ran far more than passing. That was due to the best player on that team being a running back.
Watch: WVU OC Graham Harrell on View of Air Raid Offense, Success on Ground
The emergence of CJ Donaldson, who had never played running back before this season, Tony Mathis stepping up into the featured back role, something he hadn't been before, and even sophomore Justin Johnson Jr. filling in well when needed has allowed the Mountaineers to use the ground game to success. Obviously Harrell, a former quarterback who played and learned under the man credited with creating the "Air Raid" in Mike Leach, isn't afraid to be heavy on passing, and it's easy to want to throw the ball with a quarterback like JT Daniels and receivers like Bryce Ford-Wheaton, but he also realizes the run helps set up the pass and keep the defense honest. This is especially true when you have an elite quarterback.
Harrell explained that Daniels is so smart and aware of the necessity in being balanced that he told his OC that he would rather run than pass when asked his thoughts on a play in the middle of a game.
The point is that Harrell believes the "Air Raid" tag may only truly fit Leach – his mentor. Forcing every coach who's worked under Leach and is apart of his coaching tree to be boxed in with the "Air Raid" just doesn't work. But what the offensive is called isn't relevant to Harrell. All that matters if if points are being put on the board. And it's fair to say WVU, that's posted 31, 42, 65 and 33 points in its games so far, is, if nothing else, scoring – the goal of any offense.