Leddie Brown Bounces Back From Injury, Helps Lead WVU to Win Over TCU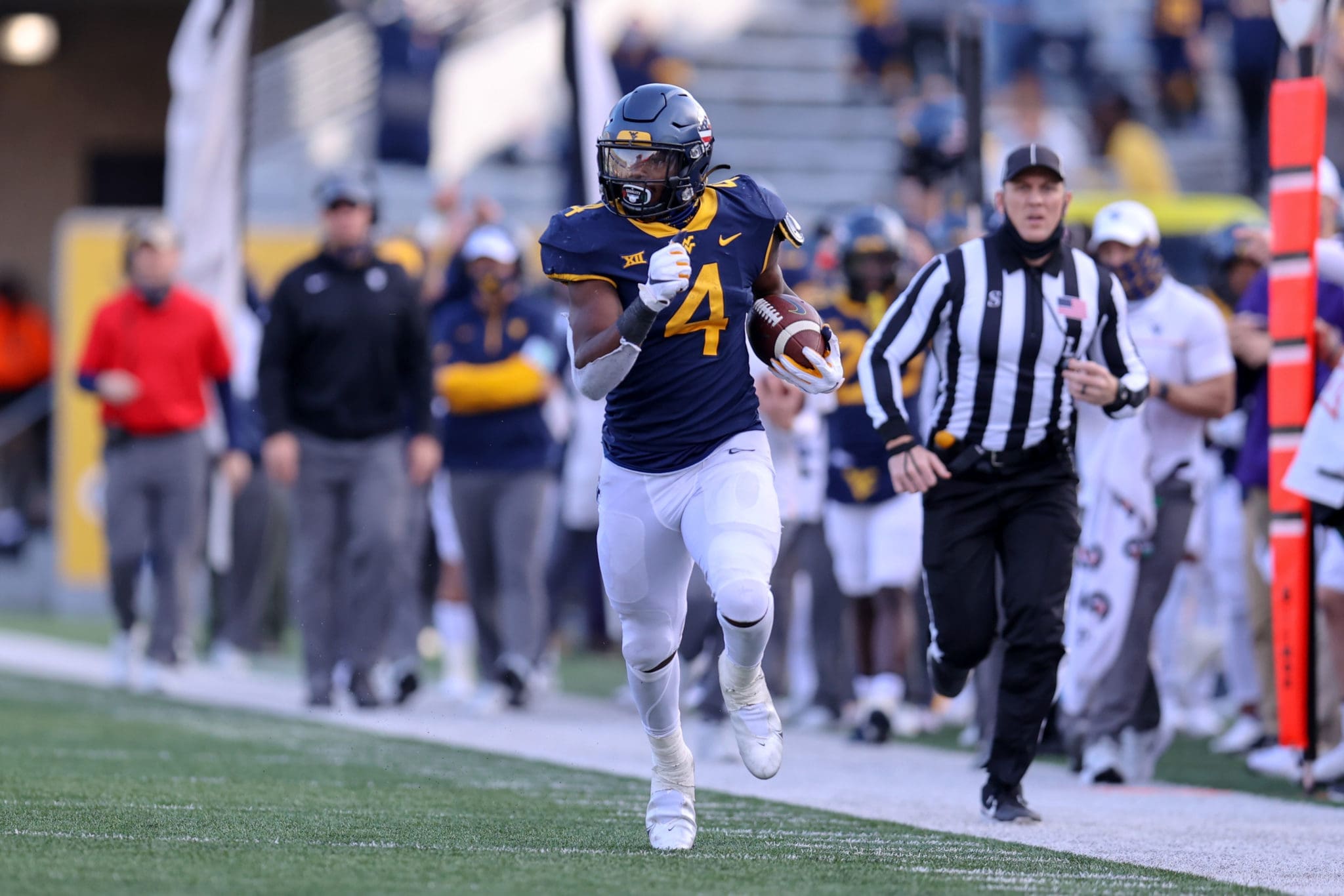 West Virginia junior running back Leddie Brown has been one of the biggest breakout offensive players in the Big 12 this season.
Entering Saturday, the Philadelphia native ranked second in the conference in rushing yards (741), total yards from scrimmage (917) and total touchdowns (11). Last week against Texas, however, Brown suffered an injury on the first play of the game and was ineffective throughout.
"The coaches didn't even think I was going to finish the game, but there was no doubt in my mind," Brown said Saturday. "I wasn't coming out of the game because it was Texas, it was a big game, I wasn't going to leave my team hanging like that. I pulled through that game, but I knew this game I had to bounce back."
WATCH: Simmons, Fields and Brown on Their Big Performances Against TCU
Brown had season lows in carries (15) and yards (47) against the Longhorns as WVU was not able to muster up enough offense and lost 17-14.
Brown's status for Saturday's game against TCU was unknown throughout this week, with WVU football coach Neal Brown saying on Tuesday that he did not know if Leddie would be able to play.
"When I saw [Leddie] on Sunday he said 'coach, I'm going to play'," Neal Brown explained. "I said 'I'm only going to play you if you're close to 100%'. I told him 'we'll take care of you but you've got to take care of your end of the bargain which is, invest the time into getting yourself ready to play.' Which he did and our training staff really worked with him to make that happen."
WATCH: Neal Brown Talks About Playing 'West Virginia Football' in Win Over TCU
Leddie Brown played against the Horned Frogs and showed no lingering effects of his injury. He carried the ball 24 times and ran for 156 total yards. He also had four carries of more than 30 yards.
"I was uncertain all week if I was going to play or not," Leddie Brown said. "It just depends on how I was feeling the day of the game and today I felt good…Our head athletic trainer, Vince [Blankenship], did a great job getting me multiple treatments a day."
Neal Brown said he was not convinced his running back would play until he saw Leddie Brown in warmups prior to Saturday's game. Even as effective as Leddie Brown was, his coach said he still was not totally healthy.
"As the week went on I thought by Wednesday he was running and able to make some football movements and so I felt good about it," Neal Brown said. "He got the mental reps Thursday and Friday and he looked good in warmups so we felt he was ready to go. He's not 100%, but he was good enough. I think if he's 100%, a couple of those balls that he bounced [outside], maybe he takes to the house."
Leddie Brown's play helped the Mountaineers to score 24 points against a stout TCU defense.
"Whenever the run game's clicking they do a lot of loading the box and they play a lot of man coverage," receiver T.J. Simmons said postgame. "That gives us a chance to play one-on-one matchups and make plays in the pass game."
WATCH: Simmons, Fields and Brown on Their Big Performances Against TCU
Simmons caught both of quarterback Jarret Doege's touchdown throws against the Horned Frogs.
The win over TCU ends the Mountaineers' stretch of playing five games in five consecutive weeks. Their next opponent will be the Oklahoma Sooners, but not before their final off week of the season next week.
"I'm going to take advantage of it," Leddie Brown said with a sly smile. "I'll still continue to get treatment and hopefully going into Oklahoma I'll be back to myself."
Welcome to the new home of WVU football and basketball breaking news, analysis and recruiting. Like us on
Facebook
, follow us on
Twitter
and check us out on
YouTube
. And don't forget to
subscribe
for all of our articles delivered directly to your inbox.