Redshirt Freshman Brody Conley Emerging as Key Piece for WVU Wrestling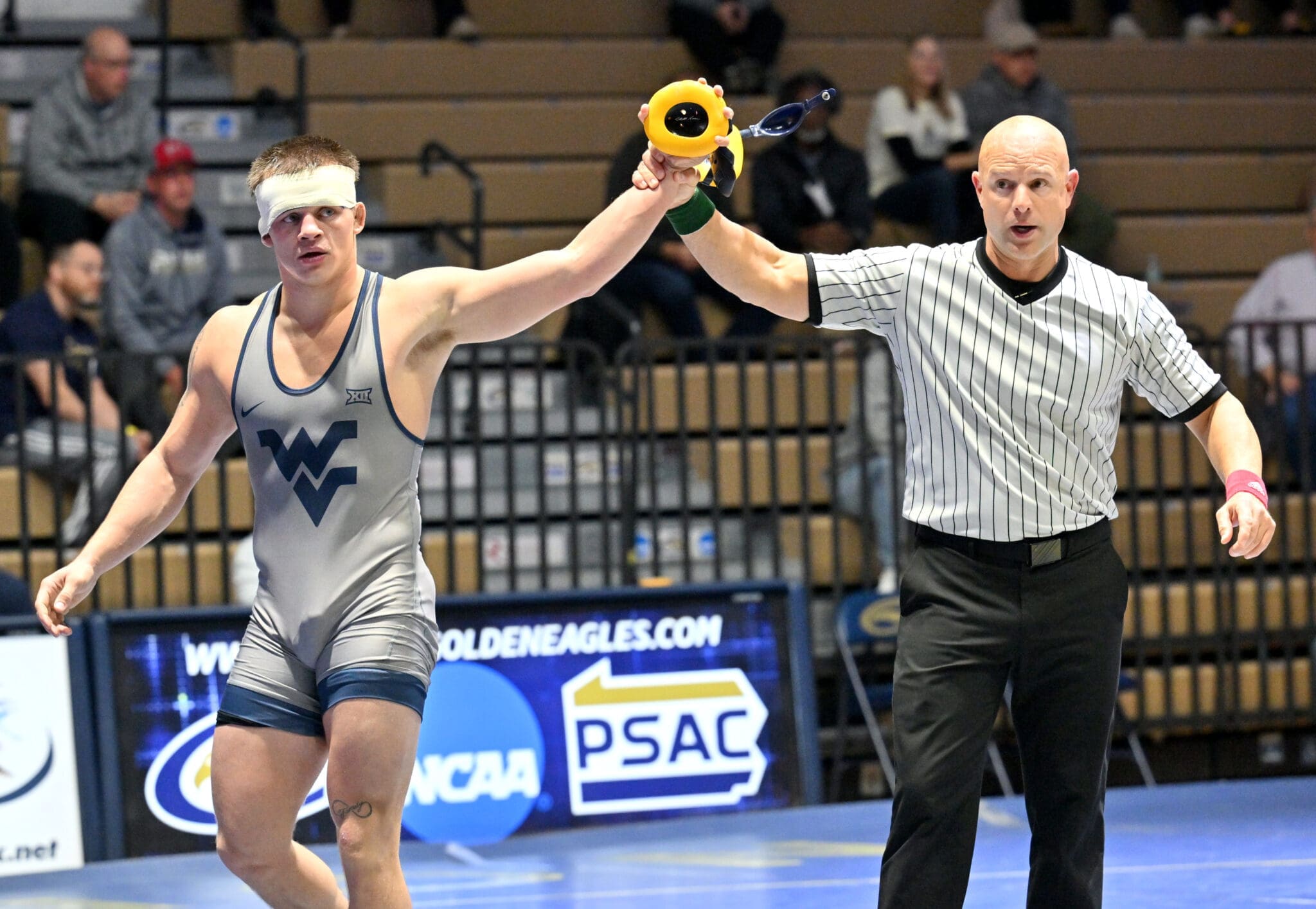 Clarion, Pa. — WVU wrestling budding star Brody Conley spent the majority of his true freshman campaign working behind the scenes after coming to Morgantown as one of the top high school recruits in the Class of 2022.
But, even though he wasn't consistently in the starting lineup, the Tiffin, Ohio, native made the most of the opportunities he was given. 
Conley posted a strong 15-4 combined record in tournaments and duals, while retaining his redshirt status being the second piece at 174 pounds behind then-senior Scott Joll. 
Now in Round 2, Conley is set to begin his run as a starter for the Mountaineers.
"I really learned that I just wanted to compete and be where (Joll) was," Conley said. "He did a great job at the weight for us, and I was excited because I knew that my time was coming. I was always there at home duals fired up, just like my teammates were, as if I was competing.
"I was able to be prepared being behind him and other leaders like Peyton (Hall) and Michael (Wolfgram). No matter what, you always have to be ready to go because you never know when coach is going to call your name."
Conley, who carried a ranking for the majority of last season, kicked off the year by winning the 174-pound title in the freshman/sophomore division of the Southeast Open in Salem, Virginia. 
He then won all three of his matches in the 2022 Mountaineer Quad, Conley's dual meet debut, with victories over opponents from Glenville State, Edinboro and Northern Colorado. 
Two of Conley's four losses came in dual meets against Ohio's Sal Perrine, a 3-1 overtime defeat, and to Pittsburgh's Luca Augustine, who edged Conley 3-2.
Conley's performance, winning 15 of his 19 total matches, earned him the team's Rookie of the Year Award.
"Brody works very hard," West Virginia head coach Tim Flynn said. "He's a very explosive guy. We just have to keep him attacking and he'll start to score a lot more points. We're definitely going to like watching him."
Knowing he would likely be the next person in line to take over the 174-pound spot in the lineup, Conley spent a lot of time training with his Mountaineer coaches in Morgantown this past summer.
"That definitely got me to another level," Conley said. "Day in and day out, focusing on the same things and evolving with my coaches is that is going to help me. It's definitely really helpful getting new looks, from tall guys to short, stocky guys, and guys built like me. I just believe in myself, my training, my coaches, God. Everything comes full circle."
So far this season, Conley's hard work has paid off.
He has worked around an injury at the Southeast Open that forced him to withdraw from the tournament after winning his opening round match.
Since then, Conley has rattled off eight victories in a row, including being one of four Mountaineers to win the Shorty Hitchcock Classic in their respective weight classes at Millersville University on Saturday. 
WVU Wrestling Coasts By Clarion 31-7 for 4th Consecutive Victory to Start Season
Conley has set his goal for the 2023-24 season to continue working on his craft and to eventually reach the podium at the NCAA Championships. For now, he said he will take the campaign one step at a time, just as if he is jogging onto the mat while his walk-up song "I'll Whip Ya Head Boy" by 50 Cent blares through the speakers inside the WVU Coliseum.
"I just have to get after it everyday," Conley said. "Nothing can change. I have to stay consistent with my training, my nutrition and my entire life to be able to keep doing what I love."