Tshiebwe and McBride Could be the Best Freshman Duo of the Bob Huggins Era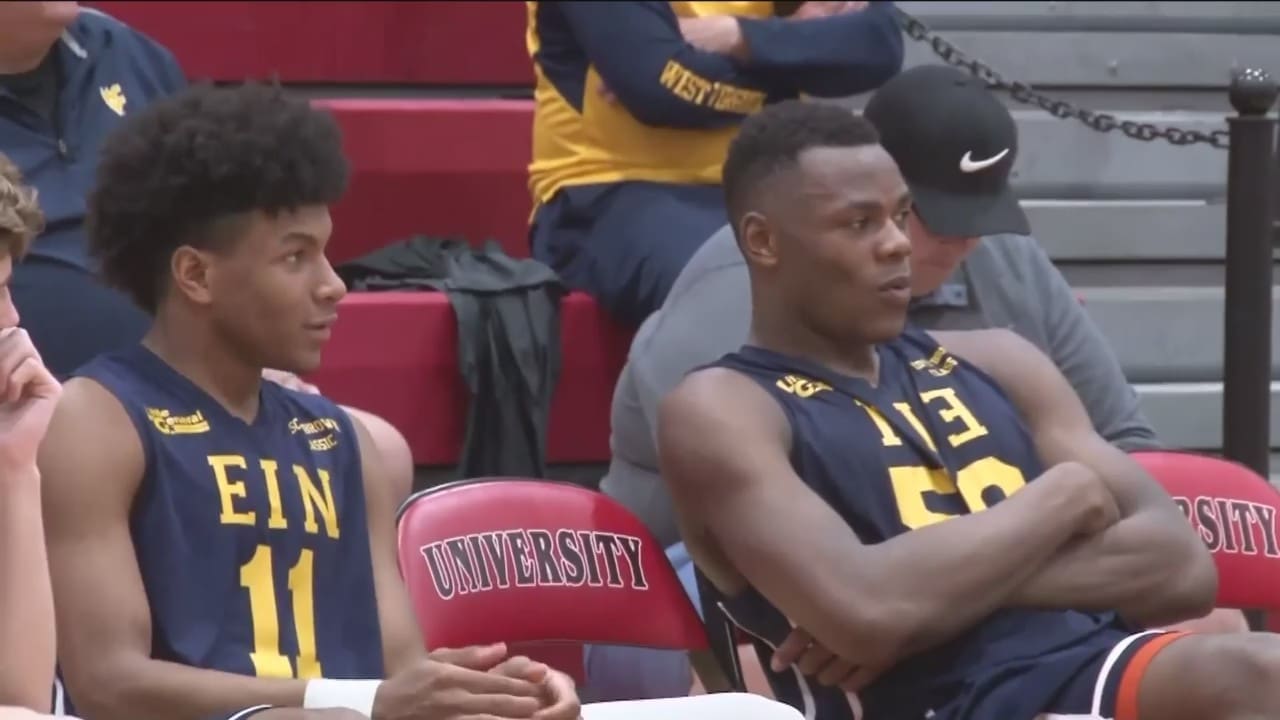 MORGANTOWN, W. Va. – The 2019-20 West Virginia basketball team is different than the traditional Bob Huggins team in more ways than one.
This season's Mountaineers play a big, physical style of defense designed to wear down opponents with their superior size and depth, a departure from the fast-paced, guard-led Press Virginia of years past. Another key difference is the impact first-year freshmen are having this season.
True freshmen Oscar Tshiebwe and Miles McBride are two of the team's leading players through the first 18 games of the season. Huggins has, traditionally, shied away from having freshmen play large roles on his teams, opting instead to let young players develop on the bench their first season or two. He has, however, broken that tradition when the players are talented enough and Tshiebwe and McBride have proven to be talented enough.
Texas coach Shaka Smart saw their talent first hand during the Mountaineers' 97-59 victory over the Longhorns Monday evening. He came away impressed by the duo.
"They're good players. I like McBride a lot," Smart said. "He's going to be a terrific guard in this league. He's already one of the top freshmen in this league. Tshiebwe, he's a man. He does not play like a freshman, he plays with a violence about him but he's under control. When you have him and Culver out there it creates a real matchup problem, not just for us. The two of them out there are real good."
Tshiebwe has started every game this season, averaging 11.7 points and 9.5 rebounds in 23.1 minutes. McBride has been WVU's best player off the bench in most games, averaging 10.1 points and two assists in 21.4 minutes.
The two have more or less traded winning the Big 12 Newcomer of the Week award each week. One of the other has won it five out of the 11 times it have been given this season, Tshiebwe three times and McBride two. They are the only players to have won it multiple times.
In previous years, there have only been a few freshman duos that compare to what Tshiebwe and McBride are doing this season.
Jevon Carter and Daxter Miles Jr. stood out during the 2014-15 season. Miles started all 35 games that season, averaging 7.3 points in 20.5 minutes. Carter averaged 23.8 minutes off the bench, scoring 8.1 points with 2.3 rebounds, 1.8 assists and 1.9 steals. Carter's 67 steals that season is an all-time WVU record for a freshman.
Carter and Miles blossomed into two of the best WVU players of all time. Carter finished his career eighth in scoring with 1,758 points, second in assists with 559 and first in steals with 330. He also won back-to-back defensive player of the year awards. Miles just cracked the top-25 of career scoring with his 1,311 points landing him in 25th place.
West Virginia went 105-39 during their four years, making the NCAA tournament each year. Both made it to the next level with Carter playing for the Phoenix Suns and Miles playing in the G-League.
Huggins's best freshman duo ever, however, may be the pairing of Devin Ebanks and Darryl "Truck" Bryant in the 2008-09 season. Not to be overshadowed, eventual WVU-great Kevin Jones was also a freshman on the team but did not play as much as a freshman as Ebanks and Bryant did.
Ebanks started 34 games in 2008-09, averaging 30.2 minutes and putting together one of the best freshman seasons in WVU basketball history. Ebanks scored the fourth-most points  (367) and had the second-most rebounds (273) by a freshman in WVU history. He averaged 10.5 points and 7.8 rebounds for the season. Ebanks declared for the NBA after his sophomore season and as a result, did not make much impact on the WVU record books.
Bryant started 28 games in the place of an injured Joe Mazzulla,  averaging 9.8 points and 2.7 assists in 25.6 minutes. He finished his career 15th all-time in career points with 1,590 and 12th in assists with 388.
Jones averaged only 19.3 minutes as a freshman, scoring 6.3 points per game, but ended his career as WVU's sixth all-time leading scorer with 1,822 points.
Ebanks, Bryant and Jones were integral parts of the 2009-10 team that Huggins took to the Final Four where they lost to top-seeded Duke.
Even with all their future success, Tshiebwe and McBride are averaging more points per game (21.8) than either Carter and Miles (15.4) or Ebanks and Bryant (20.3). Their production this season ranks the pair right up there with other WVU freshman duos, but how the rest of their careers go could determine their ultimate legacy. The best freshmen pairs have been the ones that both made an impact early and developed into some of WVU's all-time greats.
Welcome to the new home of WVU football and basketball breaking news, analysis and recruiting. Like us on
Facebook
, follow us on
Twitter
and check us out on
YouTube
. And don't forget to
subscribe
for all of our articles delivered directly to your inbox.